The Pittsburgh Press (January 15, 1943)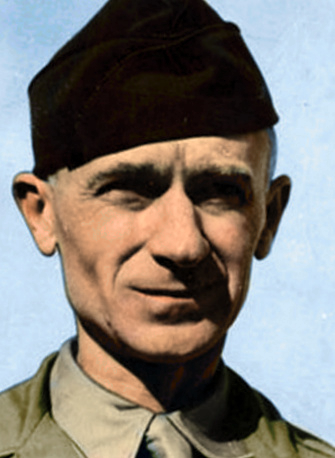 By Ernie Pyle
With U.S. forces in Algeria – (Jan. 14)
Today I'll try to picture to you the pioneer-like manner in which a field tent hospital operates in wartime.
The Evacuation Hospital is a dark-green sea of tents as you approach it over the mud road leading across a field. It blends so well with the fields and against the low rolling mountains in the distance that you can hardly pick it out half a mile away.
Even the first tent has a "going concern" air about it – there's a neatly-painted sign on a stake saying "Headquarters," and a little dirt walk lined with whitewashed rocks leads up to it. Inside that tent, men work at crude tables with folding legs. Before them are file cases that fold up into small portable trunks. Field telephones rest in their leather cases. It is the same equipment we saw in all the camps in England and Ireland, and now its quickly movable character is being genuinely put to work.
Back of headquarters the tents spread out and form a city, with streets between the rows. The whole place is laid out just as it was planned on paper in Washington years ago. But the little touches – the street signs, the whitewashed rock borders all over the place – they are additional, and are the volunteer work of the enlisted men.
At the receiving tent, trucks and ambulances arrive with wounded men transferred from other hospitals, with sick men from incoming ships, with ill and injured from our dozens of camps around the countryside, with airmen stricken at high altitudes.
Those able to walk go down a line of desks, where their history is taken for the files. In the next tent they turn in all their belongings. That tent is stacked high with barracks bags. Rifles and mud-covered bayonets stick out of the bags. Attendants gingerly accept hand grenades and give the owner a receipt.
In the next tent the patient turns in his clothes and gets a tag in return. He is given a pair of flannel pajamas and a red corduroy bathrobe. He must keep his own shoes, for the hospital has no house-slippers. Then he goes to whatever ward-tent his type of illness indicates. His belongings are taken by truck to the opposite end of the hospital a quarter mile away, to await his exit.
The surgical and laboratory tents sit in the middle of the big compound. There are three fully-equipped surgeries, and they are astonishingly modern. All equipment is brand-new. It is like the newest hospital in New York, except that the floor is canvas-covered dirt, the walls canvas, and the street outside is a deeply rutted boghole of red clay.
When an operation is going on, a triple flap is pulled over the tent entrance, and a heavy mosquito bar dropped over that. Inside, the air becomes stiflingly hot even now; next summer it will be cruel. Patients are brought up the muddy street on a field stretcher running on bicycle wheels. Surgeons wear white robes, white masks, rubber gloves. All is white, and you are struck with the vast amount of sheeting, swabs, bandages and towels – all white – around a desert operating table.
The light above the surgeons is fiery bright. The hospital taps a nearby high-tension line for its operating-room current. If that fails, there is a whole progression downward for emergency – a generator run by a gas engine, a portable battery set, then powerful flashlights, then lanterns, then candles, and finally just matches if it ever comes to that.
There is an X-ray room, and a fluoroscope. The darkroom was a tent within a tent. All the new equipment shone and sparkled, sitting incongruously on its dirt floor.
One tent is a laboratory, filled with basins and test tubes and burners. Another is a drugstore, where thousands of prescriptions are filled from endless bottles on shelves. And all this, mind you, every bit of it from tents to kitchen stoves to anesthetics, came to Africa on a single boat.
Then there is the dentist's office, in one end of a surgical tent. The chair is just a hard green metal one, tilted back. There are no arms to hold to when it hurts. The drill is run by the dentist pumping on an old-fashioned treadle. Yet the dentist, Maj. Vaiden Kendrick, says he can do anything he did back home in Charlotte. He offered to make me a plate just to prove it, but I gnashed my original teeth at him and fled.
Then on to the wards. There are more than 40 tents of them. Each tent holds 20 men, on folding cots. The floor is stubble. It sounds makeshift, but the patients are thoroughly comfortable.