The Pittsburgh Press (May 17, 1944)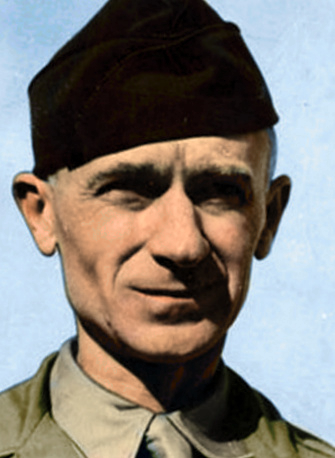 By Ernie Pyle
A U.S. bomber station, England – (by wireless)
These are some of the boys who have been blasting out our invasion path on the continent of Europe. For nearly a year they have been hammering at the wall of defense the Germans have thrown up. How well they have blasted we will know before the summer is over.
They are a squadron of B-26 Marauder bombers. They are representative of the entire mighty weight of the tactical bombers of the 9th Air Force. I have come to spend a few days with them because I wanted to get a taste of the pre-invasion assault from the air standpoint before we get a mouthful of the invasion proper from the ground.
The way I happened to come to this certain squadron is one of those things. One night in London I was sitting at a table with some friends in a public house when two boys in uniform leaned over from the next table and asked if I weren't so-and-so.
I said yes, whereupon we got to talking and then we got to be pals and eventually we adjourned from one place to another, as Damon Runyon would say, and kept on adjourning throughout the evening, and a good time was had by all.
These boys were B-26 bombardiers, and in the course of the evening's events they asked if I wouldn't come and live with their squadron awhile. Being nothing if not accommodating, I said sure, why not. And here we are.
The two boys were Lt. Lindsey Green of San Francisco and Lt. Jack Arnold of East St. Louis, Illinois. Being redheaded, Lt. Arnold goes by the name of "Red Dog." They are both very nice people indeed.
A comfortable station
This airdrome is a lovely place. Everything around it is wonderfully green, as is all England now.
The station is huge, and its personnel is scattered in steel Nissen huts and low concrete barracks for a couple of miles.
The living quarters are spread through an old grove of giant shade trees. You walk from one barracks to another under elms and chestnuts, big-trunked and wide-branched, and it gives you a feeling of beautiful peace and contentment. The huts and barracks are painted green and everything blends together.
This is a permanent station, and very comfortable. Our B-26 group has been at this field ever since coming overseas nearly a year ago.
Within cycling or hitchhiking distance there are several English villages – the lovely kind you read about in books – and our fliers have come to know them intimately. They like the people, and I'm sure the people like them.
There is more of understanding and harmony between these fliers and the local people than in any outfit I've ever seen. If you don't believe it listen to this – 15 of the boys from just one squadron have married English girls since coming over here.
The boys say this is the best squadron in England. Nine out of 10 squadrons, or infantry companies, or quartermaster battalions, will say the same thing about themselves. It is a good omen when they talk like that.
This station seems to me to have about the finest spirit I've run onto in our Army. It is due, I think, largely to the fact that the whole organization has been made into a real team.
The boys here don't especially hate the Germans, and they certainly don't like war, yet they understand that the only way out of the war is to fight our way out, and they do it willingly and with spirit and all together.
The commander of this group is Col. Wilson R. Wood of Chico, Texas. Five years ago, he was an enlisted man. Today, at 25, he is a full colonel. He is a steady, human person and he has got what it takes to blend thousands of men together into a driving unit.
The job of the B-26s is severalfold. For one thing, they had to rid upper France and the Low Countries of German fighters as far as possible, to clear the way for our heavy bombers on their long trips into Germany.
Enemy's reserves blasted
They have done this not so much by bombing airdromes, which can be repaired immediately, as by blasting the enemy's reserve supplies of planes, engines and propellers.
Their second job is to disrupt the enemy's supply system. Much of their work of late has been on railroad marshaling yards, and along with A-20s and fighter-bombers, they have succeeded to a point where British papers say Germany cannot maintain a western front by raids.
And third, they work constantly on the enemy's military installations along the Channel Coast. They feel that they have done a good job. If they haven't, I'm going to be plenty sore at them one of these days, because I might be in the vicinity and if there's anything that makes me sick at the stomach, it's an enemy military installation in good working order.