The Pittsburgh Press (May 8, 1943)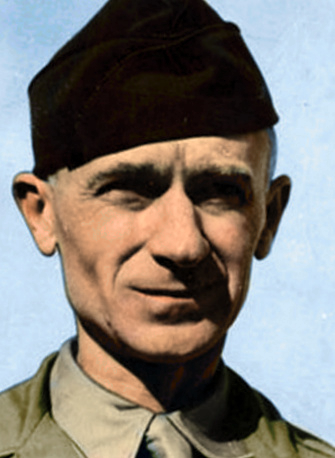 By Ernie Pyle
Northern Tunisia – (by wireless)
A few weeks ago, I said in one of these columns that the part the Americans would play in the final phase of the Tunisian war would be comparatively small. That was true, if you look at it from the big angle. But when you look at it from the worm's-eye view that has been mine in the frontlines during a big portion of the fight, it is hard to see anything from the big angle, and I feel constrained to eat my words.
Our part has seemed mighty large to me at times. For our American troops had a brutal fight in the mountain phase of the campaign.
It was war of such intensity as Americans on this side of the ocean had not known before. It was a battle without letup. It was a war of drenching artillery and hidden mines and walls of machine-gun fire and even of the barbaric bayonet.
Germans fight desperately
It was an exhausting, cruel, last-ditch kind of war, and those who went through it would seriously doubt that war could be any worse than those two weeks of mountain fighting.
The Germans battled savagely and desperately from hill to hill until the big break came. There were times when we had to throw battalion after battalion onto an already-pulverized hill before we could finally take it. Our casualties will surely run high.
Nobody will care to underrate the American contribution to the end of Rommel in North Africa.
My time at the front was spent with a certain unit of the 1st Infantry Division. This division has now been through four big battles in North Africa and has made a good name for itself in every one of them. But it has paid dearly for its victories.
Apparently, there have been some intimations in print back home that the 1st Division did not fight well in its earlier battles. The men of the division all are as sore as hornets about it. If such a thing was printed, it was somebody's unfortunate mistake. For the 1st Division has always fought well.
1st Division has enviable record
It is natural to be loyal to your friends, and I feel a loyalty to the 1st Division, for I have lived with it off and on for six months. But it is a sad thing to become loyal to the men of a division in wartime. It is sad because the men go, and new ones come and they go, and other new ones come until at last only the famous number is left. Finally, it is only a numbered mechanism through which men pass. The 1st Division will exist forever, but my friends of today may not.
For you at home who think this African campaign has been small stuff, let me tell you just this one thing – the 1st Division has already done more fighting here than it did throughout the last war.