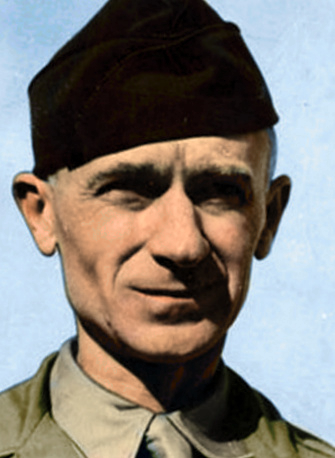 Roving Reporter
By Ernie Pyle
With the U.S. Navy in the Mediterranean – (by wireless, delayed)
Just before daylight on the morning we landed in Sicily, I lay down for a few minutes' nap, knowing the pre-dawn lull wouldn't last long once the sun came up. And sure enough, just as the first faint light was beginning to come, bedlam broke loose for miles all around us. The air was suddenly filled with sound and danger and tension, and the gray-lighted sky became measled with thousands of the dark puffs of ack-ack.
Enemy planes had come to dive-bomb our ships. They got a hot reception from our thousands of guns, and a still hotter one from our own planes, which had anticipated them and were waiting out beyond.
The scene that emerged from the veil of night was a moving one. Our small assault craft were all up and down the beach, unloading and dashing off again. Ships of many sizes moved toward the shore, and others moved back away from it. Still other ships, so many they were uncountable, spread out over the water as far as you could see. The biggest lay far off, waiting their turn to come in. They made a solid wall on the horizon behind us.
Between that wall and the shoreline, the sea writhed with shipping. Through this hodgepodge, and running out at right angles to the beach like a beeline highway through a forest, was a single solid line of shore-bound barges, carrying tanks. They chugged along in Indian file, about 50 yards apart – slowly, yet with such calm relentlessness that you felt it would take some power greater than any we know to divert them.
Italians blast away, miss
The airplanes left, and then other things began to happen. Italian guns opened up on the hills back of the beach. At first the shells dropped on the beach, making yellow clouds of dust as they exploded. Then they started for the ships. They never did hit any of us, but they came so close it made your head swim. They tried one target after another, and one of the targets happened to be us.
The moment the shooting started, we had got quickly underway – not to run off, but to be in motion and consequently harder to hit. They fired at us just once. The shell struck the water 50 yards behind us and threw up a geyser of spray. It made a terrific flat quacking sound as it burst, exactly like a mortar shell exploding on land.
Our ship wasn't supposed to do much firing, but that was too much for the admiral. He ordered our guns into action, and for the next ten minutes we sounded like Edgewood Arsenal blowing up.
A few preliminary shots gave us our range, and then we started pouring shells into the town and into the gun positions in the hills. The whole vessel shook with every salvo, and scorched wadding came raining down on the deck like cinders.
We traveled at full speed, parallel to the shore and about a mile out, while shooting.
Ships' shooting thrills Ernie
For the first time, I found out how they do something like this. Two destroyers and our ship were doing the shelling, while all the other ships in close to land were scurrying around to make themselves hard to hit, turning in tight circles, leaving half-moon wakes behind them. The sea actually looked funny with all those semi-circular white wakes splattered over it and everything twisting around in such deliberate confusion.
We sailed at top speed for about three miles, firing several times a minute. For some reason, I was as thrilled with our unusual speed as with the noise of the steel we were pouring out. If you watched closely, you could follow our shells almost as far as the shore, and then pick up the gray smoke puffs after they hit.
At the end of our run, we would turn so quickly that we would heel far over, and then start right back. The two destroyers would do the same. We would meet them about halfway. It was just like three teams of horses plowing a cornfield – back and forth, back and forth – the plows taking alternate rows.
This constant shifting would put us closest to shore on one run, and farthest away a couple of runs later. At times, we were right up on the edge of pale-green water, too shallow to go any closer.
Barges go in under
During all this action I stood on a big steel ammunition box marked "Keep Off," surrounded by guns on three sides, with a smokestack at my back. It was as safe as anyplace else, it kept me out of the way, and it gave me an $8.80 view of everything.
Finally, the Italian fire dwindled off. Then the two destroyers went in as close to shore as they could get and resumed their methodical runs back and forth. Only this time they weren't firing. They were belching terrific clouds of black smoke out of their stacks. The smoke wouldn't seem to settle, and they had to make four runs before the beach was completely hidden. Then, in this blinding screen, our tank-carrying barges and more infantry boats made for the shore.
Before long, you could see the tanks let go at the town. They only had to fire a couple of salvos before the town surrendered.
That was the end of the beach fighting in our sector of the American front. Our biggest job was over.