The Pittsburgh Press (May 5, 1943)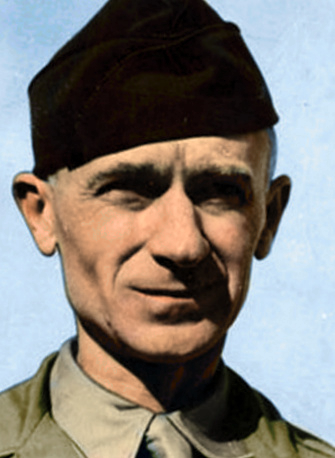 By Ernie Pyle
In the frontlines before Mateur – (by wireless)
After four days in battle, the famous infantry outfit that I'm with sat on its newly won hill and took two days' rest, while companion units on each side of it leapfrogged ahead.
The men dig in on the back slope of the hill before any rest begins. Everybody digs in. This is an inviolate rule of the commanding officers and nobody wants to disobey it. Every time you pause, even if you think you're dying of weariness, you dig yourself a hole before you sit down.
The startling thing to me about those rest periods is how quickly the human body can recuperate from critical exhaustion, how rapidly the human mind snaps back to the normal state of laughing, grousing, yarn-spinning, and yearning for home.
Here is what happens when a unit stops to rest.
My unit stops just after daybreak on Hill 394. Foxholes are dug, outposts placed, phone wires strung on the ground. Some patrol work goes on as usual. Then the men lie down and sleep till the blistering heat of the sun wakes them up.
Darkness brings hot food
After that you sit around in bunches recounting things. You don't do much of anything. The day just easily kills itself. That first evening is when life begins to seem like Christmas Eve. The mail comes up in jeeps just before dark. Then come the men's blanket rolls. At dark, hot food arrives – the first hot food in four days. This food is cooked in rolling kitchens several miles back and brought up by jeep, in big thermos containers, to the foot of the hill. Men carry the containers, slung on poles over their shoulders, up goat paths in the darkness to all parts of the mountain.
Hot food and hot coffee put life into a man, and then in a pathetic kind of contentment you lie down and you sleep. The all-night crash of the artillery behind you is completely unheard through your weariness. There are no mosquitoes so far in the mountains, and very few fleas, but there are lots of ants.
Hard to write letters
Hot food arrives again in the morning, before daylight. You eat breakfast at 4 a.m. Then begins a day of reassembling yourself. Word is passed that mail will be collected that evening, so the boys sit on the ground and write letters. But writing is hard, for they can't tell in their letters what they've just been through.
The men put water in their steel helmets and wash and shave for the first time in days. A few men at a time are sent to a creek in the valley to take baths. The remainder sit in groups on the ground talking, or individually in foxholes cleaning their guns, reading, or just relaxing. A two-month-old batch of copies of the magazine Yank arrived, and a two-week-old bunch of Stars and Stripes. Others read detective magazines and comic books that have come up with their bedrolls. At noon everybody opens cans of cold C ration. Cold coffee in five-gallon water cans is put in the sun to warm.
Soldiers cut each other's hair. It doesn't matter how it looks, for they aren't going anywhere fancy anyhow. Some of them strip nearly naked and lie on their blankets for a sunbath. By now their bodies are tanned as though they had been wintering at Miami Beach. They wear the inner part of their helmets, for the noonday sun is dangerous.
Purple with ointment
Their knees are skinned from crawling over rocks. They find little unimportant injuries that they didn't know they had. Some take off their shoes and socks and look over their feet, which are purple with athlete's-foot ointment.
I sit around with them, and they get to telling me stories, both funny and serious, about their battle. They are all disappointed when they learn I am not permitted to name the outfit they're in, for they are all proud of it and would like the folks at home to know what they've done.
They say:
We always get it the toughest. This is our third big battle now since coming to Africa. The Jerry is really afraid of us now. He knows what outfit we are, and he doesn't like us.
Thus they talk and boast and laugh and speak of fear. Evening draws down and the chill sets in once more. Hot chow arrives just after dusk. And then the word is passed around. Orders have come by telephone.
There's no grouching
There is no excitement, no grouching, no eagerness either. They had expected it. Quietly they roll their packs, strap them on, lift their rifles and fall into line.
There is not a sound as they move like wraiths in single file down tortuous goat paths, walking slowly, feeling the ground with their toes, stumbling, and hushfully cussing. They will walk all night and attack before dawn.
They move like ghosts. You don't hear or see them three feet away. Now and then a light flashes lividly from a blast by our big guns, and for just an instant you see a long slow line of dark-helmeted forms silhouetted in the flash. Then darkness and silence consume them again, and somehow you are terribly moved.