The Pittsburgh Press (August 20, 1943)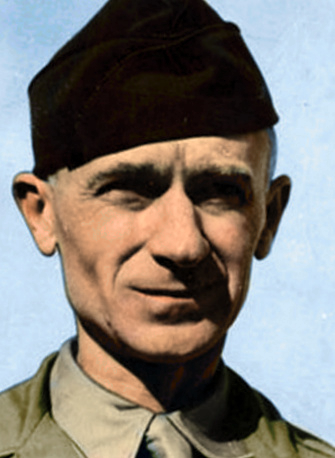 By Ernie Pyle
Somewhere in Sicily, Italy – (by wireless)
Lt. Gen. Omar Nelson Bradley is 50. He is married, and has a daughter who is the apple of his eye.
Mrs. Bradley is living at West Point for the duration, as are the wives of several other generals in this area. Their daughter, Elizabeth, who is 19, will be a senior at Vassar this fall. It's only 30 miles from Vassar to West Point, so she can be with her mother for weekends.
Each of them writes to the general about three times a week, so on the average, he gets about one letter a day from home. They usually write him V-letters.
He writes back about twice a week, although during hard campaigns, two or three weeks sometimes get by without his having time to write. When he does write, he pecks out the letters on a portable typewriter, using a very proficient two-finger system.
Elizabeth is majoring in French at Vassar, and this summer she had the ecstatic experience of talking to Gen. Henri Giraud in his own language and asking him about her father, whom Giraud had seen just before leaving Africa. Gen. Bradley, incidentally, doesn't speak any foreign language.
'Second greatest general'
The whole Bradley family is devout in its esteem for Gen. George C. Marshall, the Army's Chief of Staff. When Gen. Bradley got his third star, Elizabeth wrote him a letter of congratulations in which she said they knew he was "the greatest general in the world – next to Gen. Marshall."
Gen. Bradley is a tall man, who seems thin although he weighs 182 pounds. His legs are long and he is a terrific walker. Recently, Hanson Baldwin did a piece about him in The New York Times which Mrs. Bradley wrote her husband was "an excellent piece except he called you medium height, which makes me furious." Actually, the general is just half an inch under 6 feet, in his socks.
The general is deeply tanned. He is getting bald on top, and the rest of his hair is cut short and speckled with gray. His head flares out above the ears more than the average man's, giving him a "dome" and an air of erudition. He wears faintly tinted tortoise-rimmed glasses.
It would be toying with the truth to call him handsome, instead of good-looking. His face shows the kindness and calmness that lie behind it.
To me, Gen. Bradley looks like a schoolteacher rather than a soldier. When I told him that, he said I wasn't so far wrong, because his father was a country schoolteacher and he himself has taught at West Point and other places. His specialty was mathematics.
The general doesn't smoke at all. He takes his cigarette rations and gives them away. He drinks and swears in great moderation. There is no vulgarity in his speech. Back home, he says, he and Mrs. Bradley probably took one drink a month before supper. Over here, where liquor is hard to get, he drinks hardly ever, but he does pour a dust-cutting libation for visitors who show up at suppertime. He has three bottles of champagne that somebody gave him, and he had been saving them for the capture of Messina.
The general's voice is high and clear, but he speaks so gently you don't hear him very far away. His aides say they have never known him to speak harshly to anyone. He can be firm, terribly firm, but he is never gross, nor rude. His quality of "ordinariness" puts people at their ease.
'Makes you feel like a general'
A quaking candidate for a commission in the officers' school at Fort Benning, Georgia, was once interviewed by Gen. Bradley, and when the soldier came out, he said:
Why, he made me feel like a general myself.
He is just the opposite of a "smoothie." His conversation is not brilliant or unusual, but it is packed with sincerity. The general still has the Midwest in his vocabulary – he uses such expressions as "fighting to beat the band" and "a horse of another color."
Gen. Bradley is a hard man to write about, in a way, just because he is so normal. He has no idiosyncrasies, no superstitions, no hobbies. He doesn't collect seashells. He doesn't read Schopenhauer. There is nothing odd or spectacular about him.
He laughs good-naturedly at small things and has an ordinary Midwestern sense of humor. One day at Sidi Nsir, after Gen. Eisenhower had been visiting there, Gen. Bradley walked into the room where his chief of staff was working and said:
Bill, Gen. Eisenhower says you're out of uniform today.
The chief of staff – a colonel and an old friend of Gen. Bradley's – was perturbed. He looked at his leggings, his necktie, his shirt – everything seemed all right to him. And then Gen. Bradley said:
No, no, it isn't your clothes. You've got on the wrong insignia.
Whereupon he walked over, unpinned the eagle from the colonel's shirt collar, and pinned on a star. That was his way of informing his friend he had been promoted to brigadier general.