The Pittsburgh Press (August 17, 1943)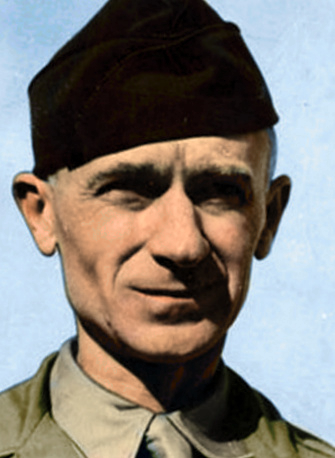 By Ernie Pyle
Somewhere in Sicily, Italy – (by wireless)
Every day at the front produces its quota of freak wounds and hairbreadth escapes. Almost any wounded man has missed death by a matter of inches. Sometimes a bullet can go clear through a man and not hurt him much, while at other times an infinitesimal fragment of a shell can pick out one tiny vital spot and kill him.
Bullets and fragments do crazy things. Our surgeons picked out more than 200 pieces of shrapnel from one fellow. There was hardly a square inch of him, from head to toe, that wasn't touched. Yet none of them made a vital hit, and the soldier will live.
I remember one soldier who had a hole in the front of his leg just below the hip. It was about the size of a half dollar. It didn't look bad at all, yet beneath that little wound the leg bone was shattered and arteries were severed, and the surgeons were working hard to get the arteries closed so he wouldn't bleed to death.
Another fellow I saw had caught a small shell fragment in the wrist. It had entered at a shallow angle and gone clear up the arm to the elbow, and remained buried there. The skin wasn't even broken at the elbow, but right over the spot where the fragment stopped was a blister as big as a pigeon egg. The blister had been generated by the terrific heat of that tiny piece of metal.
Welding by artillery
That's one thing most people don't realize – that fragments from bursting shells are white-hot. I remember an impressive example that happened on our ship during an air raid just before we left Africa. A heavy bomb hit about 100 yards away. Among the many fragments that hit our ship was one about half as big as a tennis ball. It first struck a bronze water pipe along the ship's rail, then tore through a steel bulkhead into the radio room, hit a sailor in the shoulder, turned at right angles and went through a radio set, and finally went through one more steel bulkhead before it stopped.
When we picked up the fragment, it had a quarter-inch plate of solid bronze welded on one side of it. The fragment's intense heat had simply welded on a sheet of bronze as it went through the water pipe at the rail. It was welded as solidly as though it had been done on purpose.
They've got the medicine
Here in northern Sicily, it is all hill fighting, as it was in northern Tunisia, only worse. Getting the wounded out is often a problem. We had one wounded man who had been lowered by ropes over a sheer 75-foot cliff. He said he wasn't so concerned about his wounds, but the thought that maybe the rope would break gave him the worst scare of his life.
German medical facilities are apparently as good as ours. Medical supply dumps that we captured show that they are well-supplied with the finest stuff.
We know that their system for collecting their wounded and burying their dead is good, for it is only after the most sudden and rapid advances on our part that we find their dead unburied.
We have captured several big Italian medical dumps. Our doctors found our surgical instruments far superior to the Italians', but both the Germans and the Italians have bandages and compresses that are better than ours.