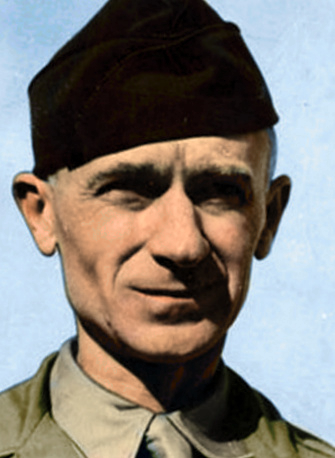 Roving Reporter
By Ernie Pyle
Somewhere in Sicily, Italy – (by wireless)
Before closing this series about the Navy, I want to tell you of one member of our ship's crew who didn't make the invasion trip with us. She was the ship's dog, and this is the story of her and her master.
He is a Regular Navy man, a chief petty officer of many years' service. He is tattooed, wind-burned, a bachelor, and quietly profane. His officers say he is an excellent worker. I'm not giving his name because the story concerns his getting drunk.
It seems that several months ago, some sailors from our ship had picked up a German shepherd puppy. She belonged to the whole crew, but the puppy took to our friend and he took to it, and sort of by acclamation she became recognized as his dog.
The puppy grew into a beautiful dog, smart, alert and sweet. But when hot weather came along, she got the mange. Our friend doctored it with everything he could find, and other sailors helped him with the doctoring, but still the mange got worse. They finally clipped her hair close, so they could get medicine on her skin more thoroughly, but nothing did any good.
When they hit the last port before leaving Africa, my friend told me he went ashore and searched the country for a French or American Army veterinary, but couldn't find any.
She was buried at sea
When I came aboard ship, this beautiful dog was frisky and alert, but the sailors had given up all hope of curing her. Something had to be done. The others left it up to our friend. Whatever he chose to do had their approval. He told me later that you couldn't just put her ashore, for she had grown up aboard ship and wouldn't know how to take care of herself on land.
So, our friend solved it in his own way, the morning after I came aboard. He didn't ask anybody to help him or tell anybody what he was going to do. He just tied a weight around her neck and let her down into the water. That was her end – in the tradition of the sea.
I heard about it a few hours later, and stopped by the rail to tell our friend I was sorry. He couldn't talk about it. He just said:
Let's go below and have a cup of coffee.
A few hours after that, I saw that he had started having something else.
In the midafternoon, I saw one of the ship's officers talking to him very seriously. It didn't look too good. Drinking aboard ship just doesn't go. The next day our friend was called before the mast and given a light suspension of privileges.
At lunch the boys were kidding him about it and he said, well, hell, he wasn't sore about it, for obviously they had to do something to him.
That evening I happened to be sitting with the officer who had sentenced our friend, and just to make conversation I mentioned that it was sad about the dog being gone. He sat up and said, "What!"
Ernie off to new adventures
I said yes, the dog was gone.
He said, "My God!" And then he said:
He's one of the best men on the ship, and I knew something was wrong, but I tried for half an hour to get it out of him and he wouldn't tell me.
The officer sat there looking as though he was sick, and again he said:
So that was it! My God!
By the end of the first week after the Sicilian invasion, there was almost no indication of warfare along our beachfront. Every night the German radio told us we were getting bombed, but actually a stultifying peace had settled over us.
Hour by hour we could feel the ship slide back into her normal ways. The watches were dropped down to "Condition Three," which is almost the peacetime regime. The ship's laundry reopened for the first time in weeks. Movies were borrowed and shown after supper. The wearing of white hats became optional once more. The men went swimming over the side, and fished with rod and reel from the forecastle head. The captain had time on his hands and played gin rummy with me when I got worn out with writing. Finally, liberty parties were let ashore for sightseeing.
I knew then that the war, for our little family in this special phase, was over. So, I shouldered my barracks bags and trundled myself ashore in Sicily for good.
These few weeks with the Navy were grand, and I hated to part from the friends I had made. Too, this taste of civilized living had been a strange delight, and yet for some perverse reason I seemed to look forward to going back to the old soldier's way of sleeping on the ground and not washing before breakfast, and fighting off fleas. Man is a funny creature.