The Pittsburgh Press (October 16, 1940)

CONSCRIPTS TO JOIN MEN OF ALL TYPES
…
You'll Mingle With City and Farm Residents, Industrial And White Collared Workers in the Service
…
This is the first of a series of articles written especially for prospective members of the United States armed forces by two members of the West Point staff. These officers tell just what the rookie is likely to run into and how to find his way around in the strange new world of the Army.
By Captains William H. Baumer Jr. and Sidney F. Giffin of the United States Military Academy, Authors of 21 to 35: What the Draft and Army Training Mean to You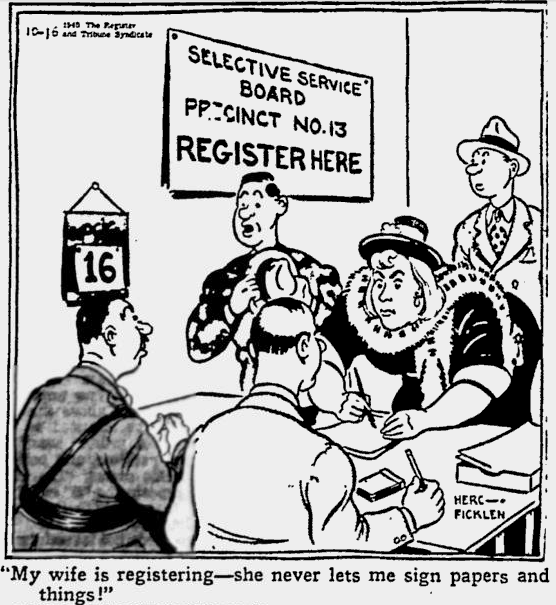 The Regular Army is moving toward its allotted strength of 375,000 men, obtaining recruits entirely by voluntary enlistment.
The National Guard, with a 1940 peacetime strength of 235,000 men, has been called into the service of the United States.
Selective Service is counted upon to raise the total number of men to 1,300,000 early in 1941.
The War Department is striving to build as a minimum a powerful, mobile army, thoroughly trained and properly equipped, consisting of 27 infantry divisions, two cavalry divisions, and four armored divisions, plus the necessary supporting troops coming under designations of Corps, Army and GHQ units.
The last units are heavy artillery, engineers with equipment for large bridges and other installations, Air Corps, and other groups of vitally-needed troops to aid the infantry and armored divisions, The total strength of this army should be 850,000 men; 159,000 more are needed to continue the large-scale expansion of the Air Corps.
To these troops, 100,00 men must be added to garrison our overseas possessions. The outposts in the Philippines and Hawaiian Islands, in Alaska, in Puerto Rico, and in the Panama Canal Zone provide security for naval and air bases.
50,000 additional men are to be sent to fixed harbor defenses for the protection of seaports and naval bases in the continental United States.
Finally, to bring the total to 1,300,000 men, 125,000 men will be needed by the various service agents, such as ordnance, medical, quartermaster, and induction and training of recruits under Selective Service.
The first induction of Selective Service men into the Army during the fall of 1940 is made through the reception centers and thence directly into units of the Regular Army, National Guard, and Regular Army inactive. At the unit training centers, Selective Service men will take up their recruit instruction. This movement of the inducted men into the expanded army is necessary to build a powerful army quickly.
Must Await Instructions
The second group of Selective Service trainees during the first six months of 1941 will be inducted as usual through a reception center, but will not go directly to units of the Army until there are vacancies to be filled. The second group will therefore have its recruit training at selected camps, and will then await the process of being fed into the units as openings occur. This recruit training period in a replacement pool (enlisted replacement center) will allow the authorities further time as to occupational specialties and will cause more efficient placement of men of high intelligence and leadership abilities.
After registering today and subsequent classification, you await further instructions. On a memorable day, you, a Class I registrant, are notified that your number has come up. You have been selected. You report to the local board as directed and are selected for induction into the armed forces of the United States. The term "inducted" refers to the process of changing your status from a civilian to a military one.
As soon as the group of Selective Service men from one district is prepared to leave home, the local board designates one suitable member of the party as a leader, and an assistant leader for each squad of eight,. and instructs them in their responsibilities and charging them with the care of the party en route, arrangements for supply, discipline, and safe delivery.
Face Series of Tests
When the inducted men arrive by train, at their nearby reception center, they will see city and farm men, industrial and white collar workers. There will be well-tailored young men, and suspendered man. As each group from its local board area steps off the train, papers in hand, it will go through a series of tests to determine the place in the army best suited to each man.
The reception center is an army encampment or post at which the inducted men are sorted, classified, examined physically and mentally, clothed and equipped, and their original records completed. Reception insures each army organization that it will receive men whom it can use, train and keep. After leaving the reception center, many recruits will subsequently obtain specialized training at an enlisted replacement center, at special schools, or at their assigned units in the Army.
Since the reception center will usually be in your corps area, the other men there will probably be civilians from your vicinity. A soldier will meet you at the train and direct your group to a certain checking point. The soldier will line you up alphabetically and the clerk will see that he has the following records pertaining to you:
Physical Examination Report.
Questionnaire.
Entertainment list.
Give Your Right Name
The clerk will call out your names alphabetically from the local board's list. He will then hand you your papers and you will move forward to another clerk who will check to see that your name has been recorded in the same way on each paper. Giving your full name correctly spelled, will be important for in the last war it sometimes happened that men with similar names were mixed on pay, insurance and death rolls. The second clerk, having determined that your records are accurate, will remind you always to sign your name in the same way that it is shown on the records.
Next the clerk will place around your neck a tag giving your local board, temporary assignment to quarters, and name.
To Get Outfits
As soon as the group from your local board is checked, the soldier guide will conduct you to the hospital for a preliminary medical check to see that you have no contagious diseases. This check usually consists of an examination of your throat and chest. If anyone is detected carrying lice, he is immediately sent off to a delousing station. After the medical checkup, the group goes to quarters – either tent or cantonments – where blankets and mess kits, with knife, forks, and spoon are issued.
The cantonments are large frame structures where men sleep in dormitories, called squad rooms. Row on row of beds fill the rooms, and one's first reaction is the lack of privacy afforded. Outside the cantonment is a smaller building dousing the toilet facilities. This too is numbered and is allotted solely to the men living in the nearby cantonment. Here again facilities such as wash basins and showers are aligned in rows.
So – you're in the Army now!
TOMORROW – Uncle Sam Takes Your Record