The Pittsburgh Press (October 16, 1940)
R-DAY SIDELIGHTS
…
There Were No 'Squads Right' or 'Ten-shunns' But Good Humor Prevails Here
…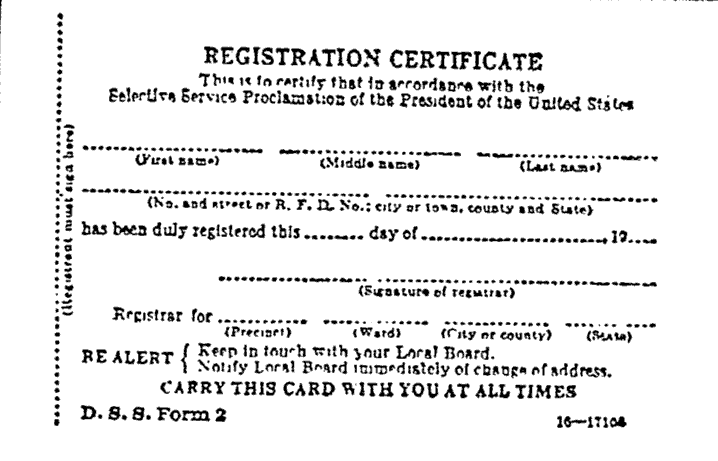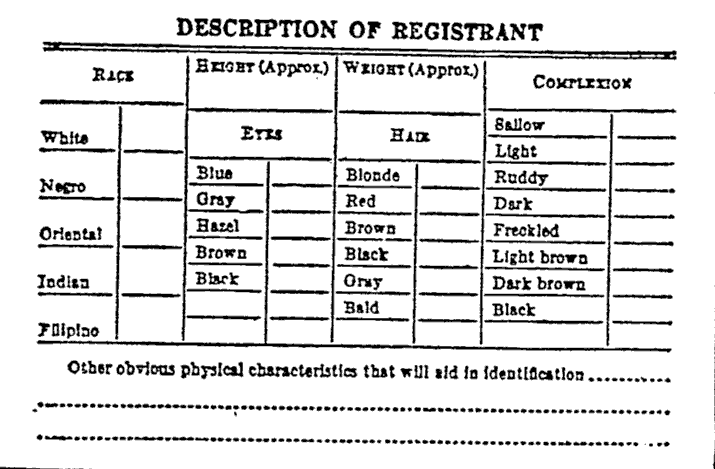 Putting two and two together and getting – an army:
There were no "squads left" or "squads right" today. Not even a snappy "ten-shunn."
But for George King and his orchestra, R-Day meant "stack arms." After completing their nightly serenading at Bill Green's at 2 a.m., Mr. King and the 14 members of his band stacked away their instruments and sat up all night.
At 7 a.m., the orchestra, sans instruments and sleep, marched into the County Office Building to be the first to register there.
---
At South Hills High School, No. 1 registrant was a milk driver who had just completed his route.
When registration offices opened at 7 a.m., the lineups in many schools extended along the corridors out to the doors.
Many of those in line at the Bellefield School tired, finally leaned against walls and sat on desks in the corridors.
Suddenly, a five-foot-three fellow, standing stiffly at attention, snapped:
Boy, what soldiers you guys would make. Wait until you march 15 miles a day.
One bewildered registrant awaiting his turn popped to a friend behind him:
Say, Bill, we have to tell them who our employer is, don't we?
Assured that he did, the registrant pressed Bill further.
Well, I'm on the WPA now. Who's my employer – the government?
"Yeah," Bill grinned back.
Guess there won't be much change for you, eh?
---
A late arrival – and you were a late arrival if you came at 7:01 – rushed into one registration office and dashed for the head of the line, unaware that at least 50 others were there before him.
Halfway down, however, he paused when a voice said:
You won't be so anxious to get up front when Uncle Sam gets you, buddy.
---
Gloom dispelled humor for a moment in one school building when a registrar walked out to announce that "the School Board prohibits smoking in its buildings."
One tie-less fellow grinned, carefully snuffed out a cigarette he had just lighted and dropped it in a coat pocket.
---
A good fireman – and a good Democrat – looked in awe at the early-morning registration rush in North Side.
He mused:
Wish we could get the voters out like this.
---
If anyone was late, it was the registrars. One hustled into a South Side office an hour late, picked up his stack of questionnaire cards and jumped behind his desk.
"Name, please," he said hurriedly. Then – "Hmmm, anybody got a pen they can spare?"
Registrars had a hard job on their hands spelling names. One of them, told by a registrant his birthplace was in Yugoslavia, hesitated a moment, then spelled it with an "H."
"What town were you born in Hugoslavia?" he asked.
The registrant replied:
I don't know. That was back in 1904.
---
Most of the registrars asked specific questions of the potential draftees – name, age, employer, etc. But when it came to obvious physical characteristics, in many instances, they noted them themselves.
One such registrar was fooled by a hat, though. He glanced at a 30-year-old before him and said mechanically:
Hair – brown.
The 30-year-old smiled broadly, took off his hat. Beneath was a shining bald pate.
At least one would-be soldier was turned away. In Clairton, a young Negro stalked up to registration booth and give his birth date: November 1919.
"November?" the registrar asked.
You aren't 21 yet. Sorry.
---
The County Airport registration office sent out an emergency call at 10 a.m. All its 300 cards had been used up.
Steelworkers en route to work at the Irwin works of the Carnegie-Illinois Steel Corp. stopped off at the airport to enroll there, officials explained.
---
Among those to register was Congressman Robert J. Corbett, who is just 35. Mr. Corbett voted against the draft. Congressman Joseph A. McArdle and John McDowell, who also opposed conscription, are 37.
Congressman Matthew A. Dunn and Herman Eberharter, who voted in favor for the bill, are 54 and 48, respectively.
To aid enrollees, the city ordered flags posted at all registration offices – and nowhere else. Besides the flags, red-white-and-blue signs on buildings announced: "REGISTER HERE."
First two to register in Braddock were Councilman Joseph Pytka and Borough Secretary Henry Wodkowski.
Two mothers serving as registrars signed up their own sons.
In Avalon, Mrs. Alice Wilson walked into the Borough Building and was greeted by a cheery "Hello, Mom." Her son, Fred, 23, of 115 Fisk St., a restaurant chef, had slept in the building all night to be the first to register. He's been married 2½ years.
In Dormont, Mrs. Harold J. Grace of 1257 Hillsdale Ave. enrolled her son, Harold Gordon Grace, 24.
---
A patrolman, 25-year-old Glenn Charles of 1655 Memorial Dr., was the first to register in Dormont. He went to the Borough Building after completing his "night beat."
---
A Clairton father of three, Primo Amati, of 156 Sycamore St., was so anxious to be the No. 1 enrollee in that community that he packed a breakfast, took some blankets and slept all night on the steps of the Clairton High School.
Said Mr. Amati, who's 30 and had had three years of National Guard training:
I don't believe in dictatorship… We've got to get ready to stop Hitler before he tries to attack us.
---
But the Marriage License Bureau may as well have proclaimed a holiday. No licenses had been issued up to 10:30 a.m.
---
At the City-County Building, registrars were stumped when some enrollees answered: "No address." Authorities expressed the belief it will be up to Uncle Sam to "catch" transients when they're drafted.
The office reported persons from at least 17 different states had registered there.
Alien enrollees, too, were numerous. One of these was Ahmad Mansour Ali, 32, of Palestine, who's connected with the Palestine Trading Co. of New York and happened to be here on business today.
---
One youth who admitted he had boosted his age to get a job was not permitted to register at the City-County Building. He admitted:
I falsified my age to get a job. But I want to stick to it now and I want to register. If I don't, I'll lose my job.
---
College gridders in Pittsburgh had no holiday from practice. Besides most of the boys, two coaches had to squeeze out a few moments to register – Aldo "Bug" Donelli of Duquesne, and Dr. Eddie Baker of Carnegie Tech. Pitt's Coach Charley Bowser is over the draft age.
---
The draft affected even Criminal Court procedure. For the first time, two jurors were permitted to talk to an "outsider" during the progress of a trail.
Frank J. Ambrozio Jr. of Library Rd., Snowden Township, and William R. Hetzer of 3629 Mexico St., North Side, serving on the bond-racket trail jury were escorted from Court Room No 4 to Court Room No. 2 this morning to enroll before the case was resumed.
---
Out of the aliens who was forced to enroll was Richard Chandler, Negro, of 2037 Rose St., a janitor in a Squirrel Hill apartment house.
This makes twice I've registered. I was born in the Barbados and I'm a British subject.
Chandler previously had registered under the Alien Registration Act, which went into effect last month. Alien registration, requiring enrollment of all aliens regardless of age, will continue through December 26.