The Pittsburgh Press (December 29, 1943)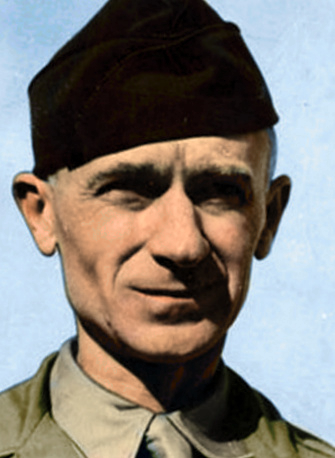 By Ernie Pyle
In Italy – (by wireless)
On the way back from the front the other day I stopped in an evacuation tent hospital to see Dick Tregaskis, the war correspondent for International News Service, who was so badly wounded a few weeks ago.
Dick got a shell fragment through his helmet and it ripped his skull open. He is alive at all only by a seeming miracle. Even after he was wounded, other shells exploded within arm's length of him, yet he escaped further injury.
He still has his battered steel helmet. It has a gash two inches long in the front and a smaller one at the left rear where the fragment came out. The blow knocked off his glasses but didn't break them.
Even with such a ghastly wound, Dick walked half a mile down the mountain by himself until he found help. Late that night he arrived at the hospital, was put to sleep on morphine, and Maj. William Pitts performed the brain operation.
It was Maj. Pitts' fourth head operation that night. He took more than a dozen pieces of bone and steel out of Dick's brain, along with some of the brain itself. He and the other doctors are proud of pulling Dick through – as well they might be.
At first, Dick had little use of his right arm, he couldn't read his letters, and he couldn't write. Also, he couldn't control his speech. He would try to say something like "boat" and a completely different yet related word like "water" would come out.
But his progress has been rapid. During my visits he made only a couple of small mistakes such as saying "flavor" when he meant "favorite." But he always keeps trying until the word he wants comes forth.
He works at recovery
The doctors say he is a marvel. While other patients usually lie and wait for time to do the healing, Dick works at it. He constantly uses his arm to get it back into action, and he reads and talks as much as he can, making his mind practice.
While I was visiting him the second time, a corporal in the Medical Corps came in with a copy of Guadalcanal Diary, which Dick wrote, and asked if he would autograph it. Dick said he'd be glad to except he wasn't sure he could sign his name.
He worked at it several minutes, and when he got through, he said:
Why, that looks better than the way I used to sign it.
And after the boy left, he said:
I always like to be asked to sign a book. It makes me feel important.
Dick Tregaskis is a quiet and scholarly type of newspaperman. His personal gear is in the same room I'm living in back at the base camp, and I notice his books are the Shakespeare type. He wears tortoise-shell glasses and talks slowly and with distinctive words. He is genuine and modest.
His manner belies the spirit that must drive him, because he has by choice seen a staggering amount of war. He has been through four invasion assaults in the Pacific and the Mediterranean. He wrote the famous Guadalcanal Diary, which sold half a million copies in America and has been made into a movie. He is a very thoughtful person and was as eager to know about my book as if it had been his own.
Mark Clark looks up
Dick is married and his home is in Elizabeth, New Jersey. He is the tallest correspondent over here, being 6'5". Gen. Mark Clark, who is 6'2", always says he's glad to see Tregaskis because he's one of the few men he can look up to.
One of the surgeons laughingly remarked that if Dick had been short like me, he might never have been wounded, but Dick said no, that where they were that day, with no cover anywhere, even "the tallest midget in the world would have got it." He meant the shortest midget, but we understood.
Dick wears a size 14 shoe and once had to travel all the way from Guadalcanal to New Caledonia to find a new pair. He is strong and muscular but really thin, and his health is not too rugged. The last thing he did before going to sleep with morphine the night he was wounded was to warn the doctors against using any drugs that would stimulate his diabetes.
The hospital where he spent the first three weeks was only a few miles behind the lines. It was swathed in mud, and Dick lay on a cot in the middle of a dirt-floored ward tent crammed with other patients.
A few days ago, they moved him to a general hospital farther in the rear, and in a short time the Army will send him back to America for final recuperation. They've now taken a big patch of skin off his leg and grafted it onto his head to cover the wound. They predict he will be ready for the front again within six months.