The Pittsburgh Press (November 22, 1943)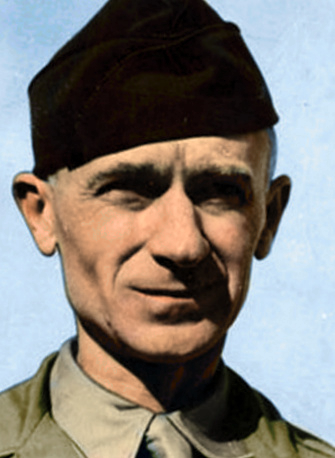 By Ernie Pyle
Ernie Pyle is describing his impressions of the home front is a short series of columns before shoving off again on assignment to the battlefronts.
Albuquerque, New Mexico –
One of the few souvenirs I brought back from the Mediterranean was a snappy German infantry cap I'd picked up in Sicily. It just happened to fit me perfectly.
So, I took to wearing it when I drove That Girl to work every day at Kirtland Field, the big Army air base here, and thought it might cause some amusement by befuddling the sentries at the gate. But nobody paid any attention to it; in fact, I guess nobody knew what it was. I was disappointed.
That went on for a couple of weeks, and then one evening as I was on the way in, the sentry, instead of smiling and waving me through as usual, said very severely:
Pull over to the side and park, sir.
I protested I'd be late to pick up That Girl, but he repeated his order, and I've been around the Army enough to know an order when I hear one. He took my pass, went into the booth, and had a long conversation on the telephone. When he came out, he said, "Come with me, sir." I knew the sentry and he'd always been friendly, but now he was so official and firm he had me scared stiff.
We started for the provost marshal's office. I got so weak I could hardly walk. I couldn't imagine what I'd done, but there was no doubt in my mind that whatever crime I'd committed was plenty bad.
Just getting acquainted
We went into the big provost marshal's building and were ushered right on through to the provost's office, in a manner which indicated that my execution was to be immediate. And there sat the provost, laughing fit to kill.
He said:
I understand you've been going in and out of here wearing a German cap.
I said:
I sure have, but it took somebody around here a hell of a long time to recognize it.
The provost had authorized my pass originally, but we had never met. This was just his way of getting acquainted.
So, we all laughed, the sentry gave my pass back, a little of my strength returned, and I got back in the car swearing to wear only caps made in America, preferably by Indians, after this.
Provosts are good guys
I like provost marshals. I don't know whether it's because they're usually nice guys, or whether it's just because it's a good idea to know them. But I do think I'm friends with the provost of every division and corps I ever served with. And while in Washington I got invited to lunch one day with the chief provost of all provosts – Maj. Gen. Allen Gullion.
I've had some nice experiences with provosts. For example, in Tunisia and Sicily there was a regulation that everybody had to wear his steel helmet and leggings at all times.
Now the steel helmet makes me top-heavy, and hurts my neck, and the wind blows through it and I can't hear, so I never wear mine unless actually under fire. As for the leggings, I can't stand them except in very cold weather.
Faces fines of $120
Just before the end of Sicily, while I was riding along gaily in a jeep, I was stopped and ticketed three times in one day for not wearing my helmet and leggings. The MP's ticket you just like traffic cops, and the tickets go through channels to headquarters, and you're called up and fined. Each count against me called for a $40 fine, which would have socked me $120 for my day's misdemeanors.
I didn't think anything about it for a couple of days, and then one evening an Army messenger rode up to our little camp in the woods, handed me an official-looking envelope, and rode off. The envelope was from the provost marshal.
My heart sank. I could hardly bear to open the envelope. Of course, I knew the provost marshal, but you never can tell.
Inside the envelope were the official conviction papers. The charges were typed out, and the MP's tickets were clipped to it. And then I saw the sentence, and almost fainted with relief. It said:
You are hereby sentenced to recite 10 times a night for the next 30 nights, as follows:

I am a good soldier, and will try to conduct myself as such by wearing my helmet and leggings at all times.

JOHN HURLEY
Major – Provost Marshal