The Pittsburgh Press (August 5, 1943)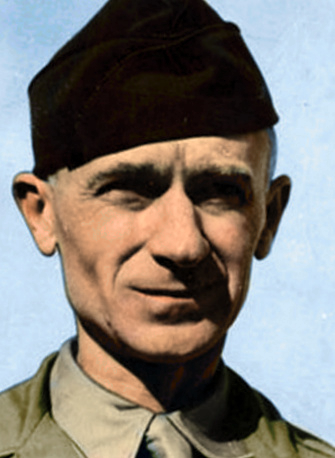 By Ernie Pyle
Somewhere in Sicily, Italy – (by wireless)
Some more shipboard sketches:
Joe Talbot: He is an aviation ordnanceman first class, and since there is no aviation aboard his ship, he is a round peg in a square hole. Of course, that isn't his fault.
What he actually does is a little bit of everything, when things were normal, and during battle, he is the head of a crew down in a magazine of big shells. He wears headphones, and upon orders he shoots more ammunition up to the gun batteries above.
Joe is a black-haired, straight-shouldered Southerner from Columbus, Georgia. In civil life, he was a photographer on the Columbus Ledger-Inquirer. The last big story he photographed was Eddie Rickenbacker's crash near Atlanta. Joe has been married four years. His wife works at Woolworth's store in Columbus.
This is his second time in the Navy. He was in it from 1931 to 1935, and he has been in two years this time. He has no intention of making it a career. He has one great postwar ambition – he says he's going to do it in the first six months after he gets out. He's going to buy a cabin cruiser big enough for four, get another couple, and cruise down the Chattahoochee River to the Gulf of Mexico, then up the Suwannee, making photos of the whole thing in color.
Tom Temple: His full name is Thomas Nicholas Temple. His father deliberately put in the middle name so the initials would make TNT. Tom is only 19. He is tall and thin, very grave and analytical. He talks so slowly you think sometimes he's going to stop altogether. After the war he wants to go to Harvard and then get into the publishing business. Tom's mother is a high-school teacher at Far Rockaway, Long Island, and writes on the side. She used to write for Story Magazine under the name Jean Temple.
Tom's father was wounded in the last war. He is now in the big veterans' hospital at Albuquerque, only a short way from my home.
Tom says when he first came into the Navy, the sailors' profanity shocked him, but now it rolls off his back like water off a duck. Tom is a seaman second class. He is very sincere and thoughtful and one of my favorites aboard ship.
Joe Ederer: He is a lieutenant commander and chief engineer of the ship, and he was my part-time host while I was aboard, since I did all my writing in his cabin. Furthermore, I ate his candy, smoked his cigarettes, used his paper, and would have read his mail if I could have found it.
Cdr. Ederer has been at sea for more than a quarter of a century. He is out of the Merchant Service, and he indulges in constant pleasant feuds with his Regular Navy friends.
His home is at 2724 Northeast 35th Place, Portland, Oregon. His wife is used to waiting, so his absence is not as hard on her as it is on many wives. They have a 15-year-old boy upon whom the chief engineer dotes. He has two pictures of his family on his shelves.
Cdr. Ederer is one of the few officers who are genuine salts. He is not exactly a Colin Glencannon, but they have many things in common. The commander spent many years on the Orient run and has a personal hatred for the Japs. He has been with his present ship ever since she was commissioned two years ago, and he hopes this part of the war soon gets over so he can get to the Pacific.
Like all sailors he wants someday to get five acres, preferably in the Oregon woods, build a cabin and have a creek running past his door. If he ever did, he'd probably go nuts.