The Pittsburgh Press (July 8, 1943)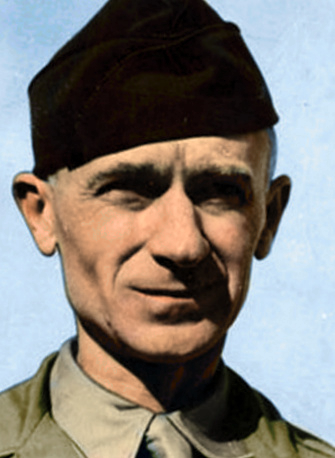 By Ernie Pyle
Second of a series.
North Africa –
The fond mothers of WAACs in Africa may have visions of their poor little girls all alone over here in this big bad world fighting off olive-skinned rouges with one hand and lions and snakes with the other.
They needn't worry. The girls are perfectly safe. The city they are in is as modern, though in a European way, as cities back home. Thousands of French women and girls, dressed just as Americans dress, crowd the streets at all hours. There are American Army nurses, and British nurses, WAAFs, WRENs and ATS girls, and five different kinds of French service girls in uniform.
There is the thrill of being in the midst of vital things here, without the drawbacks of either physical danger or spiritual peril.
Our WAACs do about a dozen kinds of work here. It takes a couple of dozen to run their own two barracks, their three messes and their headquarters. They are proud of being a self-contained unit, requiring no help from anybody. They even repair their own stoves.
Five of the others are car drivers, and the rest work in offices. They serve as secretaries, typists, draughtsmen, phone operators, and mail sorters. They get up and "go to the office" just as though they were on civilian jobs back home.
There are six WAACs in Gen. Eisenhower's office. There are 30 in the Adjutant General's office, 11 in the Judge Advocate's office, 14 in Civil Affairs. The Signal Corps has 50 running switchboards and teletypes and deciphering code messages. And since there are no WAVES over here yet, two WAACs are working for the Navy!
When a WAAC takes over a telephone switchboard from a soldier, efficiency goes up about a thousand percent. If there is one single thing the male species does with complete confusion and incompetence, it's running a switchboard.
The mail section is another example of women doing a job better than soldiers can. There are 95 WAACs in the delayed-mail section – mail that, for some reason or other, is not immediately deliverable, and the addresses have to be tracked down. This is confining and tedious work. You have to sit all day, and you become practically an international business machine. Each of these girls is now doing the work of four G.I. soldiers whom they replaced, the big bumble-fingers.
There are a number of WAACs in the Planning Section, and these are cognizant of the most vitally secret information. They are good tongue-holders. Their officers tell me that soldiers who have dates with WAACs are always confessing to them where they are going next, but that the girls are as mum as though they were talking to German spies.
Of the five girls who are drivers, two drive trucks. In England, it's a common sight to see a whole big military convoy driven by women, but we haven't reached that stage yet. The two WAAC truckdrivers work mostly in the city, but they have made cross-country trips of several hundred miles hauling supplies.
Both of these drivers are former schoolteachers, and one holds a master's degree. She is Idel Anderson of San Francisco. She taught history in Reno. She loves it over here. In fact, she has definitely decided to come back after the war and stay a while. She wants to learn French perfectly, for one thing, and to have more time to brush up on history at the scene.
The other schoolmarm who wheels a big truck is Dorothy Gould, of Dos Palos, California. Both of these girls wear Army coveralls, but both of them are feminine and there is nothing truck-driverish about them except their ability.
The five officers of the WAAC company live in barracks with the girls but have separate rooms. The company commander is Capt. Frances Marquis, of New York, who is 46 and married and did promotion publicity work back home.
Second in command is Capt. Burke Nicholson, of St. Louis. She is 29, married, and has her own law practice in St. Louis. In fact, she was president of the Women's Bar Association there, being the youngest one extant.
Lt. Elizabeth Joosten commands that part of the company which lives in a convent. She is a charming woman with a sharp wit, she is married, and she gives the Stratford Hotel in Houston, Texas, as her home. She was born and educated in Holland.
Lt. Sylvia Marsili, who says her name rhymes with parsley, is 36, comes from Pittsburgh, has a BS degree in home economics, and taught junior high school at Pittsburgh.
The fifth officer is a doctor. She is Lt. Margaret M. Janeway, who had her own practice in New York. She's about to be taken into the Army. Lt. Janeway is 47, and married. She says the WAACs' health is good and that the average WAAC in Africa, although she has gained about 15 pounds, has actually got slimmer around the waist. Which shows what hard work and regular hours and trying to learn French can do for a woman.