Updates daily…
Dow Jones Industrial Average:
110.54

-0.48 (-0.43%)
January 10, 4:00 p.m. EST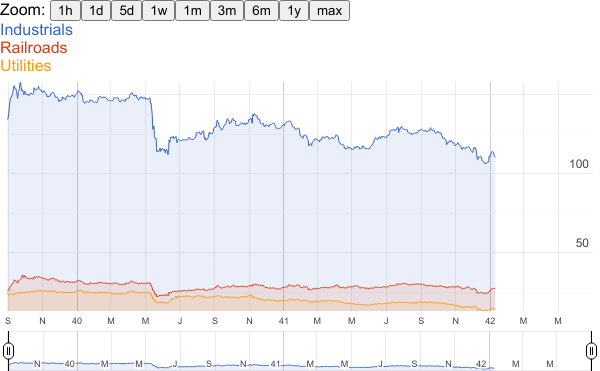 Sales:
293,030
January 10, 4:00 p.m. EST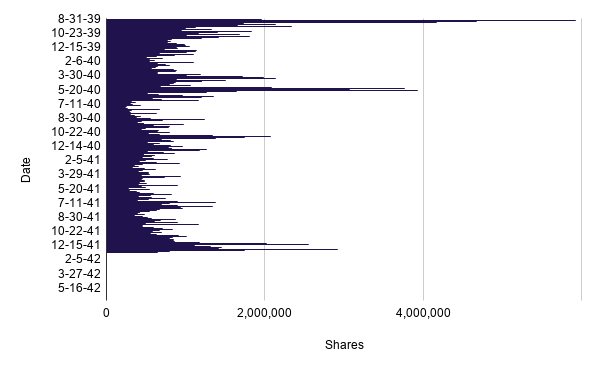 ---
The Pittsburgh Press (December 8, 1941)
Stock market drops on war declaration
Prices break 1 to 3 points sugar issues hit new highs
New York, Dec. 8 –
The stock market turned weak in the early afternoon trading today following President Roosevelt's message asking for declaration of war against Japan.
Earlier in the day the list has rallied from initial declines of 1 to more than 3 points.
The afternoon reaction carried:
American Can down to 70½, off 5⅜;
Westinghouse Electric 74, ex-dividend, off 3;
Bethlehem 57, off 2;
Chrysler 51, off 2;
U.S. Rubber 22¾, off 3⅛;
Goodyear 15⅜, off 2;
A new low – American Telephone 143, off 3;
American Tobacco B 48½, off 2⅛;
American Airlines 52½, of 3⅜;
Standard Oil (NJ) 44½, off 2⅛;
Union Carbide 71½, off 2½.
Sugar shares were string spots with gains ranging to more than 2 points and several at new highs for the year on outlook for higher sugar prices on war demand.
Patino Mines made a new high at 11⅛, up 1⅝. A few other issues were steady to firm, but the main list registered losses.
Commodities were strong in most instances on outlook for war markets.
---
Trading in Jap bonds suspended
New York, Dec. 8 (UP) –
The New York Stock Exchange today suspended all dealings in Japanese bonds pending an "investigation of their status."
The action was taken in the initiative of exchange officials themselves, but immediate contact was made with Washington in an effort to determine the status of Japanese obligations.
All categories of Japanese bonds, government, industrial, utility, etc., are listed on the Stock Exchange.
---
Banks halt quotations on Far Eastern rates
New York, Dec. 8 (UP) –
New York City banks today halted quotations on Hong Kong and Shanghai dollars while other foreign currencies held steady in terms of the U.S. dollar.
The move in suspending quotations on the two Far Eastern rates was said to have been taken because no business could be done with the two cities.
Trading in Japanese, as well as other Axis and Axis-occupied countries, monetary units ceased some time ago when the Treasury Department "froze' all assets of those nations in this country.
The Cuban peso rose 1-16 cent to 99 15-16 cents and the Argentine "free" peso was up 10 points at 23 80 cents, but all other leading rates held steady. The "free" pound sterling was quoted at $4.04 and the Canadian dollar at 88.5¢, unchanged.
---
U.S. enters World War II with record public debt
Washington, Dec. 8 (UP) –
The United States enters World War II with a record public debt of $55,212,550,304.21, after having spent $6,737,166,940.71 for defense in the last five months and five days. The nation also possesses a world record gold reserve of $22,770,829,868.59.
The Treasury's daily statement for the current fiscal year through Dec. 5:
| | |
| --- | --- |
| Expenses | $9,466,373,665.69 |
| Defense spending | $6,737,166,940.71 |
| Receipts | $3,144,052,598.76 |
| Net deficit | $6,267,513,416.93 |
| Cash balance | $2,158,461,976.30 |
| Working balance | $1,401,068,988.90 |
| Public debt | $55,212,550,304.21 |
| Gold reserve | $22,770,829,868.59 |