It is well descreibed what happend. If You dont know, take a look here:
8 - 14 August 1942
The question I will discuss is: what would have been a better disposition of the US and Australian cruisers. I see 2 primary reasons for the disaster:
Radar
I find it unforgivable that US performed so poor with radar. Hey - we are 2 years past the battle of Britain, and 1 year after the British tracked Bismarck for several days. Why have the US Navy not trained in detecting ships at night and why was it not possible for the US Army to see the difference between a flight of B17s and a Japanese air armada at Pearl Harbor. I guess a combination of American "we know best" attitude and som kind of arrogance when it comes to take advise from others.
@dan.harnden + @NormanStewart Feel free to flag

The heavy cruiser and naval tactics
Its such a small area, so how could they have so many heavy cruiseres is those restricted waters? Was is the same feeling that with escort fighters over Germany: keep close to what you have to protect. Good for moral of those you are protecting but bad for the tactics. I naval warfare you always want a "cross the T" situation, which means You have Your broadside to an approaching enemy, that can only fire with half his guns.
Suggestion for discussion
I think a slight adjustment to the plan could have made a difference: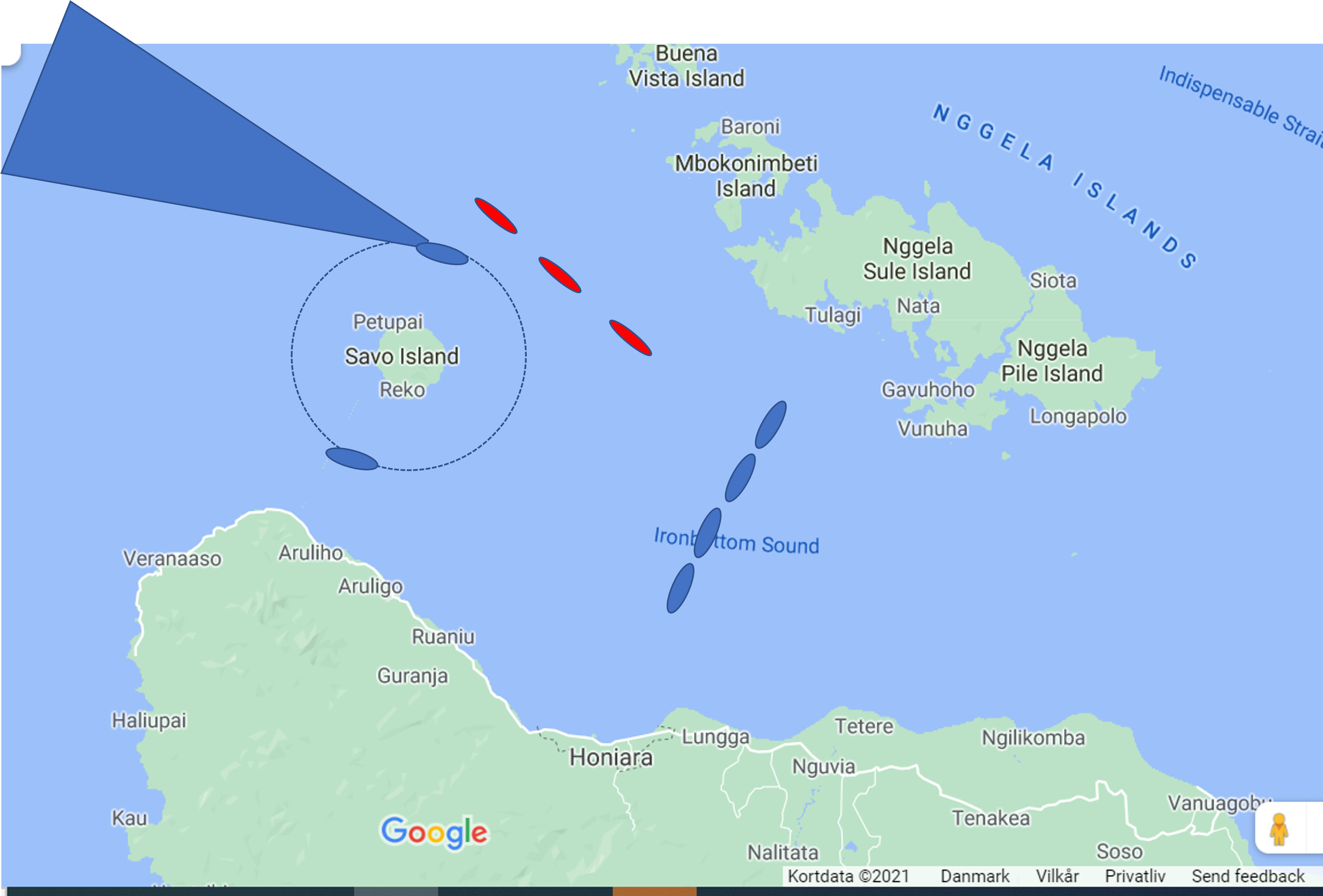 If the destroyers was set to circle Savo Island counter clockwise they could make a sweeping radar search with their forward looking SC2 radars and release each other continuously. If all the cruisers was arranged in a line across the sound (blue), any approaching ships (red) would come into a "cross the T" situation and the 8" guns easily had the range to lay a barrage at arrival. After that they could battle across the sound to prevent enemy ships the possiblity to attach the transports.
What do You think? - anyone ready for a chat?