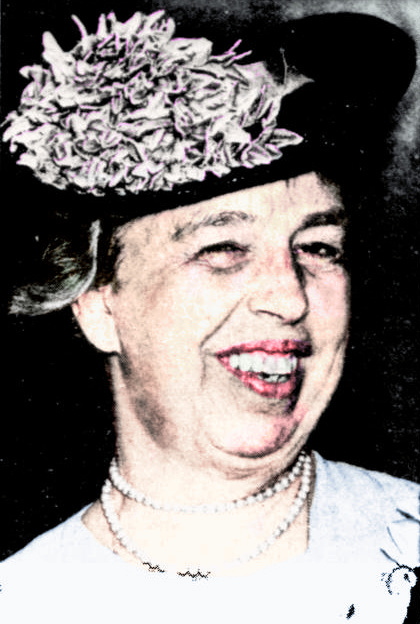 MY DAY
By Eleanor Roosevelt
January 1, 1940
Washington, Sunday –
The New Year is a time for new beginnings and I hope that in the course of this coming year, we will come measurably closer to peace, for peace is the prelude to all the other changes which must come if the great mass of people throughout the world are to look forward to greater happiness. Because of the war, we will find the problems of peace intensified. We will need to redouble our efforts in order to bring about the solution of many questions that are still unsolved. But with goodwill and real determination, we should be able to find some real solutions, if we begin now to prepare our minds and hearts and go about our work unselfishly and with determination and faith in the ways of democracy.
A number of people have sent me a prayer which they are desirous of having repeated throughout the world. We were told once to gather together to make our common supplications to the Lord. It is probable that each one of us needs to be apart and alone at times, and yet this habit of joining to emphasize certain supplications is helpful to us all. I print this prayer, with the feeling that it puts into words what many people hope for the coming year.
Let the forces of light bring illumination to mankind.
Let the spirit of peace be abroad.
May men of goodwill everywhere;
Join in the spirit of cooperation.
Let the spirit of forgiveness be invoked by men
Everywhere, one towards the other.
Let power attend the efforts of
The great servers of humanity.
We will have many of the same people who have joined us before for our New Year's Eve celebration with us tonight. Many of the family are still here. Secretary and Mrs. Morgenthau and their family will be with us, and Bishop Atwood and the Reverend Mr. Endicott Peabody of Groton School, and a few others are sure to drop in at the last minute. We will observe the usual ritual of eggnog and toasts as the New Year is rung in.
At our gathering tonight, we will be voicing the same wish that will be in the heart of every American:
May the New Year be a happy one for our beloved country and for us, and may it bring greater happiness to the world as a whole!
Note to editors:
This column is being mailed in advance because of the holiday. There will be no wire service New Years Eve.