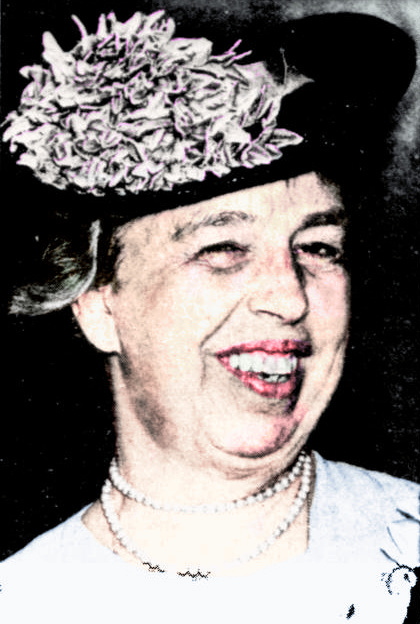 MY DAY
By Eleanor Roosevelt
April 1, 1941
Greensboro, NC, Monday –
One of the interesting things we saw near Tuskegee was a real rural theatre. The actors had built the stage and arranged the room for the audience. There were rough benches, an open fire, and some very interesting masks for decoration on the walls. It was called "The Bucket Theatre," and on the sign outside was a quotation from Booker T. Washington which read:
Put your bucket down where you are.
This little rural theatre certainly is putting down its bucket in that community.
Saturday morning the Tuskegee Institute trustees met again all morning, and in the afternoon we visited the hospital, listened to the health problems which Tuskegee is trying to ameliorate. I had the pleasure of going through the new unit for the treatment of infantile paralysis which has been installed here by the National Foundation for Infantile Paralysis. I am taking back a book full of pictures so that the President, who is much interested in the installment of this unit, will have an opportunity to see what it looks like.
Dr. Chenault is almost the only Negro doctor in the country, I think, who has had full training as an orthopaedic surgeon and has specialized in infantile paralysis. He gives one a feeling of great confidence, and the children's faces lit up when we went into the wards. A number of cases are crippled children, suffering from horrible burns that have left them with deformities which only surgery and great care can cure. These youngsters play around open hearths where the fire burns to heat the cabin and cook the food. There are no guard rails, such as we think so essential for our ornamental fires.
Finally we went out to the aviation field, where a Civil Aeronautics unit for the teaching of colored pilots is in full swing. They have advanced training here, and some of the students went up and did acrobatic flying for us. These boys are good pilots. I had the fun of going up in one of the tiny training planes with the head instructor, and seeing this interesting countryside from the air.
The days at Tuskegee have given me much to think about. To see a group of people working together for improvement of undesirable conditions is very heartening. The problems seem great, but at least they are understood and people are working on them. Dr. Carver, whom I saw for a few minutes, has been at work for many years; and our hosts, the present heads of Tuskegee, Dr. and Mrs. Patterson, are ably carrying on the work.
We got up early Sunday morning and drove to Mobile for my lecture there, then flew during the night to Greensboro, NC, and now we are leaving to join the President at Fort Bragg.