Patton probe demanded by Senate group
Military committee votes for full report by Stimson
Washington (UP) –
The Senate Military Affairs Committee today voted to ask Secretary of War Henry L. Stimson for a "full report" on the slapping of a shell-shocked American soldier by Lt. Gen. George S. Patton Jr. in Sicily last August.
One committee member, Senator Edwin C. Johnson (D-CO), said the committee itself would make a full investigation unless the War Department "cleaned up the mess."
The committee's request to Mr. Stimson was the first positive Congressional action on the long-hushed incident. Gen. Patton's recent nomination by President Roosevelt for promotion from the permanent rank of colonel to major general is pending before the Senate group.
Wants all facts
Asked if the action called for a committee investigation at this time, spokesmen said it did not.
They added:
But if Secretary Stimson is to present all the facts in a report to the committee, he undoubtedly will have to make some sort of investigation. The committee merely wants all the facts.
Earlier, Senator Styles Bridges (R-NH), a member of the committee, had proposed that the committee inquire whether generals, too, might not fall victim to "battle fatigue." He suggested that Gen. Patton might have been so suffering when he struck the soldier.
Demands House probe
In the House, Rep. Charles B. Hoeven (R-IA) demanded that the House Military Affairs Committee investigate the incident. Chairman Andrew J. May (D-KY) of the House group had indicated, however, that his committee would probably not conduct an inquiry.
Mr. Hoeven told the House:
The fathers and mothers of America having boys in the service are already weighed down by concern for the welfare of their sons. Now they will have the added anxiety of wondering whether or not their sons are being abused by hardboiled officers.

Perhaps we have too much "blood and guts" now. I feel that the entire matter should be investigated by our Committee on Military Affairs. Apparently, Gen. Patton is getting off with an apology. If the soldier had struck the general, it would have been a different story.
Gets Legion post letter
Mr. Hoeven told reporters later that a Veterans' Preference Committee of an American Legion post in his district had sent him a message which read:
Respectfully request that you demand a full investigation of the Gen. Patton incident with AEF. These are American soldiers and not Germans. If our boys are to be mistreated, let's import Hitler and do it up right.
Inclined to drop case
War Department spokesmen said military authorities were inclined to do nothing more about the incident "unless there should develop a great public clamor," pointing out that Gen. Dwight D. Eisenhower, had rebuked Gen. Patton "mercilessly" and that Gen. Patton himself had apologized to the soldier and others involved.
Senator Bridges said:
It occurs to me that a general himself, long and frequently exhausted due to the rigors of actual battle as he personally leads his troops into combat, might be a victim of battle fatigue without realizing it. After all, the condition is a human affliction and is not visited according to rank; a general as well as a private can be its victims for our generals "don't die in bed."
To ask probe
If this is true, a more serious case is presented. Are our line-fighting generals themselves kept under fire too long, so that, suffering battle fatigue, their ability as leaders of the men – our boys – is impaired? I shall ask the Military Affairs Committee, of which I am a member, to make inquiry into this phase of the Patton incident.
Mr. Johnson said that America was "terribly shocked by the Patton brutality story," and that as a disciplinary measure, "a slap on the wrist will not suffice."
Senator Claude Pepper (D-FL) declared Gen. Patton should have been court-martialed. Official reports from North Africa said the general had been called down severely by Gen. Eisenhower, but had received no official reprimand or punishment because of his record.
Identity withheld
The soldier in the case was not officially identified, but it was revealed that Pvt. Charles Herman Kuhl of Mishawaka, Indiana, wrote to his family from Sicily last August saying he had been slapped and kicked by Gen. Patton. The letter, dated Aug. 4, said:
Gen. Patton slapped my face yesterday and kicked me in the pants and cussed me. This probably won't go through…
It did.
The Army has revealed that the soldier in its official case – possibly Pvt. Kuhl – twice refused to leave the battlefront and was finally hospitalized under orders. A week after the incident with Gen. Patton, he was back at the front.
Relatives uncertain Kuhl was victim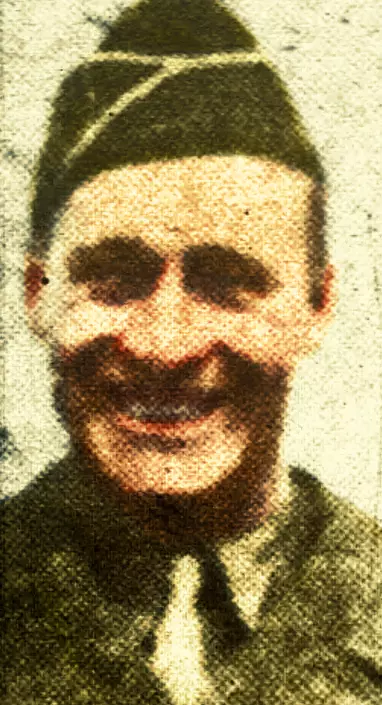 Pvt. Kuhl
Mishawaka, Indiana (UP) –
The father of Pvt. Herman Kuhl, 27, said today that if his son was the soldier abused by Lt. Gen. George S. Patton Jr., the general's attack may have been justified by Pvt. Kuhl's "quick temper."
Relatives of the soldiers were not so certain today that Pvt. Kuhl was the private who became the cause célèbre of Sicily after he was attacked by Gen. Patton.
The father, Herman F. Kuhl, a casket maker, said when he first read published accounts of the incident, he was certain that his son was the soldier involved, but could now see certain discrepancies between newspaper stories and a letter which he received from his son.
He had received a letter from Pvt. Kuhl on Sicily last August, he said, disclosing that the soldier had been slapped and kicked by Gen. Patton at a hospital on the island.
Reports differ
He said the general descriptions of the incident were the same, but that the published reports said Gen. Patton slapped the soldier in his bed at the hospital, while Pvt. Kuhl's letter said he was in the superintendent's office when the incident occurred.
The letter was dated Aug. 4, the father said, and while reports have not been clear about the date of the incident, it is believed to have taken place a few days later.
The soldier's wife, Loretta Kuhl, said she was angered on receiving the letter but did not mention it because she was afraid her husband, through his "quick temper," might get in further trouble.
'Good mixer'
The father added:
Charles was a good mixer, but he was quick to temper, although he got over it quickly, too.
In his letter, Mrs. Kuhl said, the soldier said he was shell-shocked and sent to a hospital after the initial landing on Sicily. Kuhl said hospital attendants apparently did not believe he was seriously injured and ordered him to appear at the superintendent's office for examination. He was slapped by Gen. Patton while he was at the office, Pvt. Kuhl said.
The letter said:
Gen. Patton slapped my face yesterday and kicked me in the pants and cussed me.