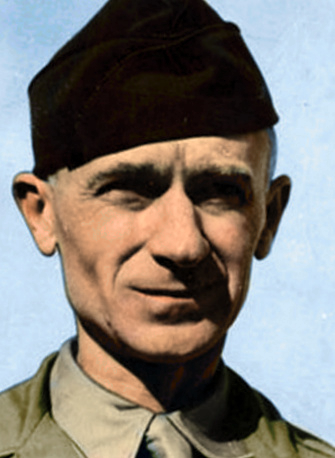 Roving Reporter
By Ernie Pyle
Somewhere in Sicily, Italy – (by wireless)
A few more sketches of men on our ship:
Dick Minogue: He has been in the Navy six years and intends to stay. He is a bosun's mate first class, and may be a chief before long. He comes from White Bear Lake, Minnesota, and aboard ship they call him "Minny."
It is men like Minogue who form the backbone of the present-day Navy. He is young and intelligent, yet strong and salty enough for any job. He definitely has the sea about him, but it is modern sea. He wears his bosun's pipe from a cord around his neck, and a white hat cocked way down over one eye. He says the worst moment he ever had in the Navy was while piping a British admiral over the side. Dick had a chew of tobacco in his mouth, and right in the middle of his refrain the whistle got full of tobacco juice and went gurgly.
Arch Fulton: He is an electrician's mate second class, of 493 E 129th St., Cleveland, Ohio. Before the war, he was a lineman for the Cleveland Illuminating Company. He is married and has two children.
Fulton is 37 – much older than most of the crew. He is a Scotsman. He came to America 20 years ago. His parents are still living at Kilmarnock, Scotland. He has a brother who is a sergeant major in the British Army, and a sister who is a British WREN.
Arch has a short pompadour that slants forward, giving him the effect of standing with his back to the wind. He has a dry Scottish humor, and he takes the Navy in his stride. Back in Cleveland he used to read this column, so you can see he's a smart man.
Three up, three down
We have 11 Negro boys aboard, all in the stewards' department. They wait table in the officers' mess, and run the wardroom pantry that keeps hot coffee going 24 hours a day. They have a separate compartment of their own for quarters, but otherwise they live just as the white sailors do.
They are all quiet, nice boys and a credit to the ship. Three of them are exceedingly tall and three exceedingly short. They all have music in their souls. Sometimes I have to laugh – when the wardroom radio happens to be playing a hot tune during meals, I've noticed them grinning to themselves and dancing ever so lightly as they go about their serving.
I haven't room to give more than a couple of their names. One is George Edward Mallory, of Orange, Virginia. He is 32, and before the war worked as an unloader at a chain grocery store in Orange. He has been in the Navy for a year and has been operated on for appendicitis after arriving in the Mediterranean. He got seasick once but it doesn't bother him anymore. He is tall, quiet, and serious. He had never waited tables before but he's an expert now.
He's little meek and dark
Another one is Fred Moore, who is the littlest, meekest and darkest one on ship. Fred has a tiny mustache that you can't even see, and a perpetually startled look on his good-natured face. He is very quiet and shy.
His home is in 1910 Tenth Ave., South Birmingham, Alabama. He is just 21 and has been in the Navy only since March. He likes it fine, and thinks he may stay in after the war. Before joining up he did common labor at Army camps and fruit farms.
Fred has a gift. He is a wizard at baking delicate and beautiful pastries. He makes all the pastry desserts for the officers' mess. He had never done any cooking before joining the Navy, except to fry a few hamburgers at a short-order joint. He can't explain his knack for pastry baking. It's just like somebody who can play the piano beautifully without ever taking lessons. The whole ship pays tribute to his little streak of genius.
Fred says he has never been seasick nor very homesick, but during some of our close shaves in action he says he sure was scared.