December 28th in Thailand It was announced from the government to the people that by December 28, this will be a public holiday due to the inauguration ceremony of the Royal Crown Prince. Crown Prince of Siam At the Dusit Maha Prasat Throne Hall One of them is Air Chief Marshal Thawee Junlasapchai, who would later be very important to the event The subsequent seizure of the Israeli embassy in Thailand.
After the ceremony is finished around noon. It appears that there are strong rumors that an unrest has arisen from the terrorist groups. While Air Chief Marshal Thawee is on his way home At that time he was the Chief of Staff of the Military and the Minister of Agriculture and Cooperatives. Commanded military officers in various fields to prepare inquiries and coordinate with both the military and police officers. Including ordering Lieutenant General Kriengsak Chamanan (rank at that time) to prepare weapons for repression if the event escalates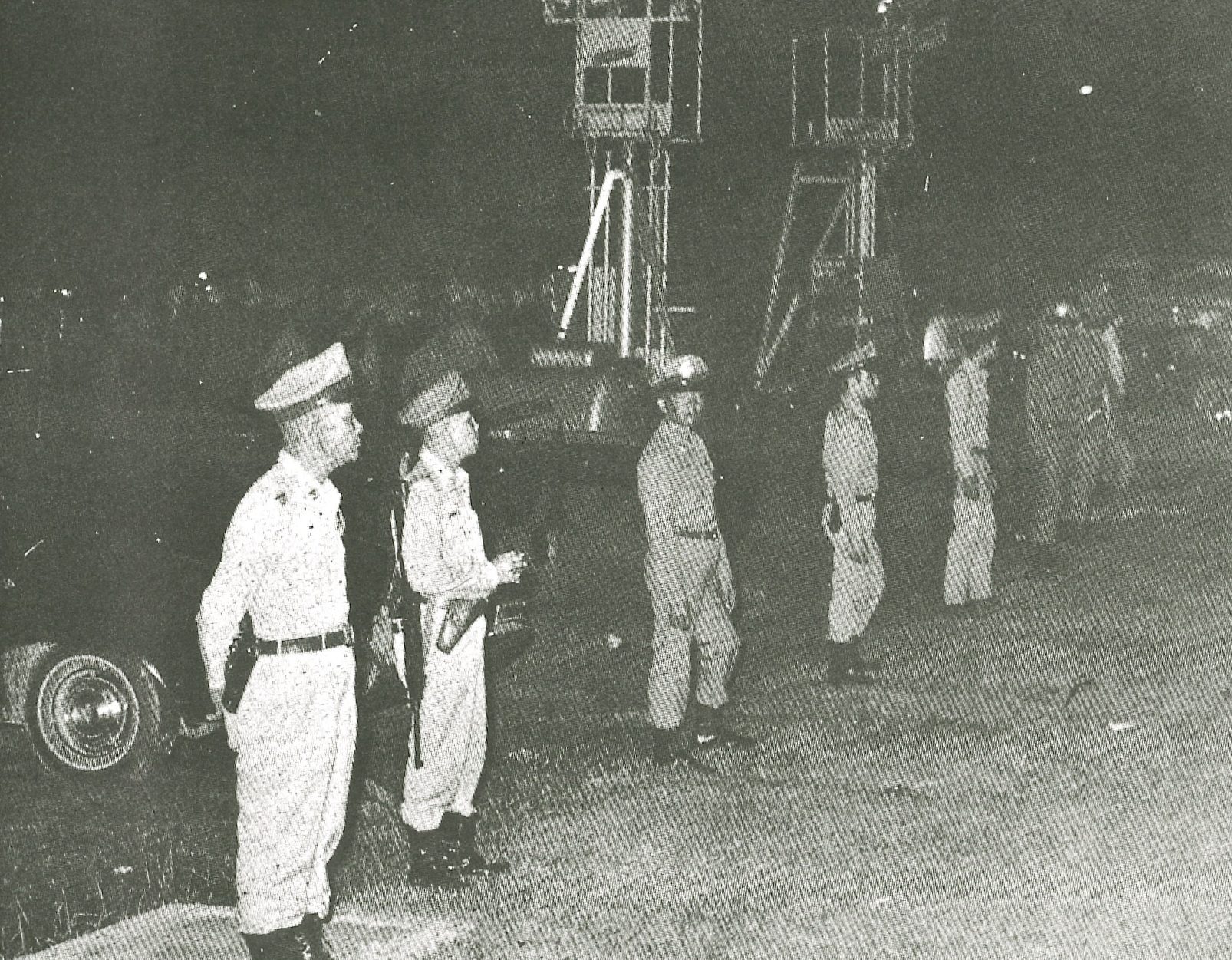 A picture of the police force encircling the area. Cut off the lights and use a spotlight to illuminate the Israeli Embassy.
At about 4.00 p.m. Air Chief Marshal Thawee arrived at the Front Command of the Supreme Command. He was informed that the Palestinian National Liberation Movement or "Fatah" invaded the Israeli Embassy in Thailand. Ploenchit Road area At about 12.00, 6 Israeli hostages were arrested, including
Mr. Simon Aviemore, Israeli Ambassador to Cambodia
Nitson Hadass, Deputy, Embassy of Israel
Mrs. Ruth Hadass, Wife of Mr. Nitson
Mrs. Sarah Berry, Head of the Consulate, Embassy of Israel
Mr. Danbury, husband of Mrs. Sarah.
Pinhuss Levi, butler at the Embassy of Israel
The Palestinian National Liberation Movement called on the Israeli government to release 35 Arab prisoners and one Japanese detained by the Israeli government and to return the remains of a prominent leader to a relative in Jerusalem. The corpses of Ali Taha and Abdul Aziz Al-Atas who were shot and killed at an airport in Tel Aviv. Israel And a deadline for the Israeli government to meet such conditions
At that time, the Thai government had a leader, Field Marshal Thanom Kittikachorn as Prime Minister and Field Marshal Prapas Jarusathien as Deputy Prime Minister and Minister of Interior. Which has established a temporary headquarters area behind the Mater Dei school
The Thai government knew about 30 minutes after the incident and therefore called an emergency meeting. One such plan is to prepare for the attack on the night of the 28th, the 29th, if the Palestinian National Liberation Movemen do not surrender.
At that time Gen. Narong Kittikachorn, son of Field Marshal Thanomkittikaj, told reporters that Know the clues of the movement for a long time But they came in scattered While the Israeli ambassador himself discussed with the prime minister of Israel. Which is likely not to follow the demands of the Palestinian National Liberation Movement.
Later, Thai officials were unable to take any convenient action as more and more groups of people entered the area. Whether it is a journalist, both Thai and foreign General public Student group And the Muslims praying for the Palestinian National Liberation Movement to stop the operation.
Air Chief Marshal Thawee assigned Brigadier General Chatchai Choonhawan (at that time) who held the position of Deputy Minister of Foreign Affairs Please contact Mr. Mustafa Panni, Egyptian Ambassador to Thailand to help. Since Air Chief Marshal Thawee has the opinion that Mr Thaweenapakorn, a Thai interpreter, can communicate in Arabic with excellent But there may not be as many psychology of speaking as the Egyptians.
During the operation Has held a meeting at the headquarters With both Thai officials Civilian and military There was a corresponding proposal to use force raids to save the hostages, but Air Chief Marshal Tawee had a different idea. Seeing that talking over the phone is inappropriate You need to have a face-to-face conversation, which will allow them to understand each other more than talking over the phone.
When the Egyptian ambassador arrived at the interim headquarters Air Chief Marshal Thawee therefore requested permission of Field Marshal Thanom Kittikachorn and Field Marshal Prapas Jarusathien to represent him in negotiations with the Egyptian ambassador. Brigadier General Male and his interpreter were both allowed upon request and also gave him the sole command of Air Chief Marshal Thawee to direct the operations.
In the evening, Air Chief Marshal Thawee with his team entered the Israeli Embassy in Thailand and met with Mr. A, the head of the movement. Air Chief Marshal Thawee explained that Mr. A was polite, but the manner of speaking was intimidating. Air Chief Marshal Thawee made a smile. Inquiring about whether For what purpose the operation was done, Mr. A replied that he had submitted a request. And must have the Israeli government follow that exchange
Air Chief Marshal Thawee, who has studied the Palestinian National Liberation Movement as well and experienced the tragedy in Munich. He therefore explained that he was representative of Thailand. Not the Israeli government, and that since it has been operating continuously The Israeli government never met the needs of the movement. And if the operation at this time is so severe that the Thai people are seriously injured It is a bad thing because it has nothing to do with the Israeli-Palestinian conflict at all.
Air Chief Marshal Thawee tried to maintain kindness. He did not criticize and tried to understand and acknowledge the needs of the Palestinian National Liberation Movement before raising the events of Munich. It was violent because the German authorities mistook them and opened fire before causing the incident. That incident damaged the reputation of the Palestinian National Liberation Movement and suffered attacks from around the world. Air Chief Marshal Thawee asked Mr A to stop operating this time. To make the world understand the needs of the Palestinians, there are still many ways to help friends arrested by the Israeli government, such as United Nations assistance. Air Chief Marshal Thawee said.
Before Mr A spoke of the frustration of being coerced by the West to give up his native land to Israel. Which made himself at the age of 40 and not married. Because he vowed not to marry until the return of his native land Many of them had to wander in tents. Living hard life He defined his life as "… their life is Meaning nothing If freedom, unity and the lands that he lost were not returned … "
Air Chief Marshal Thawee replied that He sympathized with the Palestinian people. But this operation matched Auspicious day of Thai people That should not happen to affect the minds of the Thai people. Which Thais did not have any connection with this conflict
Before Mr. A shows his condolences Before I speak, I don't know that today is an important day for Thai people. Because it had been prepared for a long time and was ordered to act today So he asked for a moment to consult with the companions. During before Air Chief Marshal Thawee Jullasub, Egyptian Ambassador and Brigadier General Chunhavan and an interpreter leaving the Israeli Embassy Air Chief Marshal Thawee turned and joked that if there is any change in your mind, please do not shoot him.
Before Mr. A replied with that "It is impossible. Because we are friends now "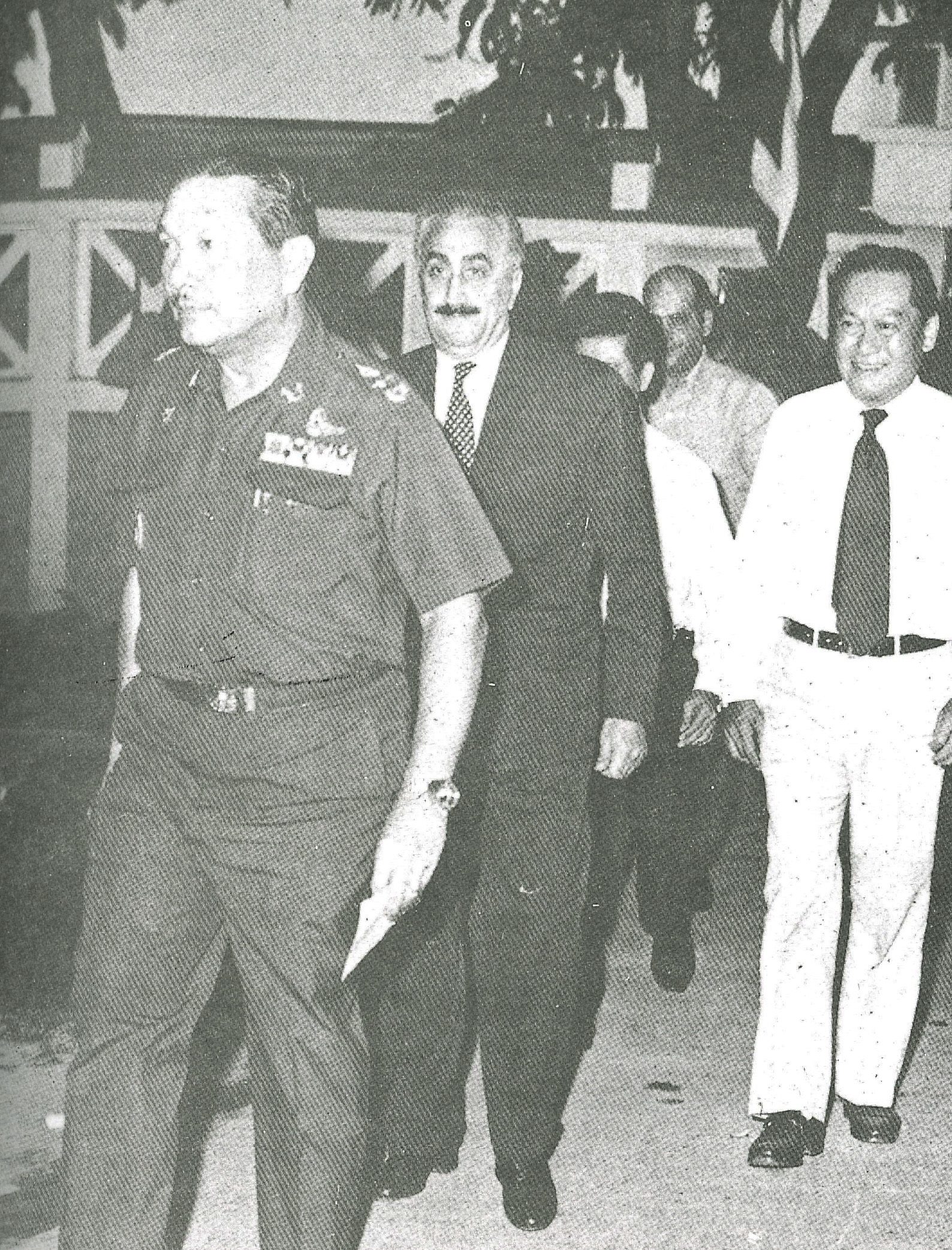 Images of Air Chief Marshal Thawee Jullasap, Egyptian Ambassador and Brigadier General Shunhawan and interpreter Walked out of the embassy
When returning out Air Chief Marshal Thawee reported to the Prime Minister and senior Thai government officials in the interim headquarters. Which indicates that there is a good trend Because these Palestinians do not appear to show violent aggression. Air Chief Marshal Thawee urges all sides to calm down and not panic. Because he will try to negotiate one more time While the Thai government tried to contact the Israeli government directly. But that side did not receive any answers and there was no clear indication of how to proceed. Which later it appears that it does not comply with the claims. Seeing that those Arab prisoners were severely punished Therefore, decision making and any action shall be the duty of the Thai government.
Soon after Air Chief Marshal Tawee Prompong has returned to negotiations again by bringing Thai-Style Beef Jerky and bottled water. Give it to them too
Before Mr. A asked, "It's not pork."
"Not pork, but Thai-Style Beef Jerky," Air Chief Marshal Thawee responded.
Before Mr A said he had sympathy for the royal family, the authorities and the Thai people who had caused such trouble. After consulting with his companions, he concluded that this operation should be abandoned.
Before calling on the Thai government to get them to take them out of Thailand By taking Israeli hostages Along with Air Chief Marshal Thawee and Brigadier Chatchai to serve Including plans and procedures for traveling outside Thailand They are all custom made and want the Thai side to follow. Air Chief Marshal Thawee replied that he would consider the request. Before being allowed to visit the Israeli hostages that were imprisoned on the second floor.
Mr. A said that they "… didn't suffer anything. In addition to having a small rope tied to the legs and tied hands together… "
A Jewish hostage, seeing the face of Air Chief Marshal Tawee, said, "Oh, Marshal Dawee. I am happy to see you. We are happy, General Chartchai." Air Chief Marshal Thawee asked, "Well, How the thing is going. . "He replied," It is fine. They treated us very nicely. "But Air Chief Marshal Thawee thought. He was just talking because how could nicely be even though the limb-bound was sitting like that.
When the hostage visit is complete Air Chief Marshal Thawee walked toward the back porch and saw a crowd of police and soldiers surrounded the field. Therefore issued an order to leave the area completely It turned out that several police officers climbed down from the tree and ran off the wall. As a result, the Palestinian National Rescue Movement sees that Air Chief Marshal Thawee is the chief executive. Therefore trust and obey advice Air Chief Marshal Thawee opened all the windows. He claimed to be able to see if there were any police or Thai soldiers hiding or not. But in fact Air Chief Marshal Thawee thought that if something happened there would be a convenient way to enter.
Mr. A wants to travel to Beirut. Lebanon But Brigadier Chunhawan disagreed because Lebanon is a small country. Should go to Cairo Egypt Because it is a large and powerful country among Arab countries and Egypt may be able to ensure more security.
They therefore agreed accordingly. Before going back out Air Chief Marshal Thawee asked if he needed more food or not, pledged to them, saying, "… While in Bangkok, I was eating chicken biryani and I felt very delicious …" Air Chief Marshal Thawee agreed to bring it. And then left the embassy to report the situation to the interim headquarters
At 3:00 AM (the night of 28th December 29, 1972) Air Chief Marshal Thawee returned to the Israeli Embassy for the third time with "chicken biryani" and drinking water.
Air Chief Marshal Thawee told Mr A that he had brought the rice. Can be eaten as needed When opening the package, he pretended not to eat, joining many of Mr. A's friends as well.
Air Chief Marshal Thawee thought they were afraid that there was poison in the food, so they took a spoon to scoop each pack of chicken biryani to eat. It turned out that the Palestinian Nationals laughed and said, "… wait a minute, finish talking first and eat later."
One of them, guarding the hostage on the second floor, shouted in Arabic. Egyptian Ambassador "… Chicken Biryani smell so fragrant Want to eat some Suddenly, the throwing bomb inside the bag dropped and rolled down the steps. Air Chief Marshal Thawee and the others below hurriedly hurried under the table. Fortunately, the carving did not come off, otherwise it would be Can be seen as a tragedy
Brigadier Chatchai later interviewed about his feelings now that "Well, that's not mine. Otherwise they will all die. "
Then Air Chief Marshal Thawee informed that The Thai government has arranged the plane to be delivered to Cairo. By stopping to refuel in Karachi Pakistan Both sides then agreed on the terms and procedures Air Chief Marshal Thawee agreed to do as requested by the Palestinian national recovery movement:
They wanted a bus to take them 4, 6 Jewish hostages, Air Chief Marshal Tawee. Brigadier General And the Egyptian ambassador Arrive at the airport There is a car to protect the front and back. When you arrive at the airport, stop as close to the boarding pass as possible. Must have them go up and check the plane first Thai officials are forbidden to carry weapons and forbid unrelated persons from approaching to prevent such incidents as Munich. When everything is ready They are willing to give all their weapons except the pistol.
Air Chief Marshal Tawee returned from the Israeli embassy. Shortly stated to the press that the Palestinian national recovery movement would cease operations. The journalists were so loudly cheering. Air Chief Marshal Thawima reported the situation to Field Marshal Thanom Kittikachorn and Field Marshal Prapas Jarusathien, both of whom disagreed about allowing Air Chief Marshal to fly. But Air Chief Marshal Thawee pointed out that once an agreement was made, it was impossible to make someone else go instead. Brigadier Chatchai said the same.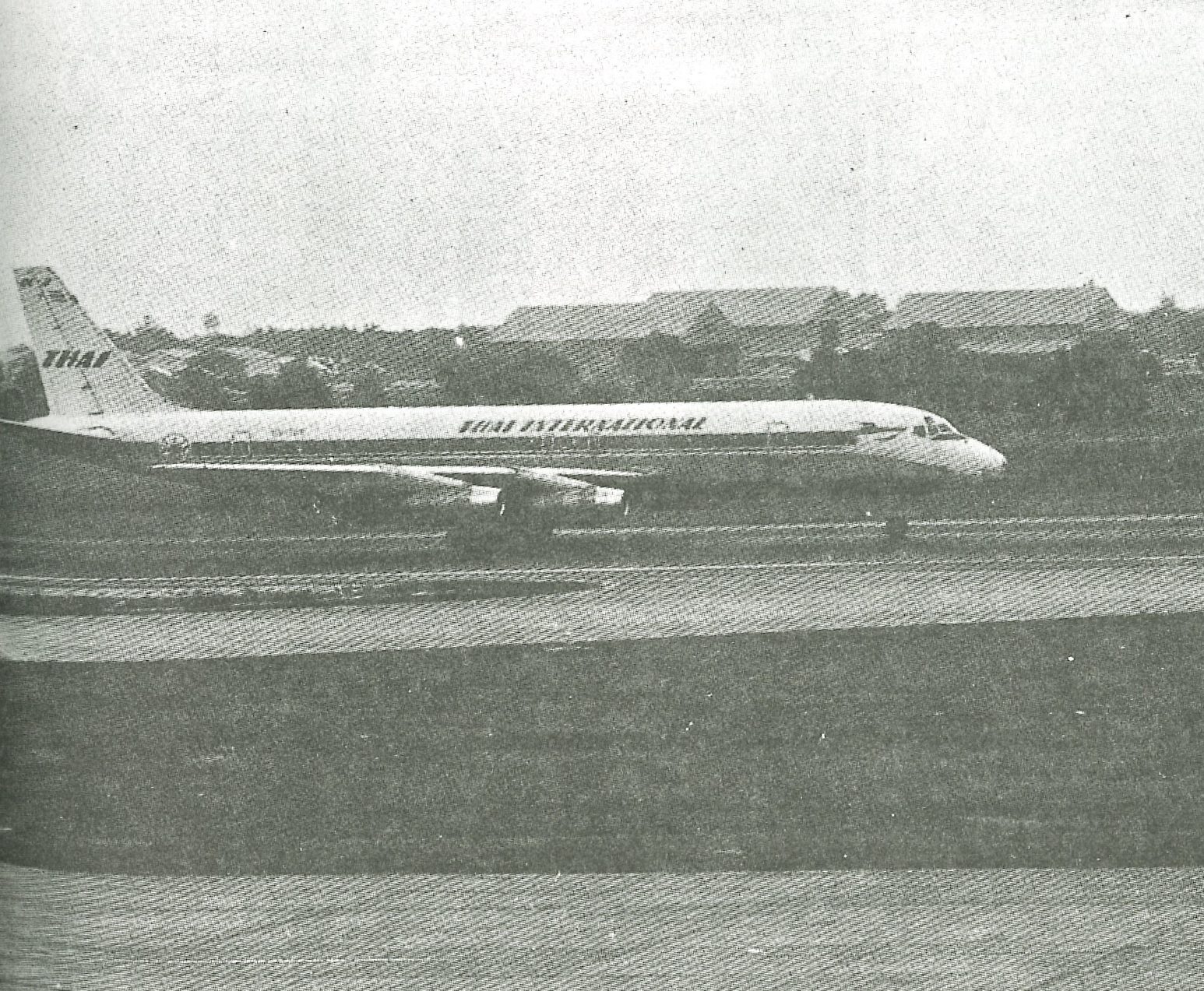 The Thai staff consists of
Air Chief Marshal Thawee Junlasap
Brigadier Chatchai Choonhawan
General Chuvit Keng, preserving horses
Police General Crystal Suwannawet
Lieutenant General Anan Yasanon
Major General Somchai Phanitkul
Major General Pricha Iamthiphol
Police Lieutenant Somphoj Kanjanaporn
Mr. Thaweenaphakorn
1 foreign ministry official
Mr. Mustafa Fanni, Egyptian Ambassador to Thailand
The aircraft crew consists of
Captain Phadim Emaphan, Captain
Captain ML Kittisorn Kanachorn
Sumeth Chantawimol
Suraphon Punyawee
Prapon Sucheewa, Chief Receptionist
Nanthana Atthi, female receptionist
Wattana Sirivej, female receptionist
Phanit Metta Commercial, female receptionist
Wanaya Tiraphattanakun, female receptionis
After refueling at the airport in Karachi Pakistan completed The atmosphere since then has been relaxed and there are playing cards and talking about various stories until it is known that They are well educated A doctor A teacher Two others graduated with a bachelor's degree in electrical engineering, one of them. Civil Engineering, Air Chief Marshal Thawee also bought a bottle of perfume for each Palestinian National Rescue Movement. (There's still duty-free stock on the plane.) They're delighted. Knowing that there is a product for sale, he buys a lot of money in both US and dollar currencies to buy a lot of things
At the airport in Cairo Air Chief Marshal Thawee then shook hands and embraced goodbye. The four Palestinians Before Air Chief Marshal Thawee said before going on the plane to return to Thailand, "… May the work of your movement be fulfilled and if possible. I beg you Don't kill anyone again." Before returning to Thailand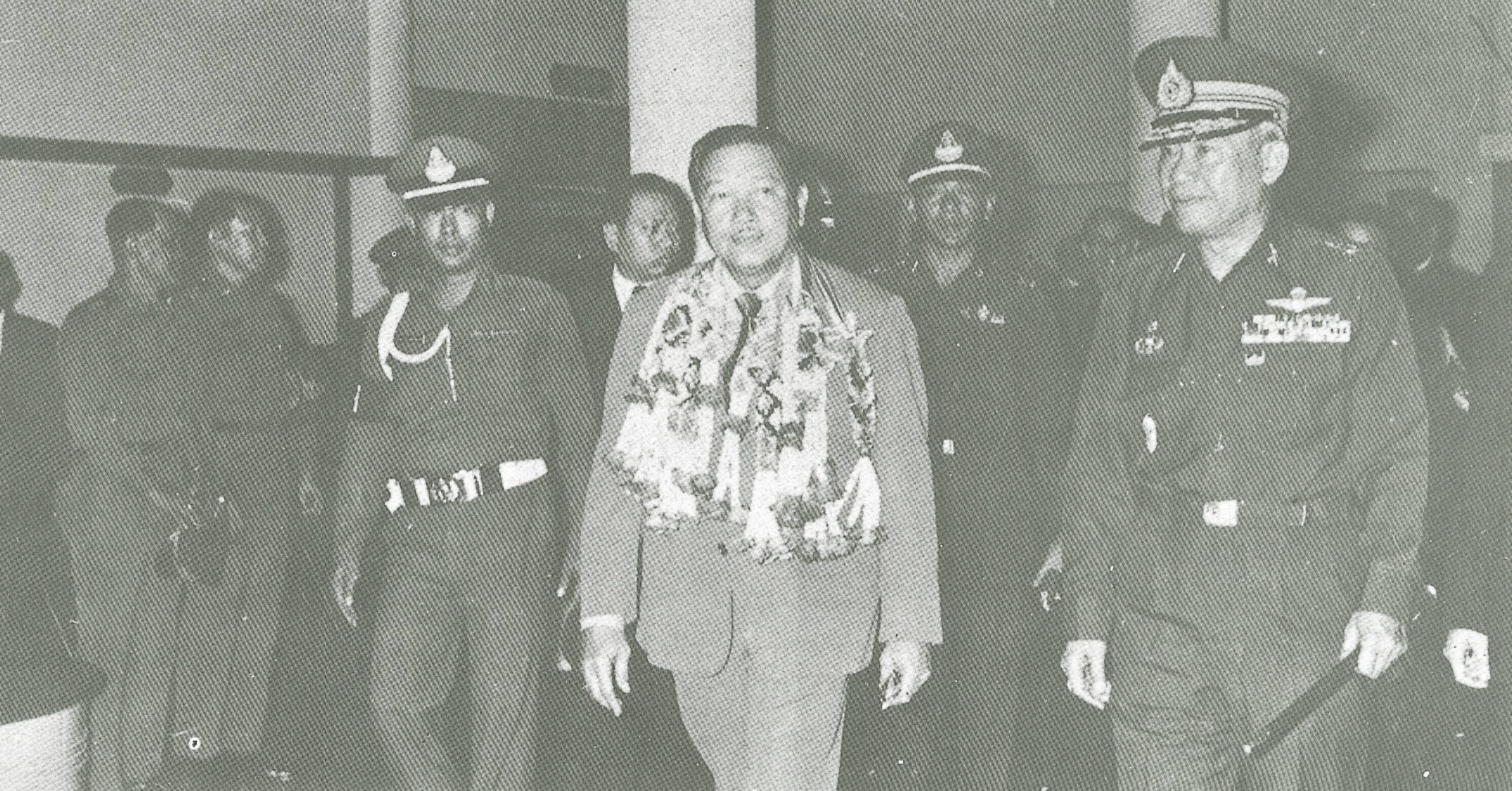 A photo of Air Chief Marshal Thawee on his return to Thailand.
Air Chief Marshal Thawee Junlasub died on May 18, 1996, used to serve Former Commander-in-Chief and Assistant Chief of Staff Former Chief of Staff Former Chief of Staff of the Air Force Former Deputy Prime Minister Several ministers Such as the Ministry of Defense Ministry of Transport Ministry of Public Health Ministry of Agriculture and Cooperatives Former Chairman of the Olympic Committee of Thailand, Free Thai during World War II and has previously starred in the films of Royal Thai Air Force film "Ban Rai Na Rao" in 1941
1st Order of Chulachomklao, First Class
2 decorations that greatly honor the white elephant
3 decorations of the great honor of the Thai crown
4 Royal Decorations, the Sacred Ramathibodi Mahayothin
5 Grand Decoration of Honor in Silver with Sash (Grosses Silbernes Ehrenzeichen am Bande) of the Decoration of Honor for Services to the Republic of Austria
6 Grand Cross of the Order of the Crown (Belgium)
7 Thado Maha Thray Sithu - Grand Officer of the Order of the Union of Burma
8: Order of the Million Elephants and the White Parasol (Laos)
9 Honorary Grand Commander of the Order of Loyalty to the Crown of Malaysia
10 Honorary Commander of the Order of the Defender of the Realm (Malaysia)
11 Medal of the Order of the Defender of the Realm (Malaysia)
12 Commander of the Philippine Legion of Honor
13 Commander Grand Cross of the Royal Order of the Sword (Sweden)
Gen. Chatchai Choonhawan died on May 6, 1998 as a diplomat. Thai politicians and army officers He previously served as the 17th Thai Prime Minister, Deputy Prime Minister and Ministers in many ministries, namely Ministry of Foreign Affairs Ministry of Industry and Ministry of Defense
General Chatchai is the founder of two political parties and has served as the party leader, the Chart Thai Party and the Chart Pattana Party.
Royal Order received
Royal Order of Chulalongkorn First Floor, Chulachomklao (Thai)
The Order of Honor of the Highest Class White Elephant, Maha Paramaporn, Chang Phueak (Thailand)
The most prestigious decorations of the Thai crown
The Grand Order of Ram Kirati Psalm Scout Special Class (Thai)
Honorary Grand Commander of the Order of Loyalty to the Crown of Malaysia
Order of Yun Hui