The Pittsburgh Press (January 2, 1944)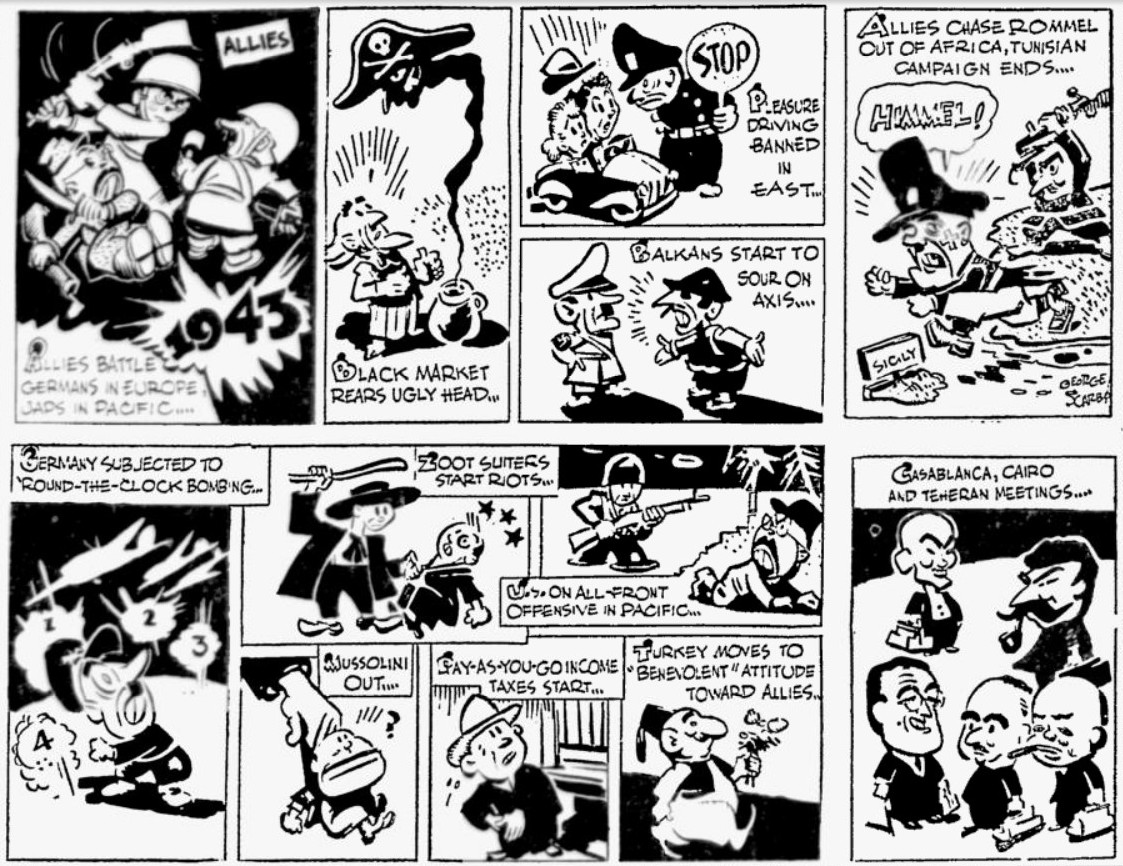 January
1st – Embattled New Year finds Americans, British and French vs. Germans and Italians in Tunisia; Russians vs. Germans in Red Army's winter offensive; U.S. Marines vs. Japs on Guadalcanal; Australians and Americans vs. Japs in Buna area of New Guinea; U.S. airmen bombing Japs in Aleutians and at Lae, Munda and Rabaul in South Pacific; RAF and U.S. 8th Air Forces bombing Axis Europe; point rationing and food ceiling prices well underway at home; plane production past the 5,000-a-month mark; and more than 1,000,000 U.S. fighting men overseas.
2nd – Russians take Velikiye Luki. Allies win in Buna, New Guinea.
3rd – Germans shoot all men in Lublin, Poland, deport women and children.
4th – More than 1,700 Pittsburgh concerns asked by the County War Transportation Committee to stagger working hours for 30,000 employees.
7th – Pleasure driving banned in East. Congress convenes.
11th – Roosevelt asks $109-billion budget: $100 billion is for war.
12th – U.S. troops establish base at Amchitka, in Aleutians. Prentiss Brown named new OPA administrator. Pittsburgh draft boards reclassify childless husbands.
13th – Loss of five Sullivan brothers in Pacific battle announced.
17th – Roosevelt meets Churchill at Casablanca.
18th – Leningrad breaks 16-month siege. Motorman dies, 34 hurt in trolley crash near Brookside Farms.
20th – Roosevelt orders striking coalminers back to work.
21st – Chile breaks relations with Axis. Dutch Princess Juliana gives birth to daughter in Ottawa. Marines turn Guadalcanal over to Army.
22nd – British take Tripoli.
25th – Bride murdered in Lower 13 on train in Oregon, cook confesses.
26th – The Rt. Rev. Alexander Mann, bishop of Pittsburgh Episcopal Diocese, resigns.
31st – Russians retake Maykop, Caucasus oil center. German Field Marshal Paulus surrenders in Stalingrad.
February
2nd – Politician Edward Flynn declines nomination as Minister to Australia after Senate protest.
5th – Gen. Frank Andrews appointed new U.S. commander in Europe. Eisenhower named commander of all forces in North Africa.
7th – Errol Flynn acquitted.
8th – Shoe rationing begins.
9th – Russians take Kursk.
10th – Workweek of 48 hours ordered in labor shortage areas.
13th – Russians win Rostov.
14th – Alvin J. Williams appointed manager of the Pittsburgh OPA office. Army announces plans to house students in Pitt's Cathedral of Learning.
18th – Mme. Chiang Kai-shek addresses Congress.
19th – U.S. 6th Army formed in Australia under Lt. Gen. Krueger.
20th – Steel official Stanton Hertz and his 13-year-old daughter Alice, died in fire at Squirrel Hill home.
21st – U.S. submarine Argonaut, world's largest, lost.
22nd – More than 250,000 register in county for Ration Book No. 2.
24th – Triangle fire claims four lives as rooming house burns.
25th – William H. Davis, 48, named city's fire chief.
26th – Yanks take Kasserine Pass in Tunisia.
March
1st – Nearly 3,400,000 Europeans executed or dead in Nazi prisons to end of 1942. Public schoolchildren get holiday as 1,100 service workers stage one-way strike in protest over wages.
2nd – MacArthur's airmen sink 12 Jap warships, 12 transports in Bismarck Sea battle.
3rd – Pileup in London air-raid shelter kills 178.
4th – Gandhi ends 21-day fast. City holds first "after-dark" air-raid drill under new Army three-alarm plan.
8th – Giraud releases political and military prisoners in North Africa.
10th – Sliced bread comes back.
13th – J. P. Morgan Jr. dies.
15th – House kills $25,000 salary limitation ordered by President.
16th – Pittsburgh leads nation in Red Cross drive as campaign goes over quota.
18th – East's gas rations cut.
19th – Lt. Gen. George Patton takes command of U.S. forces in Tunisia.
20th – Henry H. Arnold, Air Forces chief, becomes a four-star general.
21st – Butter frozen for week in advance of rationing.
22nd – State Supreme Court holds soldier's "half-pay" law unconstitutional.
24th – Twelve employees of the Irwin Works, Carnegie-Illinois Steel Corporation, testify that "fake" chemical analysis was used in manufacture of steel for government. Rev. Thomas Bryson, founder of St. Bernard's Catholic Church, Mt. Lebanon, dies.
28th – Navy bombers hit Nauru.
29th – Meat-fats rationing begins. Pianist Rachmaninoff dies.
30th – Mareth Line falls.
31st – McNutt orders induction of men in non-essential jobs.
April
6th – Doolittle's airmen make first raid on Italy from North Africa.
7th – New Army order limits running for office by servicemen.
7th – Edgar Thomson Steel Works in Braddock hit by strike of 26,000 employees.
8th – British and U.S. troops meet on Gafsa-Gabes road in Tunisia.
9th – Wages, prices, jobs frozen.
13th – Second War Loan Drive begins.
18th – Tom Harmon safe after plane crash.
21st – "Employment Stabilization Plan" goes into effect here, all jobs "frozen."
22nd – Japs announce executions of U.S. fliers who raided Tokyo.
23rd – Curfew banning bright lights for minor girls ordered.
27th – 20,000 Western Pennsylvania miners strike.
28th – Coal strike spreads; 33,000 idle.
29th – Stilwell, Chennault in Washington from China-Burma-India Theater. President Roosevelt orders miners back to work.
May
2nd – President seizes coal mines, puts Ickes in control.
3rd – Lewis announces two-week truce in coal strike.
5th – Lt. Gen. Frank M. Andrews killed in Iceland air crash.
6th – Lt. Gen. Jacob L. Devers appointed new European Theater chief.
7th – Tunis, Bizerte fall.
11th – Churchill in Washington for fifth war conference with Roosevelt. Axis forces surrender on Cape Bon, ending Tunisian war. U.S. troops land on Attu. Pittsburgh garbage collections halted by strike.
12th – John B. Townley, Pittsburgh Press veteran political writer, dies.
16th – RAF bombers blast Möhne, Sorpe and Eder Dams in Ruhr.
17th – Lewis spurns WLB as new coal strike is averted by extension of truce to May 31.
19th – Oil magnate Joseph Trees dies.
21st – Joseph E. Davies in Moscow with secret letter to Stalin. Yacht Club, floating nightclub, sinks in Monongahela.
22nd – Moscow dissolves Communist International.
26th – House, Senate agree on pay-as-you-go, 20% withholding tax.
27th – "City of Pittsburgh" cited by Ration Board for Mayor Scully's use of ration book for farm trip.
28th – Federal grand jury indicts Carnegie-Illinois Steel Corporation.
June
1st – Soft coal miners stop work as negotiations fail. Henry Ford returns to presidency of company after 24 years, succeeding late Edsel Ford.
2nd – Strike of drivers leaves half families of city without home delivery milk service.
3rd – Ration Board lifts gas ration books of Mayor Scully. Giraud, de Gaulle form new French Committee of National Liberation.
4th – Lewis calls off coal strike.
5th – Zoot-suiters clash with servicemen on Pacific Coast.
6th – Max Stephan, convicted of treason, sentenced to die.
11th – Pantelleria surrenders.
12th – Anti-strike bill goes to White House.
13th – Italian islands (Lampedusa e Linosa) fall to Allies.
14th – Two killed, 68 hurt in bus-trolley crash in East End.
20th – Coal talks collapse, miners begin striking again.
21st – Fifteen dead, 500 injured in Detroit race riot.
25th – Congress overrides presidential veto of anti-strike bill.
26th – Congress votes to ban food subsidies.
27th – Soft coal miners vote to return to work after Lewis orders four-month truce.
28th – Heat wave claims two lives in Pittsburgh.
30th – U.S. forces land on Rendova in Central Solomons.
July
1st – Pay-as-you-go income tax deductions begin. Donald Nelson, at Homestead, pleads for extra steel production.
2nd – Yankees advance on New Georgia.
4th – U.S. 8th Air Force ends first year over Europe; 11,423 tons dropped on 102 enemy targets.
5th – U.S. warships beat Japs in Kula Gulf battle. Nazis open tardy summer offensive in Russia.
6th – Coal miners end two-week strike.
7th – Jack Dempsey divorced. Giraud in Washington. Pickets rove captive mine area ignoring back-to-work pleas.
8th – PRR wreck at Leetsdale injures 37. Sir Harry Oakes murdered in Nassau, Bahamas.
9th – Federal jury ordered to probe mine strikes. Americans attack Munda from two sides on land, and from sea.
10th – Allies invade Sicily.
12th – British take Syracuse.
13th – U.S. war expenditures at $265 million daily.
15th – Mubo, New Guinea, falls.
16th – Bombs blast Naples.
17th – AMG set up to govern Sicily.
18th – Third of Sicily in Allied hands.
19th – Americans bomb Rome.
20th – Hitler, Mussolini meet. U.S. airmen bomb Paramushiru, in Kurils.
21st – Col. Richard K. Mellon named director of Selective Service in Pennsylvania.
22nd – Italian mainland shelled.
23rd – Palermo, Sicily, falls.
25th – Mussolini out. Badoglio forms new government for Italian King.
26th – Federal grand jury indicts 30 in mine strike.
27th – Liberators bomb Wake Island.
28th – Coffee rationing ends. Butter up 2 more points to 12 a pound.
31st – Giraud wins French military leadership; de Gaulle political chief.
August
1st – U.S. planes bomb Ploești oil fields in Romania.
2nd – Army flier beats sound, zooming 780 miles per hour.
4th – Russians take Orel.
5th – Catania (Sicily), Belgorod (Russia), Munda (Solomons) fall. State Supreme Court Justice William Parker dies in Oil City.
8th – Normandie refloated.
10th – Churchill in Québec for war conference with Roosevelt.
13th – Rome bombed again.
15th – Kiska retaken; Japs fled.
16th – Vella Lavella taken by Americans in Solomons.
17th – Capture of Messina by U.S. troops ends 38-day Sicily campaign.
18th – Allies rip Germany with 24-hour raid, using 3,000 planes.
21st – Nazis clash with Danes in Denmark uprising.
23rd – "Gertie from Berlin," Nazi propaganda broadcaster, revealed as former Pittsburgher. Russians take Kharkov. Berlin hit by 2,000-ton raid.
24th – Roosevelt, Churchill make Declaration of Québec.
25th – Mountbatten made Allied commander in Southeast Asia.
27th – Mrs. Roosevelt tours Pacific.
28th – Bulgaria's King Boris dies.
30th – Red Army takes Taganrog.
31st – Allied bombers blast Jap planes, ships at Wewak, New Guinea.
September
1st – U.S. Navy task force blasts Japs' Marcus Island.
2nd – Russians take Sumy.
3rd – Italy invaded by British 8th Army as Fortresses bomb Brenner Pass area.
4th – Japs abandon Santa Isabel base in Central Solomons.
5th – Allies land east of Lae, New Guinea, in encircling move.
7th – Hull rejects Argentina's request for Lend-Lease arms.
8th – Italy surrenders. Russians take Stalino. Third U.S. War Loan Drive opens.
9th – American-British 5th Army lands at Salerno, Italy.
10th – Nazis occupy Rome; King Victor Emmanuel and Badoglio flee.
11th – Greater part of Italian fleet escapes to Malta. Salerno taken.
12th – Germans reveal Mussolini freed by parachutists. Hollywood stars parade in Pittsburgh; stage show in bond drive. Churchill Mehard, former city solicitor, dies in Arizona.
13th – Salamaua, New Guinea, falls.
15th – Allies retreat under Nazi attacks at Salerno.
16th – Yugoslav guerrillas seize coastal towns from Nazis.
17th – 8th, 5th Armies meet in Italy. Russians take Bryansk. MacArthur takes Lae in New Guinea.
18th – Gulf of Naples isles taken by Americans.
19th – Navy raids Tarawa, Nauru.
20th – Nazis ousted from Sardinia; French patriots fight Germans in Corsica.
24th – Russians reach Dnieper.
25th – Red Army takes Smolensk. Stettinius succeeds Sumner Welles, ousted Under Secretary of State.
28th – British 8th Army takes Foggia with key airfields. Bond drive tops quota in county.
30th – Nazis flee Naples.
October
1st – Allies take Naples.
2nd – Finschhafen, New Guinea, taken by Australians and Americans.
3rd – Eisenhower, Badoglio confer at Malta. County Detective Lorch killed trying to arrest paroled convict.
4th – Germans attack British on Cos, in Dodecanese Islands.
5th – Mrs. Nancy Holt of Waynesburg found guilty of the poison slaying of her husband.
6th – U.S. task force blasts Japs on Wake Island.
7th – German timebomb exploded in Naples post office, killing 100. Two women, farmhand found slain on Mercer farm of Everett Wilson.
9th – William Morell arrested in Mercer killings.
10th – Walter Monaghan, city detective inspector, kills Lorch slayer in roaming house gun battle.
11th – Yankees win World Series, defeating Cardinals 4–1. Judge H. Walton Mitchell of Orphans Court dies. Samuel Harden Church dies following operation.
12th – Judge Andrew T. Park dies. Portugal grants Azores bases to Britain.
13th – Italy declares war on Germany.
14th – Sixty Fortresses lost in raid on Schweinfurt, Germany.
15th – Judge Ralph H. Smith dies.
18th – Hull in Moscow for three-power talks with Eden, Molotov.
20th – Brown resigns as OPA administrator; Bowles succeeds him.
21st – Maestro Ben Bernie dies.
22nd – WPB bans making of bloomers.
23rd – Russians take Melitopol. David Lloyd George, 80, marries secretary, 55.
25th – Russians take Dnepropetrovsk.
28th – Americans, New Zealanders land on Treasury Islands in Solomons.
29th – U.S. paratroopers land on Choiseul in Solomons.
31st – Plane output at record high: 8,362 in October.
November
1st – U.S. forces invade Bougainville. Lewis' coal miners go on strike again.
4th – Isernia, key mountain point, falls in Italy.
5th – Miners return to pits with pay increases.
6th – Russians take Kiev. Vatican bombed by unidentified plane.
10th – Republican Governor John Bricker of Ohio tosses hat in 1944 ring.
11th – De Marigny acquitted of Oakes murder charge at Nassau.
12th – Germans attack Leros in Dodecanese. Violence flares in Lebanon.
15th – Pennsylvania liquor rationing starts.
16th – Pittsburgh United War Fund drive exceeds goal.
20th – Cranemen strike at Mesta Machine as Navy officials visit plant.
21st – Americans invade Gilbert Islands. Marines enter deadly battle to take Tarawa.
22nd – Roosevelt, Churchill, Chiang Kai-shek meet at Cairo, Egypt. British lose Samos, third Aegean island.
23rd – Berlin blasted in record 2,300-ton RAF raid.
24th – U.S. forces win Gilbert Islands. Berlin bombed again.
26th – Russians take Gomel. U.S. planes bomb Formosa.
27th – Walkout closes 30 city laundries. Chinese tighten trap on 100,000 Japs in "rice bowl."
28th – Roosevelt, Churchill, Stalin meet at Tehran, Iran.
December
2nd – Berlin bombed heavily.
4th – Roosevelt, Churchill and Turkey's Inönü meet at Cairo.
6th – American-British armies reach Moro River in Italy.
7th – America marks second anniversary of Pearl Harbor with launching of 52,000-ton battleship Wisconsin, completion of 150,000th warplane.
8th – May Beegle, impresario, dies. Health officials fight flu outbreak.
9th – German counteroffensive hits Russians west of Kiev.
10th – Allied forces cross Moro River in Italy. Yanks bomb Bulgaria.
13th – Roosevelt visits Sicily; Marvin McIntyre, close friends and secretary of President, dies.
15th – Rail strike in U.S. threatened by unions. U.S. reveals surprise Nazi air attack on Bari, Italy, that destroyed 17 ships, inflicted 1,000 casualties. Americans invade New Britain.
17th – RAF renews raids on Berlin.
19th – Three German Army officers and a Russian traitor are hanged in Kharkov after first war criminal trial. Jury clears Morrel of Mercer murder charges.
20th – Russians regain initiative.
21st – U.S. rail strike threat grows.
23rd – War Labor Board rejects steel back pay plan. Roosevelt strives to end rail strike threat.
24th – Dr. Carl Voss, dean of Pittsburgh ministers, dies. Roosevelt announces Eisenhower will lead forces for invasion of Europe.
27th – Steel strike leaves 145,000 idle. Sinking of Nazi battleship Scharnhorst revealed.
28th – Army takes over railroads. Steel workers ordered back to work. Nazis admit evacuation of Ortona, Italy.
29th – Unions call off rail strike. Three Nazi destroyers sunk by Allies.
30th – Reds push Nazis back farther near borders of Poland and Romania.
31st – French invasion coast softened in mighty air raid. Nazis in panicky retreat before advancing Russians.