Katyusha

Erika

Polyushko-Polye

Lili Marleen

Blood On the Risers

We're Gonna Hang Out the Washing on the Siegfried Line

Check this out. The Nazi regime had declared it to be "inhuman music" because to its origins in African-American culture.

But, as I say,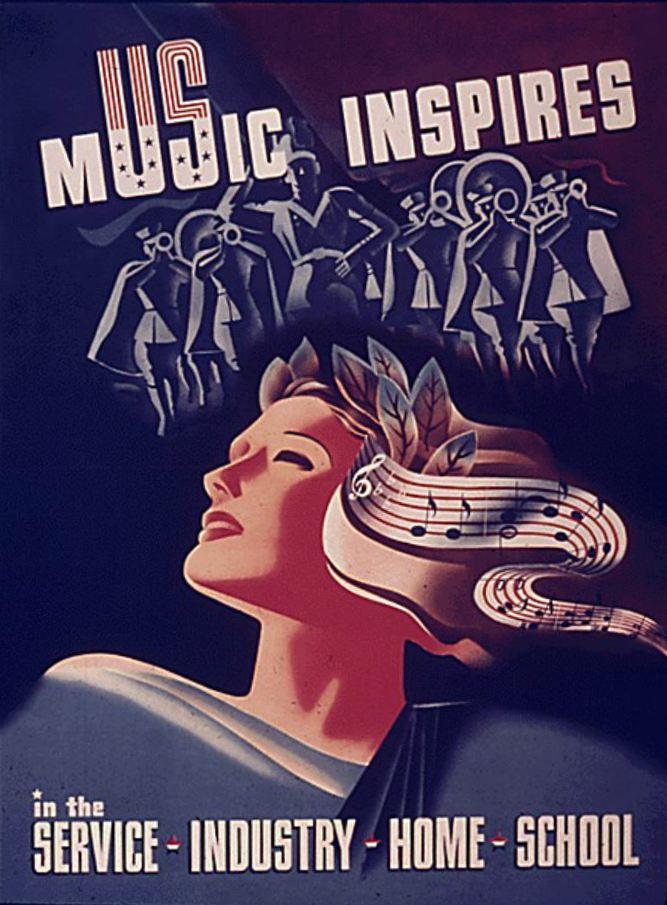 Greek songs during the battle of Greece
Sons, sons of Greece

A song telling how the civilians are proud for the winning soldiers, how the care for them and how they pray for them.
Mussolini, the sucker

Satirical song, mocking Mussolini about how stupid he was to invade Greece (true), how worthless were the Italian soldiers (not true), how vain was fascist Italy's power and how the Greek army would march on to take Rome itself.
The music is taken from the Italian song
Reginella-campagnolla
Duce puts on his uniform

Another song dealing with Mussolini's vanity. The video has english lyrics.
Greek partisan songs
The anthem of ΕΑΜ

As the largest Resistance organization was Communist/Leftist, it was natural to take the music of Katyusha. The video has english lyrics.
The anthem of ELAS

ELAS was the armed branch of EAM, having around 100.000 men and women partisans. Lyrics are these:
With my rifle on my shoulder, in cities plains and villages, I clear the road for Freedom; I lay for Her bay-leaves and She passes.
March E.L.A.S. for Hellas, the Right and Freedom; in mountainpeaks and in valleys, fly! fight with your heart.
A song is your breath, while in the ridge you walk, and from your voice resound hearts and plains: ELAS! ELAS!
Everywhere the Homeland has sent me, guard and a revenger too, and from my impetus rises a new free life.
With thousand names one charm, akritas or armatolos, rebel, klepht, lad; it's always the People itself.
You fell victims

This song was sung from the partisans only during the burials of their fallen comrades.
Lyrics:
You fell victims, brothers and sisters to an uneven battle and struggle
You found a tombstone, as you were looking for bread, liberty and honor of the people
Often you spent hard days in wet dark prisons
And with one nod of the hangman they brought you straight to the gallows
The tyrants are revelling and in their drinking they are yearning for oblivion
But now their days are counted and a horrible end is their fate
Now the giant people is growing even bigger and is breaking its chains
Eternal memory of you brothers and sisters, for you have fallen in the honest struggle
Heroes

The song is praising the
Battle of Gorgopotamos
, one of the largest sabotages in occupied Europe. The video has english lyrics.
Black Crows

An interwar communist song gloryfying
Georgi Dimitrov
's stance during the
Leipzig trial
, which gained popularity during the Resistance. The music is from the russian song
White Army, Black Baron
. The video has english lyrics.
From plains and ravines

Song praising the farming class contribution to the Resistance and its cooperation with the working class. The video has english lyrics.
Like a steel wall

The partisans do not have the war machine of the Nazis, but their will and their honesty are crushing fascists and nazis. The video has english lyrics.
Hej, hej Ułani (Hey, Hey Uhlans) - Song of Polish cavalry together with a rare footage of Polish cavalry training:

This is a wonderful thread - Lovely initiative!
Here probably the most iconic song of the war… and although it was in German it was a hit on both sides of the European war. Sung by Marlene Dietrich who had left Nazi Germany and was living in the US (Marlene had a strange tie to another TimeGhost programming - the Cuban Missile Crisis - a rather sultry one - at age 61 she was seduced by (he asked her straight out) JFK to have spontaneous sex with him in a broom cupboard in the White House around the time of the crisis).

The Ballad of Rodger Young tells the story of Medal of Honor recipient Rodger Young who wqs killed on the Solomon Islands taking out a Japanese machinegun nest that had his squad pinned down. I came across the song and story through Heinlein's novel Starship Troopers which features a ship named after Young and references the ballad.
The ballad was written by an Army soldier who was tasked to put into song the story of an ordinary private who was awarded the Medal of Honor and it was Young's citation and story that ended up being put into song. Sadly this version doesn't have the full lyrics.
And here an astonishing current song from WW2… this folk song with adapted lyrics became a hymn of the Italian Partisans fighting the Fascists during the Italian Civil War 1943 - 1945.
Some of you might recognise it from the 2017 Netflix hit "la Casa del Papel" (Money Heist) - after which remixes featuring the song have charted in the top tens in several countries world-wide.
The reason that it was featured in that series is that it has in the last decade become a hymn for freedom fighters world-wide - sung by the masses at Taksim Square in 2013 during the Turkish resistance marches against Erdogan, recorded in videos by Syrian rebels fighting against Daesh and the Syrian regime, sung in Buenos Aires during marches against growing repression in Argentina, performed in the Charlie Hebdo remembrance manifestations, and many other places (click suggested videos at the end to see examples).
Another popular Greek partisan song, called "To Arms"
Olympus thunders,
Giona
shines,
the
Agrafa
are growling, the land trembles
To arms, to arms, forward to the struggle,
for the prescious freedom!
The anti-Ottoman partisans are resurrected,
iron hands, souls of fire,
the foreign wolves are hiding in terror
in front of our vindictive rage.
Gorgopotamos in Alamana
sends a proud greeting,
the bells of the new resurrection are beating,
Our weapons are signaling our redemption.
We break the shamefull chains
which were damning us,
we want our fatherland free
and freedom to mankind.
I actually prefer the Lale Andersen version. Makes me giddy.
Must have been really awkward for Jackie and the staff.

Jackie was not in the dark about any of this, in fact most everyone knew… he had scores of mistresses of all ages from teens like WH Intern Mimie Alford to sex bombs like Marilyn Monroe (then in her 30s) and mature women like Marlene. JFK once shocked British Prime Minister Harold Macmillan by bursting out in; "If I don't have sex every day, I get a headache," in the middle of a serious meeting.
Apparently sex obsession and misogyny that was even spectacular by 1950/60s standards ran in the family. After he and Marlene had done the dirty she later told that he asked her if she had ever slept with his father, to which she responded; "No" and he replied, elated; "I knew that son of a bitch was lying!"
They kept two girls on staff that reportedly hardly did any real work, (if you don't count skinny dipping with the President in the White House pool as work) they were Priscilla Wear and Jill Cowen, known inside the West Wing as Fiddle and Faddle. Jackie once gave a tour of the White House to a Paris Match reporter and, when passing Wear's desk, remarked in French, "This is the girl who supposedly is sleeping with my husband."
Which was also the more played version on both sides of the front…
Sounds like a shitty version of the Playboy Club.
HARD TICKET TO DC
STARRING
JOHN F. KENNEDY
Disclaimer: No action scenes with explosions.
Für dich, Rio Rita is a pasodoble, written by a German composer of Spanish descent Enrique Santeugini in 1932 for Rio Rita bar in Berlin. Among several renditions of the melody there is one by Marek Weber - German Jew, who fled to America. In 1937 his record(instrumental version) made its way to Soviet Union where it became an instant hit. In Russia this song is heavily associated with the time right before German invasion of Soviet Union.

When you guys will be getting close to 22 June 1941 it would be nice to hear it in a background.
Also, if we are talking about Russian WW2 songs then this is The Song:

Written right at the start of the war(music: Aleksandr Aleksandrov, lyrics:Vasily Lebedev-Kumach) and first performed on 26th of June this is probably the most renown military song in Russia, rivaled only by Katysha and Farewell of Slavianka:
If you wish to start some Balkan comment wars in the future you can post some of following:
Songs from the Partisans movement in Yugoslavia during WW2:
Po Šumama i Gorama (Communist song popular in different countries too) :
Nas dva brata oba ratujemo (Song about two brothers fighting for Partisans) :
Komandant Sava Kovačević (Song about commander Sava who died in Sutjeska battle 1943) :
Ide Tito preko Romanije (Tito going through Romanija Mountain) :
Songs from the Chetnik movement in Yugoslavia (Serbia) during WW2:
Ja sam Četnik Majko (About Chetnik who lost hand in the battle with Germans):
Od Topole pa do Ravne Gore (Song about Chetnik Commanders) :
Ide Četnik Nikola (Song about Chetnik commander Nikola Kalabić):
Na planini na Jelici (Song about Chetnik meeting on the Mountain):