The Pittsburgh Press (June 4, 1941)
KAISER WILHELM DEAD AT 82
Ruler's exile to continue even in death
…
Burial to take place in Holland – funeral services on Monday.
…
By H. C. Buurman, United Press staff writer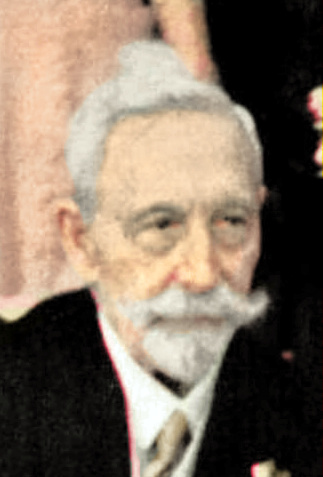 Doorn, Holland, June 4 –
Former Kaiser Wilhelm II, 82, the last of the German Hohenzollern emperors, died at 11:30 a.m. today (5:30 a.m. ET) at Doorn House.
The once-mightiest ruler of the Eastern Hemisphere, warlord of the last war and a figure of world power for 30 years, had suffered an embolism of the lung during the night.
His end was sudden but peaceful.
Definite funeral arrangements awaited instructions from the Hohenzollern family. German sources said, however, that Wilhelm would be buried in Holland.
They said he would be buried Monday in the chapel of Doorn Castle.
Only the closest members of the royal family will attend the funeral. It was believed that representatives of Adolf Hitler would attend.
He had lived at Doorn House all of the more than 20 years since, on Nov. 10, 1918, he fled across the Dutch frontier from Germany with a few faithful officers and surrendered his sword to a young Dutch sergeant.
In Berlin, it was said that Germans learned of Wilhelm's death calmly. They were too concerned with the present war, and the rule of Nazism under Adolf Hitler, the new warlord, to overemphasize the importance of Wilhelm's death. The official news agency said:

During the World War, the former Kaiser stood in the center of enemy propaganda, which was based principally on the allegation that Wilhelm II was responsible for the war. On the contrary, documents since published proved that former Kaiser Wilhelm's government did everything possible to avoid a clash with England and the other former allies.
A well-informed Nazi said:

Although the former Kaiser in recent years was not a German personality, he was the representative of an important period of German history, He was the subject of much calumny in enemy countries but later history will judge him. We refrain at present on commenting except perhaps to say:

Of the dead, speak no evil.
Family not there
Members of the Hohenzollern family were summoned from Germany last week to join the Princess Hermine of Schönaich-Carolath, his second wife, at his bedside. But after spending the Whitsun weekend holiday with Wilhelm, most of them had returned to Germany yesterday and there was no time to call them back.
With Wilhelm's death, the former Crown Prince, also named Wilhelm, 59, who had remained in Germany quietly during the rise of the Nazis, became the head of the House of Hohenzollern – a family founded by Burkhard I, Count of Zollern, who died about 1061.
In the event of a British victory in the present war, there is a possibility, if not a probability, of the restoration of the Hohenzollern dynasty in a federated Germany in which ruling princes of the German states would regain their autonomous power. It has generally been suggested that not the former Crown Prince but another Hohenzollern prince, in that event, would take the throne.
Wilhelm, once the symbol of Prussian militarism, had remained in exile, embittered for years because of charges that it was he and his little group of confidantes who had precipitated the last war.
Burial in Holland
He fought hard against his illness, and at 7:30 last night, his household said that he had shown such improvement that he was believed out of danger.
He could have spent his last days on German soil, but declined an invitation from Adolf Hitler, preferring to die here since he could not go back to Germany as emperor.
He died a stooped, lonely, white-haired old man, isolated from nearly all human contacts because of a fear of crowds and of "microbes."
When I visited his estate for a weekend in 1937, he was still permitted to continue his favorite exercise – wood-chopping and sawing trees. His physicians later forced him to give it up.
Short morning walks
He always amazed his attendants with his ability to wield an axe. He had thinned out the groves on his estate and had started cutting down a forest on the estate of a friend, Count Bentinck, where he spent several months after his flight to Holland in November 1918.
Wilhelm in the morning usually took a short walk in the park. But even this activity had to be curtailed for he would go indoors whenever he started coughing. He lived in deathly fear of cancer of the throat, after a warning by a doctor that he must avoid all possible sources of colds.
Book prepared
He had worked lately on his family archives dictating chapters of a book, for publication after his death, that he hoped would prove to the world that Germany did not cause World War I and that his own deeds in the great struggle were inspired by the highest motives.
A courtier told me the former Kaiser was resigned to his exile. The courtier said:
He has always been deeply religious and he believes now, as he always has, that his actions are directed by God. This has enabled him to find a certain kind of peace and happiness, and has prevented him from being overwhelmed by homesickness.
The former Kaiser's rambling country estate was surrounded by a high steel fence topped by barbed wire. On it were a rosarium and a "pinetum" where he had planted every type of rose and pine tree that would grow in this climate.
Medieval moat
In the evenings, he liked to stroll in the rose garden and pause at a small stone tablet inscribed:
To the memory of my beloved brother and true friend, Henry, Prince of Prussia, who died 20 April 1929, and who personally assisted in laying out this part of the ground.

In thankful remembrance, Wilhelm II.
Doorn House, where he lived and kept his treasured souvenirs, was an ivy-covered, two-story house surrounded by a medieval moat.
Wilhelm had expressed a wish in his later years that he be buried either in the white gallery of Potsdam, near the remains of his favorite ancestor – Frederick the Great – or near the ancestral castle at the village of Zollern, where the first bearers of the Hohenzollern name lived in the early Middle Ages before setting out on the conquest of Prussia and domination of all Germany.
It was believed that Adolf Hitler would grant this wish, for he had sent a delegation to Doorn in May 1940 during the Lowlands campaign, to invite the former Kaiser to return to Germany and live in any one of the Hohenzollern castles he might choose.
Letter of thanks sent
Wilhelm at the time wrote a letter of gratitude to Hitler, expressing his "delight" at the Nazi Third Reich's victories, but said he preferred to remain at Doorn. He wrote:
I am an old man and now I've lived in Holland since 1918. I want to die here.
At Doorn, he surrounded himself with photographs and other momentos of his years at the German helm. A statue of Frederick the Great stood in the entrance hall. In his study, transformed into a chair, was the saddle from which he used to review his goose-stepping regiments.
Always treated as king
His retainers at Doorn House treated him as though no change had come in his fortune. They stood at attention in his presence, bowed to his commands, always addressed him as "Your Majesty."
In the later years of his exile, he became increasingly the "Hermit of Doorn." Largely responsible was an attempt on his life in December 1932, when a German, armed with a pistol and a huge dagger, was found crouched in the tower of Doorn House.
Toward the end, his chief preoccupation was charting the fortunes of Hitler's military machine. On a map propped on the statue of Frederick the Great, he methodically followed every move with little colored pins to represent opposing armies in their advances and retreats. He would remain seated beside a radio for hours at a time to hear the latest war bulletins.