The Pittsburgh Press (May 5, 1941)
'WATCH ON THE RHINE' ANTI-NAZI BUT NOT PRO-WAR, SAYS LILLIAN
…
America's entry is opposed by dramatist
…
By Tom Wolf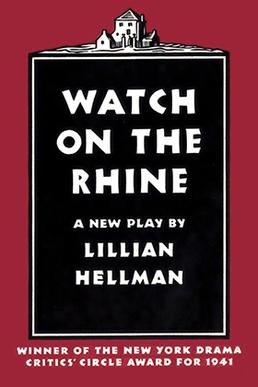 New York, May 5 –
Lillian Hellman, America's leading woman playwright, has written herself into something of a spot. Because her new play, Watch on the Rhine (recently awarded the Drama Critics' Circle prize), is strongly anti-Fascist, many interventionists have pointed to it as first class propaganda for America's entry into the war. Nothing could be further from Miss Hellman's desire.
She said:
I do hope the play won't stir up war sentiment. I feel very strongly against our getting involved.I certainly meant the play to be vehemently anti-Fascist, but anything more that audiences get from it they must read into it.

Fascism is a more dangerous and involved problem than can be solved just be sending armies to fight it. The final solution must come from the people who live in Fascist countries. That's why my play's leading anti-Fascist is himself a German.
Does research
Armies may overthrow a few names, but Fascism is an economic and political system – not a few names. I know what war is like. I was in Spain in 1937. I saw arms and legs strewn on battlefields. It's one thing to defend yourself against a marching Fascist army. But it's another thing to go to war against Fascism. It is very evident from my research before writing Watch on the Rhine that Fascist Germany and Fascist Europe themselves are products of war.
Miss Hellman does not use the word "research" lightly. When she began seriously to consider writing an anti-Fascist play, she started by reading "dozens of histories" – of Germany today, of Germany in 1890, of Germany in the post-war years.
My notes for the play are as fat as this.
She separated her thumb and forefinger as far as she could.
For the grandmother's characrer, I read memoirs of the period of her youth. Not that she is based on an actual person. My characters are always composites.
Vividly real
Whether her characters are actual people or not, they are vividly real enought to have skyrocketed the attractive, blond Miss Hellman in six short years from a $35-a-week reader for Metro-Goldwyn-Mayer to one of America's ranking and highest-paid playwrights, male or female.
Born in New Orleans in 1905, Miss Hellman was educated in New York public schools. She attended both New York Universoty and Columbia. She began her literary career as a reader for a book publisher, moved to the scenario department of Metro.
In 1934, when her first play, The Children's Hour, was produced, she had just $55 in the bank. With its production, Miss Hellman was on her way to her present title: Queen of Hits. Her sole flop in four tries was her second play, Days to Come. The Little Foxes, produced in 1939, was the leading contender for the Critic's Circle Award that year. Though it held a plurality throughout twelve ballots, it didn't get the constitutionally-necessary 12 votes, and no prize was awarded.