The Pittsburgh Press (November 4, 1940)
IMPROVED SOUND EQUIPMENT CREATES MUSICAL SENSATION
…
Unique Apparatus to Lift 'Fantasia' Out of Novelty Class, Says Harrison
…
By Paul Harrison
Hollywood, Nov. 4 –
You're sitting in a theater. Stage curtains are closed; lights are still bright; last-minute arrivals are scuttling crabwise to their seats. An orchestra begins to tune up.
You don't see any musicians but you figure there must be some, because the tuning sounds come from different parts of the stage. This is a trick, though, because when the house lights dim and the curtains part, you realize you're watching a motion picture of orchestra members taking their places.
They're deliberate about it, just as they are in any auditorium. You view them rather dimly, mostly in purplish silhouette.
Presently a man halts in mid-screen and begins to speak to the audience. He says his name is Deems Taylor and that in behalf of Walt Disney, Leopold Stokowski and the Philadelphia Symphony, he welcomes you to a performance of Fantasia.
In his easy fashion he goes on to say it is unlike anything you have attended – that it is a concert of fine music complemented by pictures. The pictures, he explains, are not necessarily stories – they may be designs and forms inspired by the music; they are the sort of images which might turn through your mind if you just sat and listened to Stokowski and his men.
Then you see the conductor. He raps with his baton and begins Bach's Toccata and Fugue in D Minor. The orchestra dissolves from view. The interpretive, impressionistic part of the picture begins. There are eight musical selections spaced by glimpses of the orchestra and brief announcements by Taylor.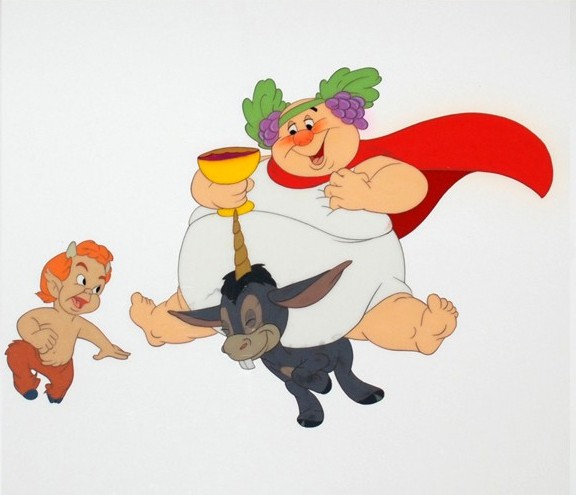 The material ranges from the reverent Ave Maria to the ludicrous Dance of the Hours, the latter burlesqued by a jungle ballet of hippos, elephants, crocodiles and ostriches. It goes from Beethoven's Pastoral, garnished with Disney-esque centaurs and centaurettes and fauns and cupids, to Stravinsky's Rite of Spring, a starkly primitive thing used to tell of the creation of the world, and of life development from single cells to the age of the great reptiles. Another eerie and rather terrifying number is Mussorgsky's Night on Bald Mountain. Fantasia, as a whole, is not a program for the kiddies.
With ordinary equipment for sound recording and reproduction, the enterprise probably would have been just a movie novelty with the music of no more consequence than the score of the average picture. But Fantasia will be a musical sensation, and the visual part actually will be secondary. The dimensional, directional sound developed by Disney engineers and RCA compares with the best reproduction now available in about the same way modern Technicolor surpasses Thomas Edison's flickering kinetoscope.
So far as I can learn, the main difference is that Disney and Stokowski have recorded on eight soundtracks instead of one, and from microphones scattered all through the instrumental sections of the orchestra. And reproduction of the music will come from 60 speakers variously placed in a theater instead of from one speaker suspended behind the screen.
Because this equipment is so expensive and take so long to build – especially with preparedness orders blocking production – Fantasia can be shown in only 12 theaters on the entire continent at one time. In the course of two or three years, it is possible it will have reached only 72 cities.