The Pittsburgh Press (September 21, 1941)
TECH OPENS WITH TITANS; DUKES PLAY FRIDAY NIGHT
…
Bluffites face Niagara under lights in second game – touted Mountaineers begin with Waynesburg
…
By Eddie Beachler
The first big week of college football finds Carnegie Tech joining the pigskin parade Saturday and sharing the local weekend spotlight with Duquesne's early-bird Dukes, who kicked off yesterday.
Tech's deflation is complete this season except for two suicide spots on the schedules held by Notre Dame and Pitt.
Other than those two overambitious gestures, the Tartans will operate on a strictly Class B level in keeping with the caliber of the present squad.
Westminster is the opening assignment, Saturday, in Pitt Stadium, for Coach Dr. Eddie Baker's second Tartan production, and it shapes up as a pretty even match.
The Tartans are handicapped not only by the almost complete absence of scholarship players, Center Henry Holets being the only remaining Steffen Scholarship grider, but accomplished little in the spring and pre-season fall training periods.
The spring session was a complete bust, as Coach Baker called off drills after two short weeks of attempting to round up enough players for scrimmages. Also, players have been late in reporting this fall, and the squad reached near full strength only last week.
Passer deluxe
In fact, the only ray of sunshine in the whole picture is the forward passing wizardry of sophomore Virgil Cantini. Coach Baker believes Cantini is the best passer to come under his wig in a dozen years of coaching, and Virg is sure to play a major part in any success the Tartans might achieve.
Although Westminster hasn't been too strong even in minor competition the past few years, Coach Grover Washabaugh reports the current band of Titans is the best since he took over the coaching controls four years ago. Thus, Saturday's game should give a pretty good line on just how far Tech may be expected to go this season.
Dukes play Friday night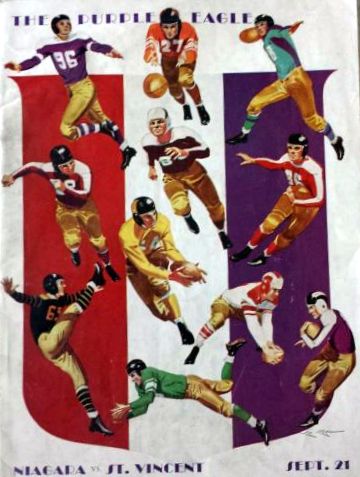 Friday night, the Duquesne Dukes make their second start of the season – reverting to their familiar night-riding role to take on Joe Bach's Niagara eleven.
There is considerable local interest in this game, for Bach is well-known to local fans – having coached the Dukes back in the early '30s. This will be his second trip to Niagara having directed his Purple Eagles against the Dukes in Forbes Fields three years ago in a game that was first postponed by heavy snowball and cold, and then was finally played under the worst kind of weather conditions.
Duquesne copped the decision that day, 15–6, as Coach Clipper Smith sang his swansong – paving the way for Assistant Buff Donelli to step into the lead coaching role the following season.
Bach has had great success at Niagara, but he would likely be happy to trade all that for a victory over Duquesne.
West Virginia also opens
In Morgantown, W. Va., Bomber Bill Kern sends his West Virginia Mountaineers to the firing line Saturday with Waynesburg serving as a good, tough warmup target. The following week the Mountaineers face its most important objective of the season – Navy, rated one of the three leading contenders, along with Fordham and Colgate, for Eastern honors.
Stu Holcomb makes his coaching debut Saturday at Washington, Pa., where he directs Wash-Jeff against a formidable Mt. Union eleven. St. Vincent opens its home campaign Friday night at Latrobe, entertaining David-Etkins' Scarlet Hurricane.
Geneva, happy to hold a favored Youngstown eleven to a scoreless tie in last week's opener, goes to Buckhannon, W. Va., in search of a victory at the expense of West Virginia Wesleyan, Saturday, The same afternoon, Grove City is host to Clarion; Theil journeys to Edinboro.
Two district elevens are campaigning in upper New York today, with St. Vincent getting off to a fast start with Niagara, at Niagara Falls, while St. Francis battles Canisius at Buffalo.