The Pittsburgh Press (January 22, 1941)
McREYNOLDS TO QUIT COURT
….
Aged New Deal foe gives Roosevelt resignation
….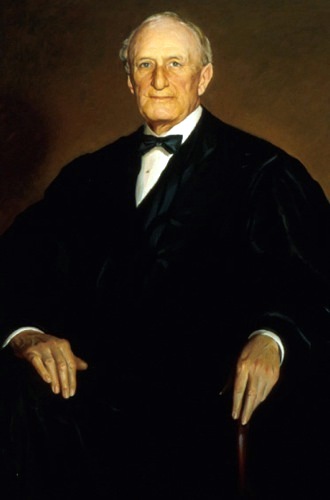 Washington, Jan. 22 (UP) –
Associate Justice James Clark McReynolds, the last of the Supreme Court's once-dominant conservative bloc, informed President Roosevelt today that he will retire on Feb. 1, two days before his 79th birthday.
His retirement will create the sixth vacancy on the high court during Mr. Roosevelt's administrations.
At the outset of his 26 years on the high court in 1914, the robust six-foot Justice McReynolds was known as a crusading, liberal trust-busting prosecutor. Whether it was Justice McReynolds himself who changed or others who changes – at any event, by 1930, he was regarded as an uncompromising conservative.
'Constitution is gone!'
Once a dominant member of the majority bloc, he found himself more and more a dissenter as New Deal judges came to the court. Often he stood alone, crying out against the New Deal's concepts of law and society.
At one turning point of these shifts in court sentiment – the famous Gold Clause cases of 1935 when he dissented with his three conservative colleagues – he concluded his dissent with an angry gesture, tossed the manuscript aside, and shouted:
The Constitution is gone!
Opposed all reforms
Since then, his closest conservative associates – Justices Van Devanter, Sutherland and Butler – have either retired or died. Justice McReynolds alone remained on the bench and continued his protests against New Deal laws.
He alone of the conservatives opposed every New Deal reform, and he publicly voice his opposition to the court reorganization bill which Congress failed to enact in 1937.
He announced his intention to retire in a formal short note sent to the White House this morning from his five-room bachelor apartment. He merely said that having served on the high bench since 1914 ashd having passed the retirement age of 70, he was availing himself of the provisions of the Judiciary Retirement Act which authorizes continuation of his $20,000 annual salary.
Disliked administration
So intense has been his dislike of the Roosevelt administration that he has refused to attend the White House judiciary receptions for many years.When Mr. Roosevelt was inaugurated for a third term on Monday, Justice McReynolds remained away from the ceremonies.
Attorney General Robert H. Jackson has been most frequently mentioned as the next Supreme Court appointee. There has been some talk, however, that Mr. Jackson might not be appointed until he can be made Chief Justice.
Justice McReynolds' letter to Mr. Roosevelt read:
Sir,
I have the honor to advise you that on the first day of February next, I will avail myself of the rights, privileges and obligations declared in the act of Congress entitled "An Act to Provide for Retirement of Justices of the Supreme Court," approved March 1, 1937 (ch. 21, 50 Stat. 24, U.S.C., Title 28, § 375) and retire from regular service on the bench as an Associate Justice of the Supreme Court.

Continuously since 1914, I have held the commission as such Justice and am now more than 70 years old.

Respectfully,
J. C. McREYNOLDS
Soon after receiving Mr. McReynolds' letter, the President dictated a brief reply. The President wrote:
Dear Mr. Justice,
I have the honor to acknowledge receipt of your letter of Jan. 22 advising me of your purpose to retire on Feb. 1, next, from regular service on the bench as an Associate Justice of the Supreme Court.

Permit me to congratulate you on your long service and to wish you many years of health and happiness.

Very sincerely yours,
FRANKLIN D. ROOSEVELT
The new vacancy gives r. Roosevelt the chance to place more justices on the court than any other President except George Washington and William Howard Taft.
President has named five
Washington, who set up the first court under the constitution of the new republic, made 11 appointments, including three to the post of Chief Justice. Taft, in a single term, appointed six justices, including Chief Justice Edward Douglas White.
Roosevelt appointees to date:
Hugo L. Black (Oct. 4, 1937), succeeding Willis Van Devanter.
Stanley F. Reed (Jan. 31, 1938), succeeding George Sutherland.
Felix Frankfurter (Jan. 30, 1939), succeeding Benjamin N. Cardozo.
William O. Douglas (April 17, 1939), succeeding Louis D. Brandeis.
Frank Murphy (Jan. 4, 1940), succeeding Pierce Butler.
Views on justice differ
In recent years, Justice McReynolds has become a puzzling public personality – a man with a dual nature. On the one hand, he appeared to the public to be a bitter, crotchety old bachelor stubborn in his views, soured because they no longer prevailed. but those who know him best dispute that. They see him as a man of great generosity and tenderness, a fine lawyer, a capable and honest justice, tenacious in his pinions but tolerant of others.
His background is that of the son of a well-to-do doctor born in Elkton, Ky., Feb. 3, 1862. He was a brilliant student at Vanderbilt University and the University of Virginia. He developed a successful law practice in Nashville, Tenn., stepped into the Attorney General's cabinet post under Woodrow Wilson and, in 1914, was elevated to the Supreme Court.
Then he was known as a "liberal." As special government attorney in the Theodore Roosevelt administration he had prosecuted with vigor and ability numerous antitrust cases and had his views sustained by the court he later joined.
But in recent years, his constitutional outlook has been described as "conservative."
Nearing his 79th birthday, Justice McReynolds is in excellent health.