from "British and Allied Submarine Operations in World War II" written by Vice Admiral Arhur Hezlet , RN
ON 1ST SEPTEMBER, THE SUBMARINES AT MALTA were organised into a separate flotilla under the command of Captain GWG Simpson who had recently been promoted. The new flotilla was numbered the Tenth, and remained based ashore on Manoel Island in Sliema Harbour. Its name ship was HMS Talbot and the old monitor, HMS Medusa (exM29), which was used by the submarines as a fuel barge, was renamed accordingly. Operations, however, continued to be co-ordinated under C-in-C Mediterranean by Captain(S) First Submarine Flotilla in HMS Medway at Alexandria. In practice this made little difference. Captain Raw had, in fact, never interfered with the operation of the Malta submarines. Air raids in Malta had, by this time, fallen to one in every twenty-four hours and were made almost exclusively at night. They caused little disruption and no damage. Reinforcements of Hurricane fighters had also been flown in from aircraft carriers during the summer. Tunnelling at Lazaretto had continued during the summer, and by October the plans to put vital facilities underground had been half completed.
September proved an even more successful month than August. Operations were spread throughout the Mediterranean and included patrols in the Aegean and the Adriatic. On 1st September there were twelve submarines on patrol. From the Eighth Flotilla at Gibraltar, Free Netherlands Navy submarines O21 was south east of Sardinia and O24 off the Italian Riviera. From the Tenth Flotilla at Malta, HMS Upright was on the north coast at Sicily while HMS Urge was returning to Malta from the Naples area: HMS Unbeaten was south of Messina and HMS Upholder and HMS Ursula were off Tripoli. Of the First Flotilla at Alexandria, HMS Talisman was in the Gulf of Sirte and HMS Thunderbolt was on her way to the same area to join her; HMS Perseus was in the Aegean; HMS Triumph was returning to Malta from the Tyrrhenian Sea and HMS Rorqual was on her way back to Alexandria from the west coast of Greece. Most of these submarines were back in harbour before the middle of the month, but not before some had achieved results. O21 (Luitenant ter zee 1e K1 JF van Dulm), in the Tyrrhenian Sea made no less than five torpedo attacks on various ships but all missed except one. On 5th September she sank cargo ship Isarco of 5738 tons carrying phosphates from Tunisia to Naples rescuing twenty-two men of her crew, and taking them back to Gibraltar. O23 (Luitenant ter zee 1e Kl GBM van Erkel), patrolling off the Italian Riviera missed a three masted barque with torpedoes, but surfaced and sank her by gunfire. This was Carla of 347 tons. Near Elba on 9th, she encountered two ships in convoy and sank Italian freighter Italo Balbo of 5114 tons with torpedoes. O23 then set course round the north of Corsica, and was narrowly missed by torpedoes from an MAS boat before returning to Gibraltar. In the early part of the month HMS Otus (Lieutenant RM Favell RN) and HMS Osiris (Lieutenant CP Norman RN), which were in Malta after bringing in supplies, made their way to Alexandria carrying mail and passengers. HMS Osiris carried a spare destroyer stem piece lashed to her casing. She was ordered to bombard Appolonia airfield on her way, which she did, surprisingly without any return fire from the shore. On 3rd September, HMS Otus sighted a Ramb-class merchant ship escorted by a destroyer, probably on her way to the Dodecanese. She fired four torpedoes at a range of 2000 yards, but the destroyer got in the way and caused her to miss. HMS Perseus (Lieutenant Commander ECF Nicolay RN), in the Aegean on 5th September, attacked a convoy and fired four torpedoes hitting and sinking Italian cargo ship Maya of 3865 tons at the long range of 5000 yards. One of the salvo also hit a tanker in the convoy and it stopped. A fifth torpedo was fired at this ship an hour later but it missed. HMS Thunderbolt (Lieutenant Commander CB Crouch DSO RN), newly arrived in the Mediterranean, was off Benghazi on 5th September where she was harassed by anti-submarine vessels. On 7th, however, she encountered the escorted Italian merchantman Sirena of 975 tons and sank her. This was a remarkable attack since although it started in the normal way, the target altered course stern on at a range of 2000 yards, and the single torpedo fired overtook and hit her. HMS Thunderbolt then moved her patrol position to the Gulf of Sirte and on 9th bombarded Fort Baroli. Next day she sank the schooner Svan I of 388 tons by gunfire in the anchorage at El Auejai and during this action shore batteries engaged her. On 11th she attacked a convoy of two ships escorted by two destroyers, firing three torpedoes at a range of 1200 yards, hitting and sinking Italian merchant ship Livorno of 1829 tons. Two days later she attacked a minelayer of the Crotone-class escorted by aircraft and minesweepers, and expended three torpedoes at a range of 3200 yards, but without result. Finally next day she fired four torpedoes at a large escorted supply ship at a range of 4600 yards. Although she claimed a hit at the time, there is no record that the enemy was sunk although she may have been damaged.
During the early part of September after four submarines had returned from patrol, the Tenth Flotilla had only HMS Unique at sea and she was off Capri. The others were preparing for Operation 'Halberd', which was another Malta convoy. HMS Unique (Lieutenant AF Collett RN) had left Malta on 5th for the Tyrrhenian Sea, and on 14th sighted a large tanker of the Oceana-class off Capri but could not get within range. It is now clear that this ship was bound for Naples, from which port a large troop convoy was about to sail. Cryptography revealed its times of arrival and departure and its destination as Tripoli. It also gave its route as through the Straits of Messina and the central Ionian Sea, making its landfall at Ras el Hanra on 19th. This intelligence was to lead to a major success for the cryptography/air reconnaissance/submarine combination. RAF air reconnaissance revealed that the convoy had left Naples, and Captain(S) Ten at Malta at once decided to set an ambush with five submarines that were available there. HMS Upholder (Lieutenant Commander MD Wanklyn DSO RN), HMS Upright (Lieutenant JS Wraith DSC RN) and HMS Unbeaten (Lieutenant Commander EA Woodward RN) were despatched on 16th September to form a patrol line some fifty miles north east of the expected landfall of the convoy on the African coast. They would then be able to make a night attack and be certain to avoid the period around dawn when it would be difficult to decide whether to attack on the surface or submerged. HMS Ursula (Lieutenant AR Hezlet RN) was sent to patrol close in off Ras el Hamra to attack submerged after daylight. HMS Urge , who had only just got in from patrol, did not take part.
All four submarines were in position shortly after midnight 17th/18th September, and the submarines on the patrol line checked their relative positions using asdics. At this point HMS Upholder's gyrocompass failed which was a setback. It was a dark but clear night and the submarines had not long to wait. At 0307 HMS Unbeaten sighted the enemy eight miles to the northward and, as she was obviously too far off track to attack, she made an enemy report first by asdic and when this did not get through, by wireless. HMS Upright received the message at 0331 and HMS Upholder at 0340. HMS Unbeaten then followed up the enemy to deal with any ships damaged by the other two. HMS Upholder sighted the convoy at 0350 at a range of six miles, and closed at full speed on the surface. At 0408 she fired a full salvo of four torpedoes at the long range of 5000 yards with a track angle of 115 degrees. With no gyrocompass the submarine was yawing badly but the torpedoes were sighted individually at two ships that were overlapping. Two of the torpedoes hit, one striking Oceania and the other Neptunia . Neptunia sank; Oceania stopped dead in the water and the third ship, Vulcania , increased to her full speed of 21 knots and continued on her course. While the six large Italian destroyers of the escort were busy rescuing survivors, HMS Upholder dived and closed in while she reloaded her torpedo tubes. HMS Upright ran south on receiving the enemy report but Vulcania passed north of her. After daylight, an Italian destroyer passed within range of HMS Upright but could not be attacked as she was armed with Mark IV torpedoes, the depth setting of which could not be altered in her torpedo tubes. By 0650 both HMS Upholder and HMS Unbeaten had sighted the stopped Oceania , and were closing in submerged from the same side to finish her off. HMS Upholder had to go deep to avoid a destroyer, and dived under Oceania then turned and at 0851 fired two torpedoes at a range of 2100 yards from the other side, both of which hit and sank her,
HMS Ursula arrived in her position off Ras el Hamra before dawn and dived. As soon as it was light she sighted the torpedo boat sent out from Tripoli to guide the convoy in. She was working stealthily round to the northeast when the Vulcania was heard on asdic and came in sight earlier than had been expected. At 0705 HMS Ursula fired four torpedoes at a range of 3500 yards. The target speed, however, was set at 17 knots, which was anticipated as the convoy speed, and the torpedoes missed astern. At the time a hit was thought to have been obtained, and this seemed to be confirmed as Vulcania went on her way with a list to starboard.
This great success for the Tenth Flotilla, in which the part played by cryptography and air reconnaissance must not be forgotten, was achieved by the torpedoes of HMS Upholder , who had already sunk Conte Rosso in May 1941. Some 6500 men were being transported in Oceania and Neptunia , and the Italian Navy succeeded in rescuing all but 384, most of whom were killed by the torpedo explosion in Neptunia . This was the last of these troop convoys, four of the liners having been sunk by our submarines. Troops from now on were transported mainly in destroyers, which crossed at night at high speed. Vulcania , after disembarking her troops, returned without delay to Italy using the route west of Sicily. HMS Utmost was on her way to the north coast of Sicily at the time and was ordered to a position off Marittimo to intercept. On 20th September she sighted the liner on a course for Naples, but was too far off to attack.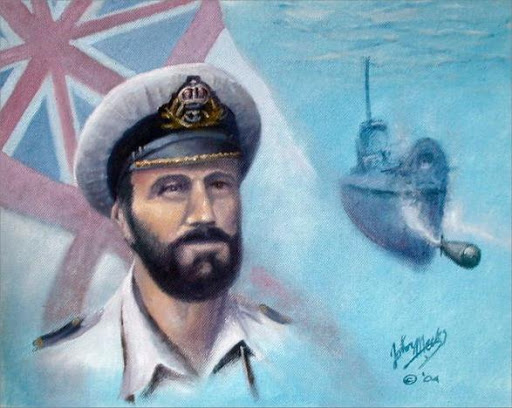 Lt. Cmdr David Wanklynn and HMS Upholder , tonnage ace of Allied submariners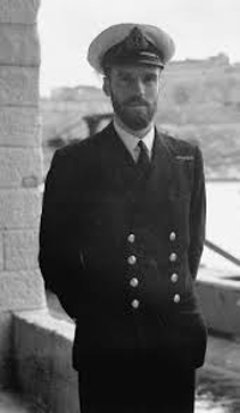 Lt. Commander David Wanklynn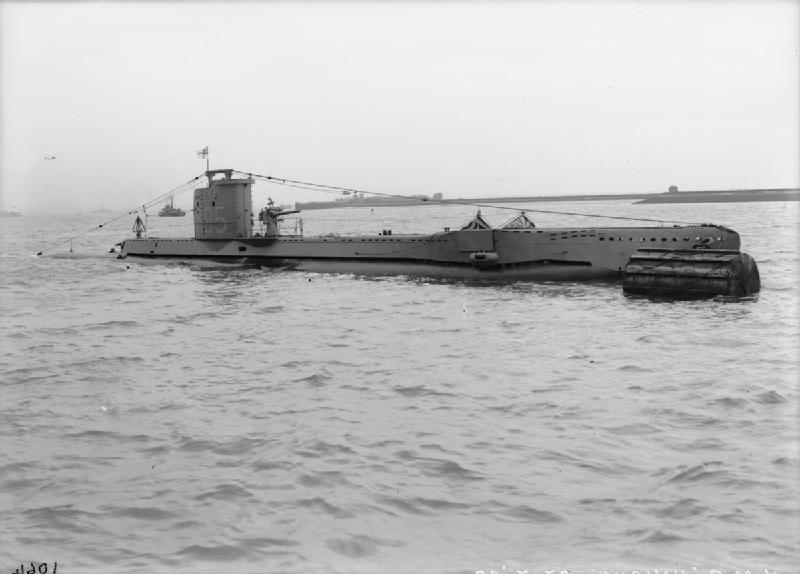 HMS Unique
Although the 'Substance' and 'Style' convoys had successfully supplied Malta during August, it was considered necessary to run another convoy in September to build up stocks there. It was decided to run this convoy towards the end of the month when reinforcements for Force H from the Home Fleet would be available. The Italians still had five battleships operational with which to contest the passage of this convoy, and it had only been found possible to bring Force H up to a strength of three capital ships. It was therefore considered essential to deploy a strong force of submarines in support of this convoy, which was code named 'Halberd'. This was not only for reconnaissance but to attack the Italian battlefleet should it sortie. Nine submarines were made available. HMS Utmost was already north of Sicily and was ordered to patrol north of Messina, and O21 had just arrived to patrol south east of Sardinia. HMS Upright , HMS Upholder and HMS Urge were sent to take up positions off Cape Rosso Colmo on the west coast of Calabria, off Marittimo and north of Palermo respectively, while HMS Ursula and HMS Unbeaten were sent to patrol south of the Straits of Messina. Finally HMS Trusty and the Free Polish Navy submarine Sokol , on passage in the western Mediterranean to join as reinforcements, were ordered into the Tyrrhenian Sea north of Sicily. This time some units of the Italian Navy put to sea to oppose the passage of the convoy. They were unable to use all five battleships as they were by now too short of fuel. Two forces were used; the first consisted of Littorio and Vittorio Veneto with eight destroyers, preceded by a second force of four cruisers and another eight destroyers. The Italian Fleet was restricted by instructions only to engage forces that were inferior, and to keep within the umbrella of fighter aircraft from the shore. They were unable to obtain enough information from air reconnaissance to compare the relative strengths, but nevertheless cruised to the east of Sardinia during the 27th and 28th September before returning to base. The only contact made with any of our six submarines in the Tyrrhenian Sea was by HMS Utmost , who sighted three cruisers returning to Naples. She attacked but was forced to dive deep to avoid being rammed by one of the escorts and did not get her torpedoes away. Operation 'Halberd' was a success and eight of the nine merchant ships arrived in Malta safely although the battleship Nelson was damaged by an aircraft torpedo.
Immediately before, during and after 'Halberd' and for the rest of September, the usual submarine patrols continued. On 24th, HMS Urge (Lieutenant EP Tomkinson RN) fired a single torpedo at a small merchant vessel off the west coast or Calabria but it had a gyro failure and circled, then dived to the bottom, and exploded uncomfortably close. That night in the Gulf of Gioja, she attempted to recover an agent landed by HMS Utmost in April but was disturbed by an MAS boat. She tried again next night but one or her officers who went ashore in a folbot was killed by fire from the shore, and HMS Urge was forced to make a rapid withdrawal by the arrival of a destroyer at high speed. It seems that the enemy obtained information from the agent and had set a trap. This confirmed Captain Simpson's dislike of these special operations that could so easily lead to the loss of a submarine. Before returning to Malta, HMS Urge bombarded the railway with her 12-pd. gun but without effect. HMS Torbay (Lieutenant Commander ACC Miers RN) sailed again for the Aegean on 6th September, and although she made six attacks firing fourteen torpedoes she failed to score a single hit. On 10th she sighted a merchant ship escorted by destroyer, and fired three torpedoes at a range of 1500 yards after first being thwarted by the escort. The first torpedo was seen and the target evaded the salvo. She pursued submerged all day and caught up with her quarry in Candia harbour by the evening. She fired another torpedo at her stern, which was sticking out from behind the breakwater but it missed. On 18th three more torpedoes missed a small escorted merchant ship at a range of 2000 yards, probably because of an error in the estimation of her speed. Next day in an attack on two ships in convoy with four torpedoes at a range of 4000 yards she was forced deep by he escort and counter attacked, and the torpedoes missed again. Then on 21st two torpedoes fired at an escorted Romanian ship at a range of 300 yards also failed to hit, probably because they ran under. Finally on 23rd she encountered a small coaster towing a lighter with a destroyer and an aircraft as escort. Two torpedoes at a range of 1600 yards missed yet again and an exasperated HMS Torbay returned to Alexandria on 26th September.
HMS Thrasher , (Lieutenant Commander PJ Cowell DSC RN) left Alexandria to patrol off Benghazi on 12th September. She plotted the courses of the Italian local patrols and so verified the positions of the minefields off the port. On 23rd in the early hours she sighted three darkened ships and fired three torpedoes at a range of 1000 yards. One torpedo ran crooked but a second ran right under one or the enemy ships which were now seen to be destroyers, and not supply ships as at first thought. Two days later, also at night, she sighted a convoy of two ships escorted by two destroyers and fired five torpedoes at a range of 3500 yards, but all missed. HMS Thrasher then went on to Malta arriving on 1st October. HMS Tetrarch (Lieutenant Commander GH Greenway RN) left to patrol in the Aegean on 14th September to relieve HMS Torbay. She began by landing two army officers near Port Surtari in Crete to round up troops in hiding and then patrolled for two days off Suda Bay. She then went on to the Gulf of Athens and left the troops to be taken off by HMS Osiris (Lieutenant RS Brookes DSC RN), who made a special trip from Alexandria for the purpose. The operation, however, failed and it was clear that the Germans had got wind of it and HMS Osiris returned to Alexandria empty handed. HMS Tetrarch meanwhile, on 26th, sighted a convoy off Gaidaro Island but being in a bad position to attack, she worked ahead during the night and next morning fired two torpedoes at a range or 1500 yards hitting and sinking Italian merchant ship Citta di Bastia of 2499 tons. She was counter attacked but shook off the enemy, and two hours later reached a new firing position and fired two more torpedoes at the rear of the convoy, but the range was 6500 yards and she missed. Later in the day she sank a caique full of Italian troops by gunfire. On 28th she fired another pair or torpedoes at a large ship in convoy in a night attack south of Gaidaro Island. She was forced to dive by the escort and actually fired by asdic sinking Axis commandeered Greek ship Yalova of 3755 tons at a range of 2500 yards.
HMS Triumph (Commander WJW Woods RN) left Malta on 16th September for the Adriatic carrying a party of British and Yugoslav officers for a special operation. On 18th off Cape Rizzuto she fired three torpedoes at the tanker Liri of 6000 tons with a deck cargo of motor transport. One torpedo hit at a range of 3500 yards, which only damaged her, and she was towed into Crotone. On 20th HMS Triumph landed her party at Peljesac which she had some difficulty in identifying. On 23rd she sank the German cargo ship Luwsee of 2373 tons with one hit from a salvo of three torpedoes fired at 3600 yards. Next day off Ortona she fired three more torpedoes at a large tanker at a range of 2500 yards hitting with two of them but only damaging her. HMS Triumph then surfaced and engaged with her gun firing six rounds at a tug, and 35 at the tanker, but was forced to dive again by shore batteries. She also sank a small pilot cutter. She then expended another four torpedoes to try and finish off the tanker, but they missed and the enemy managed to make port on fire with a heavy list and upper deck awash.
HMS Perseus (Lieutenant Commander ECF Nicolay RN) also patrolled off Benghazi leaving Alexandria on 22nd September, but had not achieved anything by the end or the month. HMS Talisman (Lieutenant Commander M Willmott RN) followed HMS Tetrarch in the Aegean, leaving Alexandria on the 20th. She reconnoitred the Kaso Strait, and Santorin, and then Tenedos without seeing anything, and then returned to the Zea Channel by the end of the month. Free Greek Navy submarine Triton (Plotarkhis Kositogianni) also carried out a patrol north of Crete from 18th September, but had to return prematurely after a fire in her engine room. On 27th, HMS Upright (Lieutenant JS Wraith DSC RN), north of Messina, was approached by an Italian torpedo boat that circled her position twice. On the second time round, HMS Upright fired two torpedoes at a range of 3000 yards and hit and sank her. The torpedo boat was Albatros . This was a remarkable shot at so small a target at such a range, and was most satisfactory as it was Albatros who was responsible for the destruction of HMS Phoenix in 1940. On the same day, however, HMS Upright attacked a small escorted merchant ship with two torpedoes at a range of 1500 yards but missed.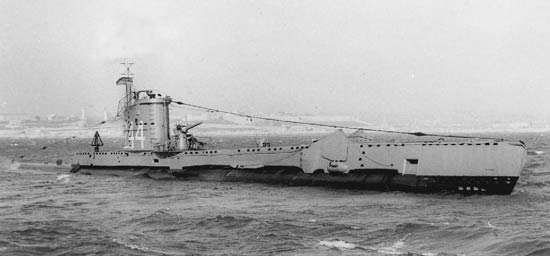 HMS Unbeaten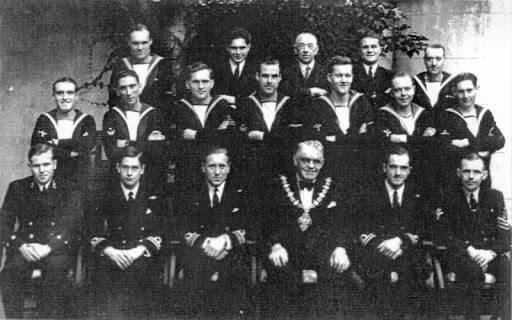 During this month of September, our submarines sank a greater tonnage than ever before. In twenty five attacks by British submarines firing 74 torpedoes, and seven attacks by Netherlands boats firing some fifteen to twenty torpedoes, they sank the torpedo boat Albatros and nine ships of 51,135 tons and damaged two more of approximately 15,500 tons. A number of smaller ships were sunk by gunfire as well. Four of these, of 41,534 tons, were actually carrying men and supplies to North Africa. Aircraft again did well and sank six ships of 23,031 tons. Early in the month there was a particularly effective attack by torpedo planes on a southbound convoy, which sank one large ship and damaged another. Again in the middle of the month, aircraft sank three ships of over 15,000 tons. Military cargoes landed in Africa fell to 54.000 tons, 29% being lost on the way, and fuel delivered was only 13,400 tons and 24% never arrived. Furthermore these results had been achieved without losing any British submarines, and although O23 had left the station to refit in the United Kingdom, no less than five reinforcements had arrived in the Mediterranean. One of these submarines, HMS Proteus , had been fitted with a type 250 radar set.
The Italian Navy was now seriously worried and General Rommel was declaring that he could not contemplate any further advance or even an attack on Tobruk without an improvement in the supply situation. It is true that General Rommel was more interested in decreasing the length of his land supply route than increasing the volume, and continued to demand that Benghazi should be used as the main point of disembarkation rather than Tripoli, and that even Derna should be used by ships as well as submarines. The cryptographers revealed those enemy difficulties to us. The Italian Navy again complained that the British had developed effective co-operation between aircraft and submarines, and that each was guiding the other to the attack or calling in the other to finish off damaged ships. They do not seem to have had an inkling that we were reading their ciphers. They also complained that British submarines were now infesting all the convoy routes, and bewailed the sinking of the large liners used as troopships. To try to meet the Afrika Korps needs, small fast warships and submarines, as we have seen, were used to carry supplies to ports nearer the front. The ships crossed and unloaded at night, and the Italian submarines approached submerged and left again before dawn. At the some time Mussolini was trying to get the Luftwaffe to return to neutralise Malta, but all Hitler would do was to order the Luftwaffe in the eastern Mediterranean to cease its offensive operations against Tobruk, Egypt and the Canal, and to concentrate on the defence of the convoys to North Africa. Six Italian destroyers also laid mines south east of Malta in mid September. The German Navy desired to help, and planned to pass minesweepers and E-boats through the French canals to the Mediterranean. More important, however, was the diversion of German U-boats from the Atlantic, and some of these had already begun to arrive through the Straits of Gibraltar. The Royal Navy, too, planned to step up its attack on the routes to Libya with surface forces. The Mediterranean Fleet, busy supplying Tobruk, had no ships to spare and so others were found from the Home Fleet and would shortly arrive.
September 1941 was unquestionably one of the high points of the British submarine campaign In the Mediterranean. Admiral Weichold, the German Navy's representative in Rome, reported that 'the most dangerous Allied weapon is the submarine'. He stated that between mid-July and the end of August, there had been thirty-six submarine attacks of which nineteen were successful. Eight ships had actually been sunk just outside Axis harbours. He also pointed out that the sunken ships could not be replaced, and there would be a crisis in the not too distant future. Admiral Raeder agreed with him. Also in September, Hitler's headquarters noted that 'Enemy submarines definitely have the upper hand'. Almost simultaneously, the British C-in-C Mediterranean was signalling to the Admiralty that 'every submarine that can be spared is worth its weight in gold'.