The Pittsburgh Press (May 12, 1941)
HITLER'S AIDE MISSING, LEFT ILLUSION NOTE
…
London reports announcement that party chief killed himself
…
BULLETINS

Berlin, May 12 –
The official news agency said tonight that Rudolf Hess, announced as missing by Nazi Party headquarters, had left a letter that aroused fear that he was "a victim of mental illusions."

London, May 12 –
Radio Berlin was heard tonight broadcasting a report that Adolf Hitler's personal deputy, Rudolf Hess, committed suicide at 6 p.m. Saturday.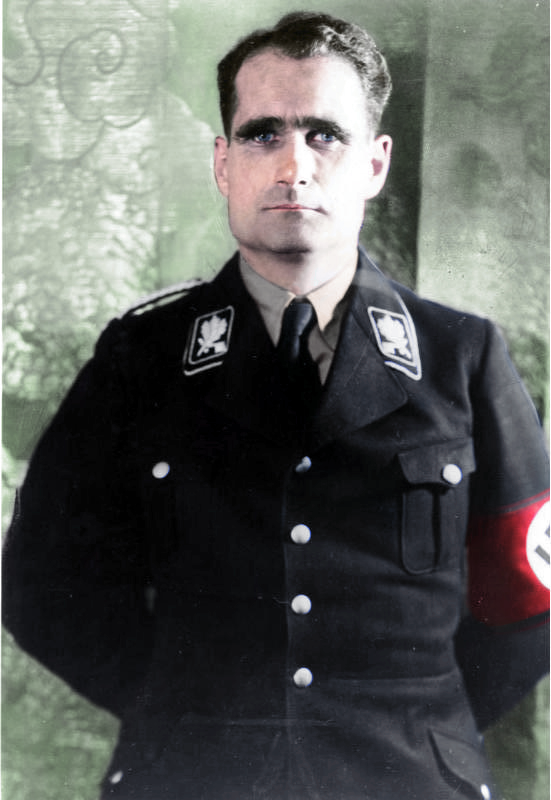 Berlin, May 12 (UP) –
Nazi Party headquarters announced tonight that Rudolf Hess, Adolf Hitler's personal deputy, is missing after an airplane flight.
The official announcement said that Herr Hess left Augsburg, in south Germany, on an airplane flight about 6 p.m. yesterday. He has not returned, Nazi Party headquarters said.
Herr Hess is Hitler's personal deputy as leader of the National Socialist (Nazi) Party.
No. 3 in Nazi succession
When Germany went to war on Sept. 1, 1939, Hitler named Hess No. 3 in the line of succession to the Führership, second only on Reichsmarschall Hermann Göring.
Herr Hess long was one of Hitler's closest and most trusted associates. He was a minister without portfolio in the inner cabinet council. His association dated from the Munich Beer Hall Putsch in 1923, in which he participated with Hitler.
Herr Hess was 47 years old. He served in the German Air Corps during World War I, was wounded on the Western Front and wound up at the close of the war a lieutenant.
Quickly became Nazi
He joined in secret patriotic activity in Munich after the war and quickly became associated with the fledgling Nazi movement.
Herr Hess became Hitler's private secretary in 1925 after having served seven and a half months in prison at Landsberg for their participation in the Munich Putsch.
He was noted for his studies of political economy and history and was a strong anti-Semite.