The Pittsburgh Press (January 11, 1944)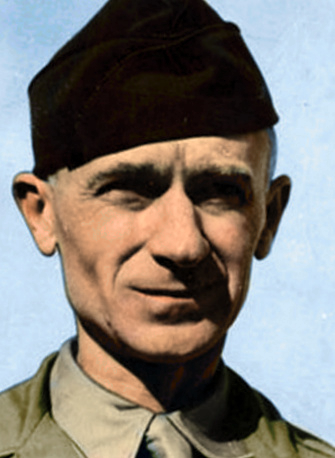 By Ernie Pyle
At the frontlines in Italy – (by wireless)
There is an old stone building sitting on the bare mountainside at the top of the mule trail. It is used as a medical-aid station, but even so the Germans put a few score shells around it every day.
While I was there one day back during the holiday season, we were standing around outside – a dozen or more medics, telephone linemen, packers and slightly injured men – when all of a sudden came that familiar and rapid whine and we all ducked.
The shell exploded with a terrific blast about a hundred yards away, and for 20 seconds afterwards we had a very weird Christmas atmosphere indeed as big and little pieces of shrapnel tinkled and clattered down upon the rocks around us with a ringing metallic sound.
No package for him
Practically everybody I've run into in the Army got Christmas packages. I know of one captain – Frank Knebel of Pottsville, Pennsylvania – who got 24 boxes from home.
Nearly every soldier's package had at least one ironic item in it, such as brushless shaving cream or lifesavers which we're saturated with. But most of them were pretty nice collections.
It sounds like a burlesque joke, but there were boys who actually got cans of Spam from home. Others got fancy straw house slippers, and some got black silk socks as though they were going to a nightclub this evening in full dress. But the finniest gift I saw was a beautiful blue polka-dot necktie.
I didn't get any Christmas packages, but then I came from America very recently; now that I think of it, maybe that is the reason. But I didn't get any last year either, and last Christmas I had already been out of America for seven months.
Cleanliness stands out
One day, when I was on the mountain trail, a wounded paratrooper captain walked into the aid station in the old stone building. He was Francis Sheehan of Indianapolis.
Capt. Sheehan is a man with a finely sensitive face, who almost seemed out of place in such a rugged outfit as the paratroops. He stood out among the other wounded because he was cleanly shaven, and although his face was dirty it was recent dirt, and not the basic grime that comes of not having washed for weeks and weeks.
The reason was that he had gone up the mountain only the day before, to relieve a battalion medical officer who had been wounded. Capt. Sheehan was on the mountain only a few hours when he, too, was wounded.
His family will have received notice from the War Department before they read this, and they may be relieved to know that the wound was not serious. He got a machine-gun bullet in his right shoulder, but it apparently missed the bones.
An old reader
Capt. Sheehan graduated from Indiana University Medical School in 1938, and had a residency at City Hospital in Indianapolis before he went into the paratroops. We happened to get together because he used to read this column in The Indianapolis Times.
The captain walked on down the mountain without help, and said that actually the wound didn't even hurt much.
There is an Army hospital where I go occasionally to see another wounded friend, and I have got acquainted with several of the patients. One of those is Walter Jentzen of Carlsbad, New Mexico.
Jentzen, of course, was in hospital pajamas, and I though all the time he was a private, he seemed so quiet and humble. When I went to write down his name, it turned out he was a lieutenant. He has a two-month-old baby in Carlsbad that he would sure like to see.
Tortures himself, too
This is the second time he has been wounded. In Sicily, he was shot when a German tank let loose on him. And here, very early in the Italian campaign, he got a shell fragment in his chest. A notebook which he always carries in his left shirt pocket was all that saved him. He's been in the hospital more than a month now and is just about ready to go back to duty.
Jentzen used to manage creamery plants in Albuquerque Portales and Las Cruces. So, having come from Albuquerque so recently, I tortured him by telling him what the New Mexico sun felt like, how the air smelled, and how beautiful the Sandias were at present.
The only trouble with torturing a guy that way is that you torture yourself at the same time.