It seems that just before surrender of France in June 1940 , British Department of Scientific and Industrial Research took over and removed all French heavy water stocks plus millions of dollars worth of diamonds from Antwerp Diamond Board , some heavy machinery for arms production left behind in port and all top French nuclear scientists plus their families in a top secret operation from Bordeux harbour and to UK out of Germans reach under leadership of department liason of Charles Howards 20th Earl oF Suffolk.
from wikipedia :
As Liaison Officer for the British Department of Scientific and Industrial Research during the Second World War , the Earl of Suffolk Charles Howard and his colleague Major A. V. Golding were posted to Paris. They, and their private secretaries, Eileen Beryl Morden and Marguerite Nicolle, left Paris on 10 June 1940 due to the impending Fall of France
From there they made their way to Bordeaux, where British Embassy representatives introduced them to the master of the British tramp ship SS Broompark which was one of many standing by to carry refugees to safety. They embarked thirty-three eminent scientists, with their families. Two more scientists, Lew Kowarski and Hans Halban arrived with entire heavy water stocks of France (26 cans containing 185 kilograms (408 lb) of heavy water )
Then the managing director of the Antwerp Diamond Bank, Paul Timbal, joined, with $10 million worth of gem diamonds. They discovered six hundred tons of machine tools for war material production in wagons on the quay, which were also loaded onboard under command of Earl of Suffolk.
The SS Broompark carried all of them safely to Falmouth UK on 19th June (48 hours before French surrender), from where a special train took her passengers and cargo to London. The diamonds were placed in the vaults of the Diamond Corporation and most of the heavy water was sent to Windsor Castle , where it was stored alongside the Crown Jewels until needed.
Howard's approach to his missions earned him the nickname "Mad Jack" or "Wild Jack". Herbert Morrison , Minister of Supply, later described him as "one of the most remarkable young men employed by the Government on dangerous missions." Morrison told the House of Commons, when in Secret Session, that "A considerable service has been rendered to the Allied cause by the safe arrival of this shipload.
SS Broompark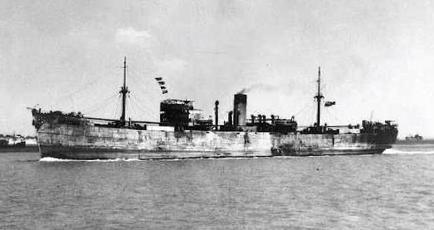 Charles Howard , Earl of Suffolk (who was killed during a bomb disposal mission in May 1941)