The Pittsburgh Press (April 24, 1943)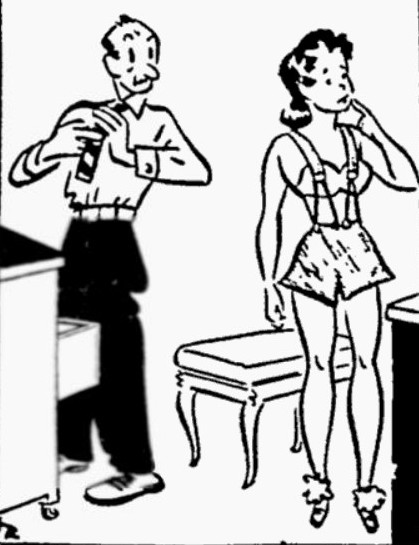 Washington (UP) –
A new and serious problem – how to keep women's pants on – was dumped into the lap of Rubber Director William M. Jeffers today.
A woman in Orlando, Florida, wrote Mr. Jeffers that it was imperative that he do something about the elastic rubber situation. She asked:
Will you kindly tell me how you expect the women of America to keep their pants on? I am not referring to slacks, that imitation of man's attire, but to those undercover garments, variously known as panties, briefs, step-ins, bloomers and snuggies, a most vital part of a woman's attire.
Not a store in Orlando, the woman said, has an inch of elastic tape. She said:
And for your information, I will say that it is elastic tape and it alone which confines these garments to the female form.

And therefore, Mr. Jeffers, we appeal to you in our extremity (and for our extremities) be it synthetic, recaps, or scrap, but give us elastic tape!
Mr. Jeffers said the problem was too much for him to solve alone. He called in his deputy director, Bradley Dewey. Mr. Jeffers said:
The women can rest assured that we aren't taking the matter lightly. We'll work something out.