The Pittsburgh Press (January 9, 1943)
Famed Soviet woman flier, bomber commander, killed
Moscow radio announces death of Marina Raskova, holder of highest Russian decorations, in 'execution of her duties'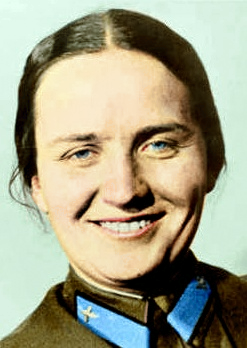 Maj. Raskova
London, England (UP) –
Maj. Marina Raskova, famous Russian woman aviator and commander of a long-range bomber regiment since the war started has been killed "in the execution of her duties," the Moscow radio said today.
Maj. Raskova, in her late twenties, associated herself with Soviet aviation when she was 19 and the mother of a small child.
While caring for her baby, she took a correspondence course in aerial navigation and later exhibited exceptional ability in this field. She became a pilot and an instructor in the blind flying at the Russian military aviation academy.
She was one of three Russian women who made a non-stop flight from Moscow to the Far East in 1938.
A Russian broadcast heard by the FCC said:
The Council of People's Commissars and the Central Committee of the All-Union Party of Bolsheviks announced with deep regret the death of the beloved daughter of the Soviet people, commander of the Air Force regiment, Hero of the Soviet Union, Maj. Marina Raskova, who died in the execution of her duties. [The title Hero of the Soviet Union is the highest in Russia.]
Maj. Raskova was twice awarded the high Order of Lenin.
The Russian radio said:
She was young, modest, joyful and completely absorbed in aviation.

Aircraft units trained under her leadership played an important part in the Patriotic War.

Leading Soviet fliers, including the Premier's son Vasily Stalin, paid tribute to her heroism.