The New York Times (February 14, 1944)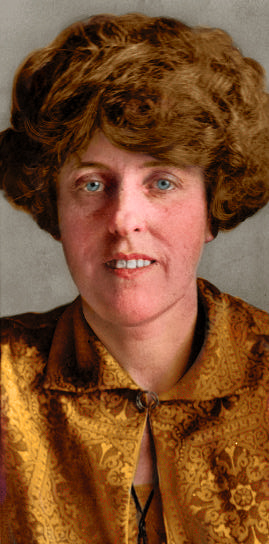 Margaret Woodrow Wilson, shown in this 1923 photo. (AP)
Los Angeles, California – (Feb. 13)
News of the death in India of Miss Margaret Woodrow Wilson, eldest of the former President's three daughters, was received today by cable by her sister, Mrs. Eleanor Wilson McAdoo of West Los Angeles. The cablegram stated she died yesterday of uremia.
For the last four years, Miss Wilson, whose age was 57, had been studying the religious teachings of Sri Aurobindo in Pondicherry, India, where he and members of his organization live in solitude.
Miss McAdoo said arrangements for the return of her sister's body to the United States for burial would probably have to wait until after the war.
Miss Wilson was born in Gainesville, Georgia, April 16, 1886, a daughter of President Wilson and his first wife, the former Ellen Axson of Savannah, Georgia. Her mother died on Aug. 6, 1914, and on Dec. 18, 1915, her father married Mrs. Edith Bolling Galt of Washington. President Wilson died on Feb. 3, 1924, leaving his entire estate to his widow for her life, except $2,500 a year to be paid to Margaret as long as she remained unmarried.
Until she was about 40 years old, the chief interests of Miss Wilson's life were music and social welfare. She made a long and serious effort to find a professional career in music. After attending Goucher College in Baltimore, 1903-05, she spent a year at the Peabody Conservatory of Music in Baltimore, studying voice and piano; a like period as a voice pupil of Blanch Sylvana in Baltimore, then two years with Vivian Edwards at Princeton, New Jersey, and three with Mrs. David Gillespie in New York. From Ross David of New York, she received instruction from 1912 to 1919. Another teacher was Mrs. MacDonald Sheridan of New York.
Made singing debut in 1915
After making her debut with the Chicago Symphony Orchestra at the Central New York Music Festival at Syracuse in May 1915, Miss Wilson, a soprano, gave song recitals that autumn in Buffalo, Cleveland and Erie, Pennsylvania. Throughout the First World War period, she gave frequent recitals in many American cities and at Army camps, the former usually for the benefit of the Red Cross. In October 1918, she went to France where she sang at camps of the Allied armies until June 1919. A New York Times critic who heard her sing with a group of Ross David's pupils at the Bandbox Theater in April 1915, wrote that her voice has "a sympathetic quality, which is its most commendable attribute;" that she sang "with intelligence and feeling and without affectation."
During the years that her father's position in the White House brought her a reflected prominence, Miss Wilson urged a universal American program of using schools for community centers. She made many speeches on this subject and appeared before a House committee to advocate the measure for the District of Columbia. To a convention of the National Woman's Party in 1921, she said:
What shall we do now we have the vote? Let us, all of us, the men and women of America, organize for the purpose of taking a continuous and direct part in our own government. Each neighborhood should be organized in one non-exclusive, non-partisan group and should have as its meeting place and center of cooperation the schoolhouse, because it is common property. The neighborhood then should be defined for practical purposes by the limits of the school district. Also, there must be a way of drawing together all the neighborhood groups of a city or town or rural district.
Served as advertising writer
In the summer of 1923, Miss Wilson entered the advertising business as a consultant and writer for the Biow Agency, with which she remained two years. At about this time, or a little later, she engaged on a speculation in oil stocks which turned out badly. On Feb. 5, 1927, a judgment of $10,512 was entered against her in the county clerk's office. Supplementary proceedings instituted to bring her into court for an examination of her finances were suspended, however, and it became known that she had taken a position as a bond saleswoman to pay off the debt.
The public heard little more of Miss Wilson until June 1940, when George Nakashima, an American-born Japanese architect, returned from India with the announcement that Miss Wilson had found peace and seclusion from the world in a religious colony at Pondicherry, where Mr. Nakashima had spent two years building a dormitory for Aurobindo's followers.
When Herbert L. Matthews, New York Times correspondent, saw Miss Wilson in January 1943, at Sri Aurobindo's ashram (the lodging where he receives and lodges his followers), she had been a sadhak or follower for four years. The former President's daughter told him that she was happier than ever before and did not want to return to the United States.
She said:
I am not homesick. In fact, I never felt more at home anywhere any time in her life.
Her name in the ashram was Dishta, a Sanskrit word whose meaning Aurobindo explained to her in mystic terminology as "leading to the discovery of the divine self in every human being."
Miss Wilson told Mr. Matthews that she had not been a regular churchgoer since girlhood, but had become interested in Indian religious classics and the works of Indian mystics about ten years ago. One day, five years later, quite by chance, she selected a book by Sri Aurobindo from the card catalogue in the New York Public Library and began to read it in the main reading room. She only stopped when an attendant told her it was closing time. She returned daily until she had finished the book. The journey to Pondicherry followed.
Both sisters of Miss Wilson were married in the White House: Eleanor Randolph Wilson in 1914 to the then Secretary of the Treasury, William Gibbs McAdoo, from whom she obtained a divorce; Jessie Woodrow Wilson in 1913 to Francis B. Sayre, former U.S. High Commissioner to the Philippines. She died in 1933.