from "Fortress Malta" by James Holland
"The Fighting Tenth" by John Winton
"Sea Wolves British Submarines in Second World War" Tim Clayton
"History of British U-Class Submarine"
British and Allied Submarine Operations in Second World War - Admiral Arthur Hezlett (who commanded Royal Navy subs in war) NOTE : This author commanded submarines both in Meditwrranean and Indian Ocean)
RAF air recon in March revealed a suprising number of Axis shipping and sea transport and at least ten Italian warships at Tunisian coast , suggesting a big operation (the reason was initial two divisions of German Afrikakorps was in sealift from Italy to Libya and Axis vessels were hugging close to Tunsian coast that belonged Vichy France not to get caught by British air and naval patrols)
Eight U-class patrols from Malta were carried out during March. HMS Unique (Lieutenant AF Collett RN) left Malta on 27th February for the east coast of Tunisia. Her patrol was extended beyond the normal time as air reconnaissance of Tripoli showed a particularly heavy concentration of ships there. On 10th March in a dawn attack, she fired two torpedoes at a range of 2500 yards at Italian merchant ship Fenicia of 2.585 tons in convoy and hit with one torpedo, which sank her. On 1st March, HMS Utmost (Lieutenant Commander RD Cayley RN) carried out a special operation to pick up an army officer from a place called Shabka el Cazel in Tunisia, which was successful, subsequently returning to Malta. After only twenty-four hours in harbour, HMS Utmost was sent out again to relieve HMS Unique because of the concentration of ships in Tripoli.
On 9th March at 1205 in the Gulf of Hammanet she sighted the same Axis southbound convoy attacked by HMS Unique and fired three torpedoes at a range of 1600 yards, hitting and sinking Italian trop transport Capo Vita of 5685 tons with two of them. Calm weather, a bright moon and intense anti-submarine activity, made recharging the battery on the surface difficult and on 10th March, HMS Utmost returned to Malta. From 3rd-l0th March, HMS Upholder (Lieutenant Commander MD Wanklyn RN , submarine ace of Royal Navy) patrolled off Tripoli. On 8th March she fired two torpedoes at a small merchant ship at a range of 1000 yards but missed. Fire was withheld on a northbound convoy also of small ships, as the shortage of torpedoes at Malta was now serious. HMS Upright (Lieutenant ED Norman DSC RN) patrolled in the Tripoli area from 6th-l5th March and on 12th fired two torpedoes at a range of 3000 yards at a merchant ship after dark. One torpedo ran on the surface and the other missed. After this unsucessful patrol (his superiors wrongly began to doubt Wanklynn's competance)
On 19th March HMS Utmost and HMS Ursula both left Malta, one for Kerkenah and the other to patrol off Lampedusa. HMS Ursula only spent one day off Lampedusa and was sent to the area north and east of Cape Bon to investigate convoy routes in that area, and from this to try and establish where the minefields were. On 24th before it was light, she attacked a large merchant ship firing four torpedoes at a range of 2000 yards but the enemy altered course and avoided them. She also sighted convoys on 26th and 28th but they were out of range. HMS Ursula encountered heavy air and surface antisubmarine measures in this area but returned safely to Malta on 1st April having obtained much valuable information. On 28th March after dark, HMS Utmost attacked a six-ship convoy escorted by two destroyers and carrying German troops. She fired four torpedoes at the long range of 4000 yards, one of which had a gyro failure but two of the others hit and sank German transport vessel Heraklea of 1.930 tons and damaged another larger ship of 5.954 tons, which was able to continue her voyage. The escorts were busy rescuing German soldiers and did not counter attack. HMS Utmost returned to Malta on 1st April having spent thirty out of the last thirty-eight days at sea.
HMS Upright sailed again from Malta before the end of the month. On 31st she met a straggler from a southbound convoy and fired two torpedoes at a range of 1000 yards in a day-submerged attack obtaining one hit. There is no post war record of this ship being sunk and it seems that she got in to port. The escorts hunted HMS Upright for some time, fortunately without damage.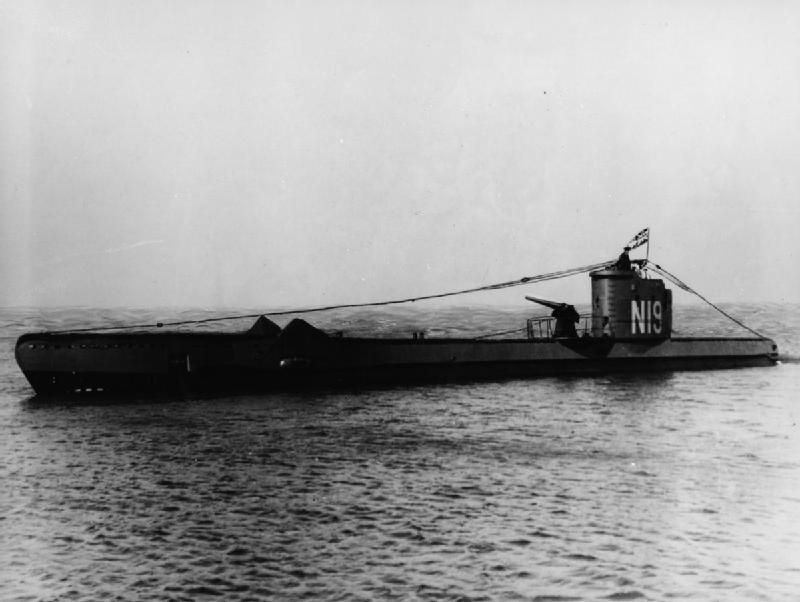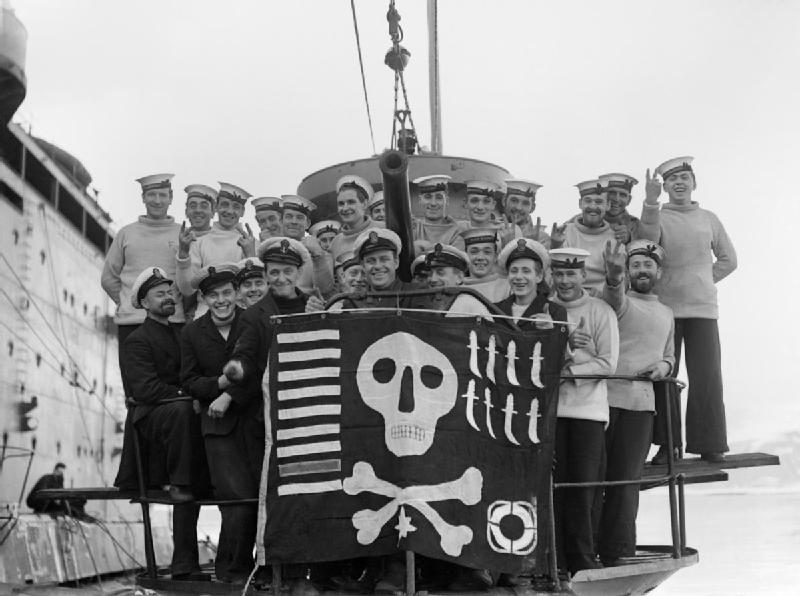 HMS Utmost
Of the larger T Class submarines, HMS Triumph was still on patrol on 1st March off the south east coast of Calabria. On 2nd March she fired three torpedoes at a range of 2000 yards at a medium sized merchant vessel in a submerged attack but missed with all of them. Three days later, however, she sighted two ships that anchored off Melito. She closed in and fired three torpedoes singly and missed with one but hit both ships with the other two sinking merchant vessels Marzamami of 960 tons and Colomba Lo Faro of 900 tons. HMS Truant left Malta on 5th March to patrol in the Gulf of Sirte. Three days later she reconnoitred Burat el Sun but it was so shallow that she ran aground at periscope depth. On 19th she saw the small Italian tanker Labor enter the harbour and decided to make a surface attack that night. At 2025 she fired two torpedoes at 400 yards that ran under and exploded beyond the pier. HMS Truant then had to turn using her screws before she could withdraw. She was close enough to exchange verbal insults with her quarry. After this exploit she returned to Alexandria.
HMS Tetrarch (Lieutenant Commander RMT Peacock RN) had an unsuccessful patrol off Tripoli from 14th-21st March and suffered from many defects. On 21st March in a night attack on the surface she expended a salvo of six torpedoes at what she took to be a U-boat but was actually a coastal vessel for no avail.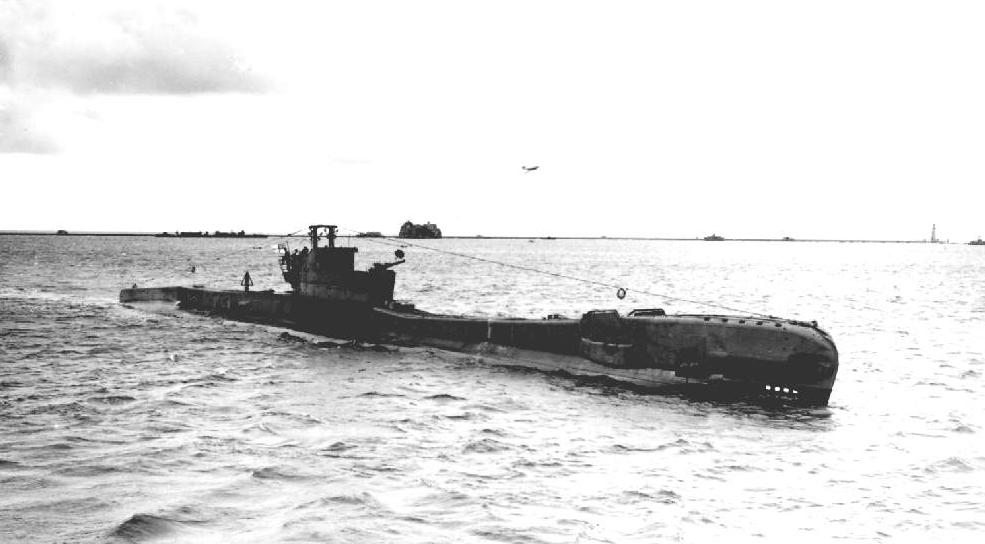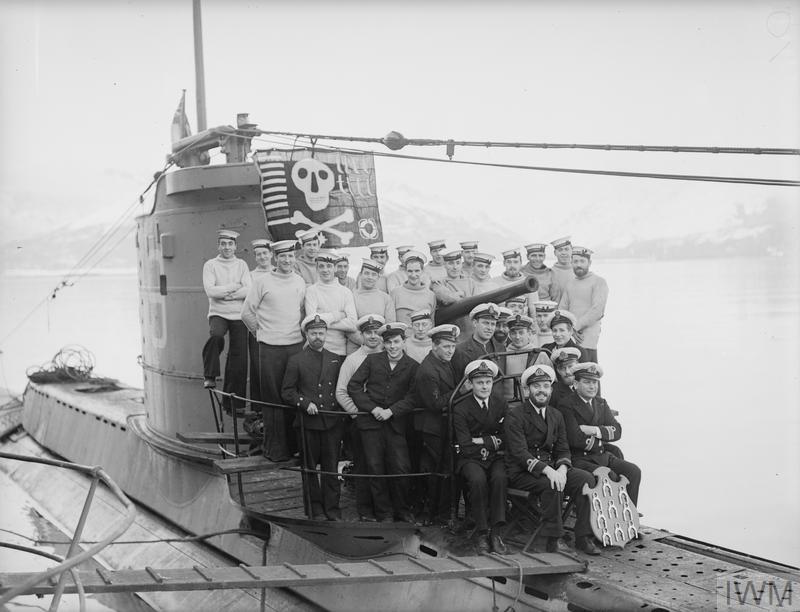 HMS Truant
P class minelayer submarine HMS Parthian (Commander MG Rimington DSO RN) took position off the Italian coast in mid March where experience in earlier patrols had led her to believe that convoys were routed well out to sea. On 11th, however, off Cape Spartivento, a convoy passed close inshore and she was unable to get close enough to attack. On 16th March, however, in a day-submerged attack south of Messina she fired six torpedoes at a convoy, three at a large tanker and three at a sizeable merchant ship. At the time she claimed hits on both ships but she suffered a heavy and accurate counter attack and post war research indicates that only one of the two ships, of 3141 tons, was hit and she did not sink. Another minelayer submarine R class HMS Regent (Lieutenant Commander HC Browne RN) left Malta on 18th March for the Adriatic to patrol the route along the Yugoslavian coast to Albania from Pola and Trieste. She patrolled off Split and Dubrovnik but achieved no results. The Greek submarine Triton , however, sank Carnia of 5.450 tons in the southern Adriatic on 23rd March. HMS Rorqual (Commander RH Dewhurst DSO RN) left Alexandria on 18th March for what proved to be a most successful patrol. She embarked mines at Malta on 22nd and passing through the middle of the minefields of the Sicilian narrows, laid a field off Cape Gallo near Palermo on 25th and 26th March. Italian tanker Verde of 1.430 tons struck one of these mines and sank. Another ship of 1.472 tons in the same convoy also struck a mine and the torpedo boat Chinotto as well and both were also sunk. On 29th March in a night surface attack, HMS Rorqual fired three torpedoes at a range of 1900 yards with a ninety degree angled shot, and sank Italian tanker Ticino of 1.470 tons. On 30th March, in another night surface attack she fired two salvoes of two torpedoes each at a range of 1000 yards at the tanker Lauro Corrado of 3645 tons, missing with the first and hitting with one of the second pair. The enemy was finished off by gunfire with some difficulty as the gun flashes blinded the gunlayer. Next day HMS Rorqual sighted the Italian submarine Capponi on the surface north of Messina. She fired her last five torpedoes in an attack in which she did not even have to alter course, hitting and sinking her with two of them. HMS Rorqual then returned to Alexandria calling at Malta on the way for more torpedoes.
During March, submarines had made fifteen attacks firing 51 torpedoes, 13 of which hit sinking an Italian U-boat and eight ships of 21,175 tons and damaging two others. Another two ships of 2902 tons and a torpedo boat were sunk by HMS Rorqual 's mines. Results were therefore twice as good as had been achieved during the previous month. The U-class at Malta had now begun to score, HMS Unique sinking one and HMS Utmost sinking two.
March was a month of heavy troop movements by sea by all the belligerents. The British moved their Expeditionary Force to Greece, the Germans the Afrika Korps to Tripolitania, and the Italians substantial reinforcements to Albania. In general all were transported safely and without serious loss. A further movement of troops that was to affect the maritime situation in the Mediterranean was the advance during March of the German Twelfth Army of twenty divisions into Bulgaria. The reinforced Italian army in Albania attacked in the first part of March hoping to seize Greece before the Germans arrived, but its offensive failed. The German Fifth Light Motorised Division had all arrived in Tripolitania by the middle of the month, and the Fifteenth Panzer Division had begun to cross. By the end of March fifteen convoys had arrived carrying 25,000 troops, 8500 vehicles and 25,000 tons of supplies. The total supplies landed in Libya for the Italians as well as the Germans were 95,753 tons with a loss of 9%. The Allied attack on this traffic had been left almost entirely to submarines, the air and surface forces being busy elsewhere. The force of fifteen British submarines in the Mediterranean, although they were now attacking the main Italian supply route and doing better than before, was quite unable to stop or even seriously to hinder the transport of the Afrika Korps. Four convoys carrying the Afrika Korps got across without loss and also two Italian convoys, one of which consisted of the liners Conte Rosso , Marco Polo and Victoria .
It was in March too, that the British cryptographers first made real progress into breaking the German naval cipher that used the Enigma machine. However it took a month to make sense of the first message by which time it was too stale to be of use. Nevertheless this was an advance of incalculable value.
ON 2ND APRIL, THE GERMAN AFRIKA KORPS and the Italian army in Tripolitania advanced into Cyrenaica. It was only by a rapid retreat that the weak British garrison was able to save itself. The advance was not brought to a halt until the Egyptian frontier at Halfaya Pass was reached on 20th April. Tobruk was cut off but held out against heavy attacks. Almost simultaneously the Germans declared war on and invaded both Greece and Yugoslavia. The British campaign in Greece was, from the beginning, a retreat, ending in an evacuation, which was decided upon on 20th April and completed by the end of the month. The reverses in Greece and Cyrenaica were not the only troubles during April. In this month, Fliegerkorps X, now with a strength of over four hundred aircraft, dropped its heaviest weight of bombs on Malta. The crisis lead to calls, which became insistent and even peremptory from the Prime Minister and Government in the United Kingdom for greater efforts to cut the traffic to Libya.
The submarines from Malta did their best. Nine patrols were made by the U-class off the coast of east Tunisia during April, normally three of them being out at a time. The results achieved, however, were very disappointing. Only four of their patrols made contact with the enemy at all. In the first few days of the month, a troop convoy of four liners crossed from Naples to Tripoli and returned without being attacked and an important convoy for the Afrika Korps did the same. On 8th April HMS Upright (Lieutenant ED Norman DSC RN) sighted a north bound convoy at night and fired four torpedoes at a range of 3000 yards and missed with them all. HMS Upholder (Lieutenant Commander MD Wanklyn RN), patrolling off Cape Bon, fired two torpedoes on 10th April at a large merchant ship in an Italian convoy of four ships in a day submerged attack at the very long range of 6400 yards, and from the quarter, and understandably secured no result. A few hours later she fired three torpedoes at another large merchant ship in convoy at 1850 yards but the torpedo tracks were seen and the target took avoiding action. Two Italian destroyers then hunted her unsuccessfully. On the night of 11th April in moonlight, HMS Upholder fired her last three torpedoes at a merchant ship at 2000 yards but one had a gyro failure and another broke surface. She had to dive deep at once to avoid her own torpedo and the others missed the target. This ship was unescorted but HMS Upholder had to stay deep to avoid the circling torpedo and so could not surface to use her gun. By this time, British destroyers had arrived at Malta to attack the convoys (Battle of Tarigo Convoy or Action off Sfax as known) and HMS Upholder , exasperated by expending all her torpedoes for no result, stayed on patrol in case she could be of assistance to them for reconnaissance. HMS Unique (Lieutenant AF Collett RN), on her second patrol of the month off No 4 buoy, Kerkenah Bank, sighted a large southbound convoy on 11th April but could not get close enough to attack. On 12th April, HMS Ursula (Lieutenant AJ Mackenzie RN) on patrol to the southward of Upholder , sighted a large convoy and fired four torpedoes in a submerged attack at a range of 2500 yards but missed. HMS Upholder sighted this same convoy of five large ships escorted by three destroyers and three aircraft. In full view of the aircraft, she surfaced and transmitted an enemy report and receiving no acknowledgment, tried again half an hour later. She then received orders to return to Malta but at the same time picked up an aircraft report of another convoy with which she made contact on the surface, it by this time being dark. She then 'turned' the convoy by firing starshell, hoping to help any British destroyers at sea. Destroyers from Malta did put to sea but did not make contact. HMS Upholder left Malta again on 21st April to patrol off the Lampedusa channel. Here on 25th she sighted a large ship and in a submerged attack in daylight fired two torpedoes at a range of 700 yards. The first torpedo hit in time to check the firing of the third and fourth torpedoes of the salvo. The victim was Italian merchant Antonietta Lauro of 5.430 tons was sunk and it was the only success by the Malta submarines in April and a very welcome success for HMS Upholder who had before this expended twenty torpedoes and only damaged one ship. Next day HMS Upholder discovered a German transport Arta and an Italian destroyer both badly damaged in the naval action of Sfax then grounded and abandoned at Kerkenah Bay. A boarding party from HMS Upholder entere deserted Arta , full of German equipment , weapons and supplies headed for North Africa , acquired some souvenirs and equipment as booty then sunk both Arta and Italian destroyer with demolishment charges.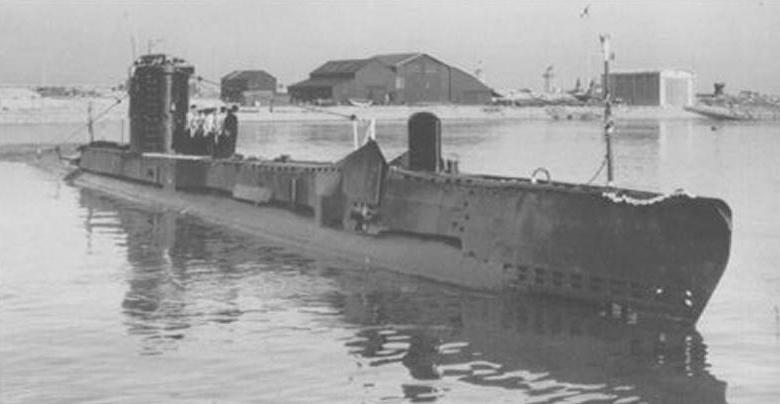 HMS Upright
In spite of the Government's calls for greater action against the Libyan supply route, HMS Utmost (Lieutenant Commander RD Cayley RN) was sent on two more special operations in Tunisia during April. Commander Simpson was not in favour of these diversions from the primary task of our submarines, and was reluctant to spare them for such purposes. HMS Utmost 's first mission was to land agents near Sousse and this was successfully accomplished on 19th April. During this operation she sighted a convoy to seawards but had to let it go. The second mission was to pick up an army officer in the Gulf of Hammanet from a boat that met HMS Utmost in the open sea. This somewhat precarious arrangement, however, worked. HMS Utmost also landed an agent near Castellamares in west Sicily. The danger to the submarine in the event of compromise in such operations was, however, considerable.
The larger submarines were not entirely employed in attacking the route to Libya either, and carried out some other tasks. HMS Tetrarch (Lieutenant Commander RMT Peacock RN) was already in the Gulf of Sirte in the first day of the month and as General Rommel's advance began, she was well placed to interfere with his support by sea along the coast. On 4th April she fired two torpedoes into Burat el Sun at a small merchant vessel but one torpedo broke surface and the range being 5000 yards she had no success. She then attacked some local schooners off El Brega with her gun but had to desist when a shore battery opened fire. HMS Tetrarch was relieved in this area in the middle of the month by HMS Truant (Lieutenant Commander HAV Haggard RN) and took up a new patrol position forty miles to the north of Tripoli. Here on 12th April she met the 2.475-ton cargo vessel Persiano and fired four torpedoes in a day submerged attack at a range of 4500 yards obtaining one hit and sinking her. On 17th April she sank by gunfire the barque Vanna of 279 tons carrying cased petrol along the coast. On the night of 20th/2lst April, the Mediterranean Fleet in response to the Prime Minister's calls for action entered HMS Truant's area and bombarded Tripoli. The fleet was led in by HMS Truant who took up a position as a navigational beacon. The fleet fired 530 tons of shells sinking one ship and damaging a torpedo boat. It also did a great deal of damage to the port and town, causing four hundred casualties. The fleet then departed at high speed leaving the area to HMS Truant again. She had sighted another small tanker but had had to let it go, as she was still busy leading in the fleet. On 21st April, however, she encountered the Italian naval auxiliary Prometio of 1.080 tons and missed with two torpedoes at a range of 2300 yards. The target however, in a desperate effort to escape, first ran herself ashore and then scuttled herself.
The most effective action against the Libyan supply route in April, in spite of the perseverance of the submarines, was taken by surface forces. On 11th April the Fourteenth Destroyer Flotilla arrived at Malta. On 12th and 13th they made an abortive sortie in which, as we have already seen, HMS Upholder attempted to co-operate. On the night of l5th/l6th April, however, they intercepted a whole German convoy off Kerkenah sinking five merchant ships and three destroyers for the loss of the destroyer HMS Mohawk. Next day 1.248 of the 3.100 troops embarked were rescued by the Italians. Rest were perished. Air reconnaissance later reported that a destroyer and a merchant ship were aground on the Kerkenah Bank. HMS Upholder was ordered to investigate and ran aground while doing so. On 26th April she boarded the wreck of the German Arta loaded with motor transport, and set her on fire. She was unable, however, to board the destroyer because it was too shallow to approach her. Fleet Air Arm Swordfish torpedo planes from Malta also sank another Italian supply ship in a night attack on 13th April. In the middle of the month, in spite of the heavy air raids, the Wellington bombers were sent back to the island and resumed their bombing of ports, especially Tripoli. At the end of April a new force of Blenheim bombers arrived with the aim of making direct attacks on shipping at sea by day. In spite of all these measures, Axis managed to transport 57,796 tons of supplies across to Libya during the month as well as 20,027 tons of fuel and their losses only amounted to eight per cent. General Rommel's logistic difficulties as he reached the Egyptian frontier were because he overextended his forces too much to east towards Egyptian border (a mistake he would do contantly in later operations due to over ambition) and his land transport could not cope , not due to any lack of supplies arriving in Tripoli by sea. Italian marchant marine and Italian Navy despite suffering extensive losses , acomplished an admirable job to transport bulk of Afrikakorps to Libya and later to sustain it logistically.
The invasion of Yugoslavia by the Germans led to a request to take off the British Minister and his staff and HMS Regent (Lieutenant Commander HC Browne RN) left Malta on 17th April to try to do so. She dived through the Otranto Strait on 21st and arrived off Kotor the following day. The port was already in Italian hands; HMS Regent entered on the surface but had difficulty locating the Minister. Some negotiations were made with the Italians but at 1530, HMS Regent was dive bombed by German aircraft, which fortunately missed although the submarine was badly shaken. HMS Regent then had to leave without the Minister and without one of her officers who was ashore negotiating. She got back to Malta on 26th April. Of the four submarines of the Yugoslav Navy, one, the Nebojsca, managed to get to Suda Bay on 22nd April and subsequently joined the First Submarine Flotilla at Alexandria.
There were over a hundred air raids on Malta in both February and March and more in April. There was only one hit on the submarine base, which destroyed the sick bay, but the laying of mines from the air off the harbour entrances posed a serious danger to the submarines. These were ground mines with magnetic and acoustic triggers and there were no minesweepers in Malta capable of sweeping them. The main counter measure was to try and plot the position of each mine as it fell. Submarines were already degaussed, and by proceeding at slow speed on their electric motors and using a channel close to Valetta that seemed to be clear, they avoided casualties. By the end of April there were thirty or forty mines off the harbour entrances and it was almost impossible to find a safe passage.
All the other operations by British submarines during April were in the western basin. On 12th April HMS Olympus (Lieutenant Commander HG Dymott RN) of the Eighth Flotilla at Gibraltar, arrived at Malta after a patrol off Oran to intercept the French battle cruiser Dunkerque, which was thought to be about to put to sea. It was intended that she should make a patrol in the Mediterranean, but her mechanical state was such that she had to be sent back to Gibraltar. On 23rd April the new submarine HMS Torbay (Lieutenant Commander ACC Miers RN) left Gibraltar to patrol off Cape Ferrato on the south east coast of Sardinia. On 27th she encountered a merchant ship and made a submerged day attack at a range of 1000 yards. She 'missed the DA' but caught it up and fired one torpedo that ran wide of the target. She attacked again but only one torpedo out of an intended salvo of three was fired due to a drill failure, and this missed too. HMS Torbay was subsequently routed direct to Alexandria without calling at Malta.
During April, in the course of some fifteen patrols, Royal Navy submarines had tried hard but they had only fired 28 torpedoes in ten attacks and had only sunk two Axis supply ships of 7.905 tons. A third Italian supply ship had was grounded and then scuttled herself. This mediocre performance cannot be attributed to any one cause. The lack of contacts when air reconnaissance was improving is difficult to understand. In the later part of the month several convoys got across without being seen, and two of these had cruiser escorts to protect them from attack by the British destroyers from Malta. Of the actual attacks, two misses can be attributed to long range, one was avoided by the enemy, two were due to torpedo failure or bad drill and three were inexplicable and must be put down to bad shooting.