LIFE (September 20, 1943)
…Library of Congress unearths first newsreels
Newsreels today are doing a fine job of covering the war. Newsreel cameramen travel with troops in the jungles of New Guinea, in planes on bombing missions over Berlin, with naval task forces in enemy waters. But in the past, newsreels have seldom been a serious record of current history. Too often they have chosen to regard six-day bicycle races, flagpole sitters and bathing-beauty contests as the most important things in the contemporary scene. One exception to this has been the infancy of the newsreel, when it had not yet occurred to anyone that they should show anything but real news. The pictures shown here, from the Library of Congress' newfound collection of old films, are a surprisingly complete coverage of the news events of their day.
Outside of the Library of Congress, few early newsreels have been perfectly preserved. Most have been used until they were worn beyond recall. Others were lost when they decomposed chemically because of primitive processing and storing. Even the Library's collection has been preserved almost by accident. Before 1912, all motion pictures had to be copyrighted as still photographs on long strips of photographic paper which lasts better than celluloid film. Recently the Library uncovered in one of its vaults a hoard of 2,500,000 feet of this old paper film, a priceless history of the motion-picture industry from 1897 to 1912.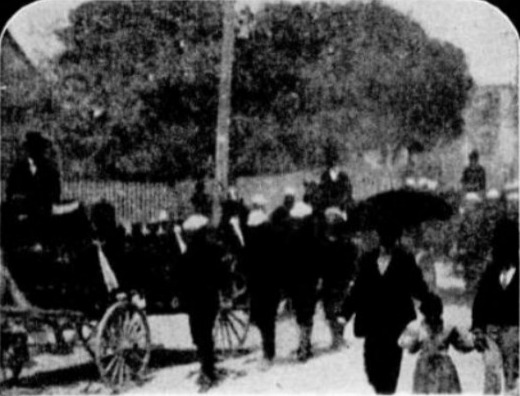 This 1898 Edison newsreel shows Colón, Cuba, funeral procession of victims in the sinking of battleship USS Maine.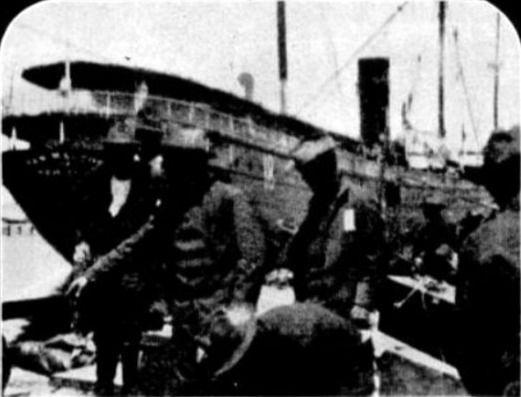 Also in 1898, the Edison Company filmed the embarkation of Theodore Roosevelt's famous Rough Riders for Santiago, Cuba.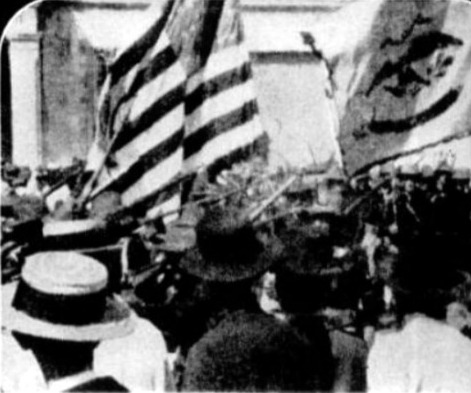 In 1899, American troops left Havana. The Spanish-American War was the first to be covered by newsreel cameras.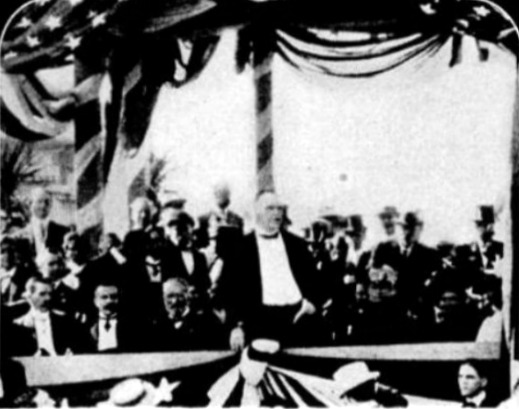 The newsreel of McKinley's address at the Pan-American Exposition (1901) was made just before he was assassinated.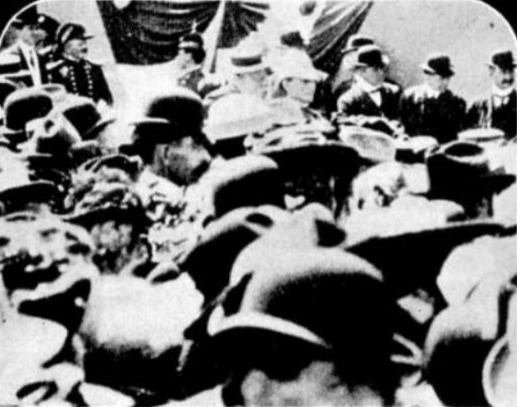 Crowds mill about entrance of Exposition's Temple of Music after McKinley had been shot by assassin Leon Czolgosz.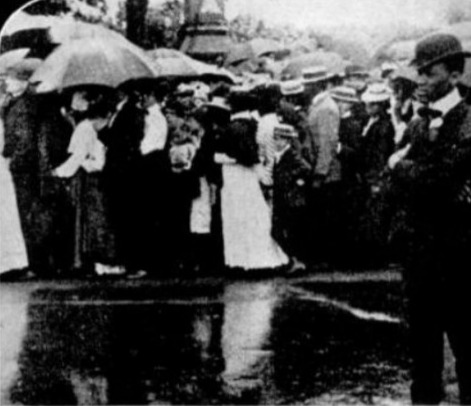 McKinley's body was brought from Buffalo to Washington. Crowds waited in the rain to see him lying in state.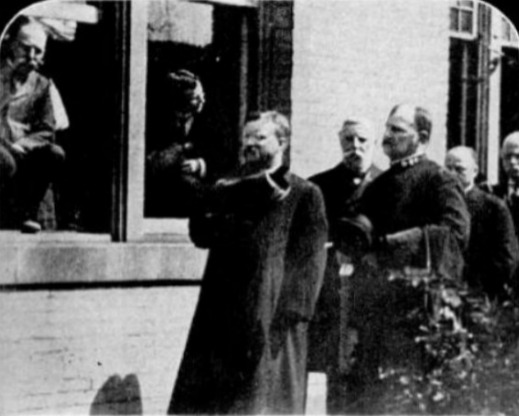 Theodore Roosevelt, McKinley's Vice President and successor, met the funeral train in Canton, Ohio, McKinley's home.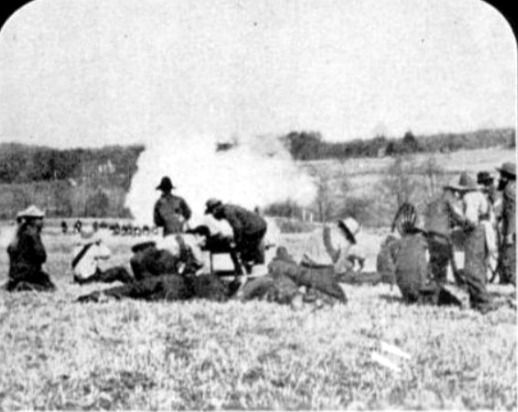 This battle scene from the Boer War (1900) was called authentic, but early newsreels were not above reenacting big events.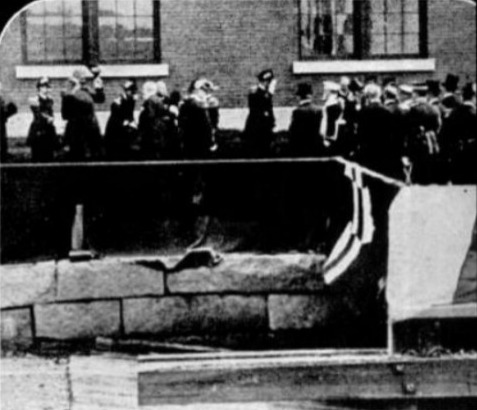 U.S. Adm. Mead greets envoys at the Russo-Japanese Peace Conference in Portsmouth, New Hampshire, in 1905.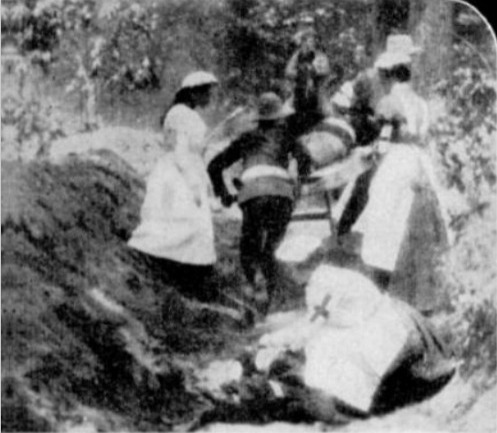 In 1899, Edison reenacted the scene of U.S. nurses and wounded near Manila, during the Spanish-American War.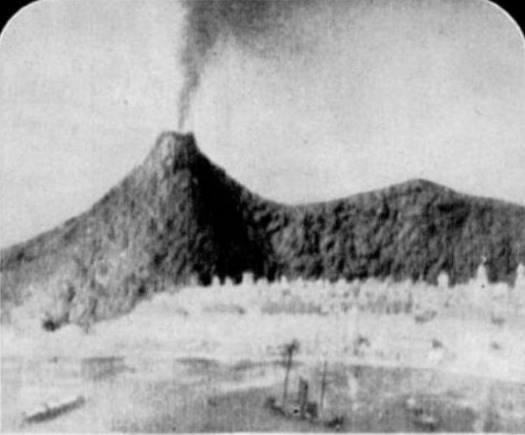 Another Edison reenactment simulated the disastrous eruption of Mt. Pelée in 1902. Note the model ships in the fake harbor.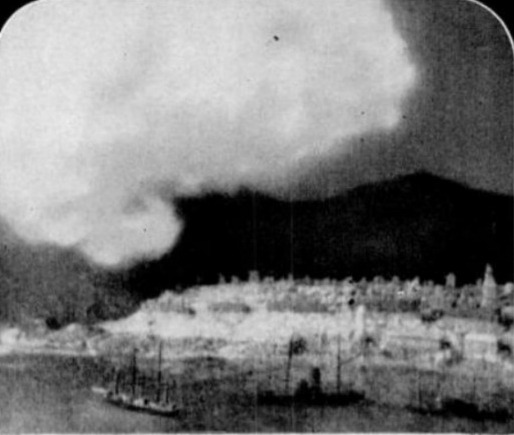 Model of Mt. Pelée smokes realistically. The eruption wiped out the thriving Martinique city of St. Pierre, killing 40,000.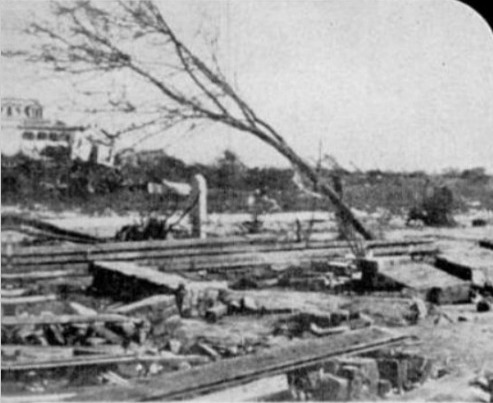 The American disaster covered by newsreel was the 1900 hurricane which struck Galveston, Texas, causing great damage.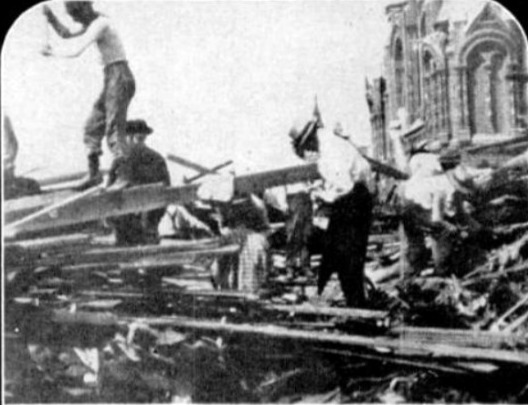 Workmen dig for bodies of the hurricane victims. Most damage was caused by giant waves which came with the wind.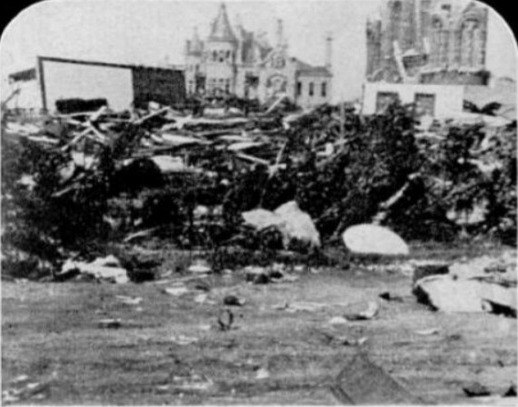 Wreckage of Galveston. The city was almost completely destroyed, but a more solidly-built new one rose in its place.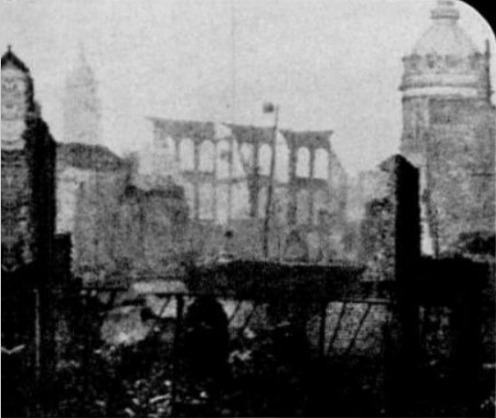 The Baltimore fire of 1904 was another great disaster which hit an American city in the early part of the century.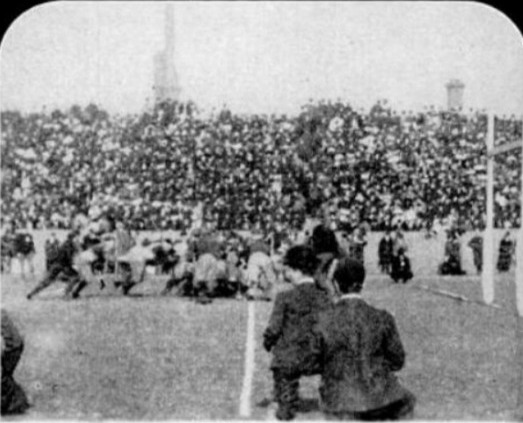 Harvard-Pennsylvania football game, the forerunner of present-day fall newsreels, was photographed by Edison in 1903.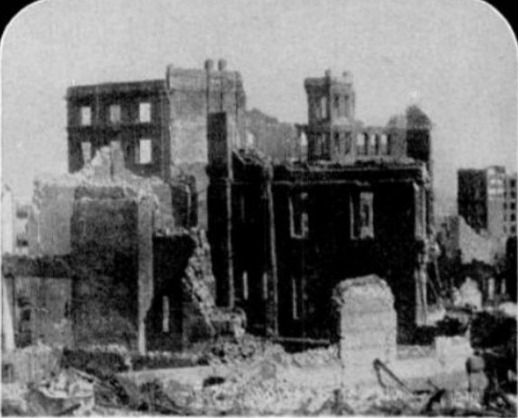 The ruins of San Francisco after the 1906 earthquake and fire was covered by Biograph, another pioneer movie company.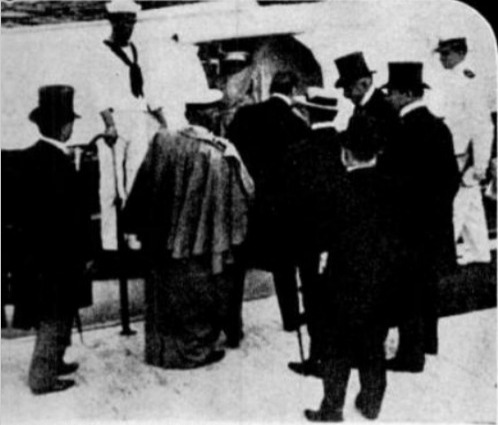 Top hats and gold braid get into gig in another scene of the Portsmouth Conference. Peace took over a month to settle.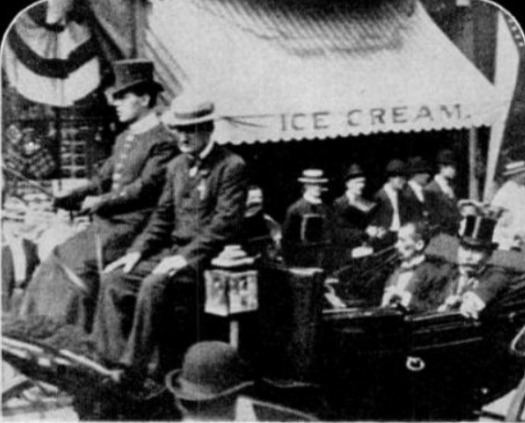 Japanese envoys on their way to discussions at the Portsmouth Court House. The conference was arranged at Roosevelt's invitation.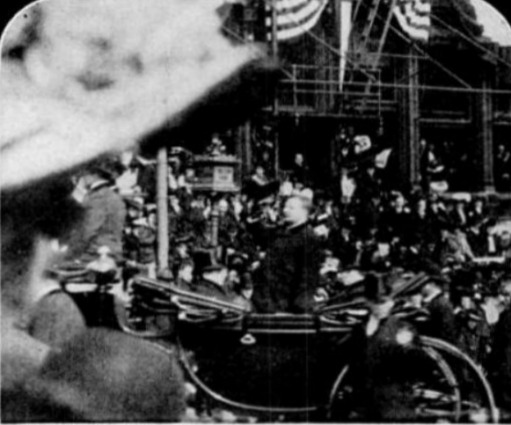 Roosevelt waves his hat from his carriage on the way down Washington's Pennsylvania Ave. to his inauguration in 1905.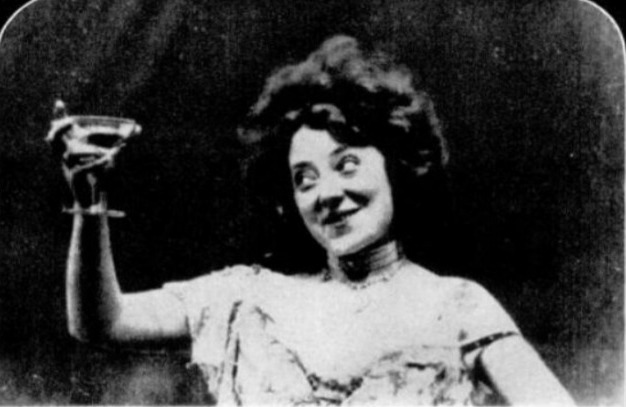 Staged productions also appear in the Library of Congress film collection. Anna Held made this scene from the play Papa's Wife from Biograph in 1902.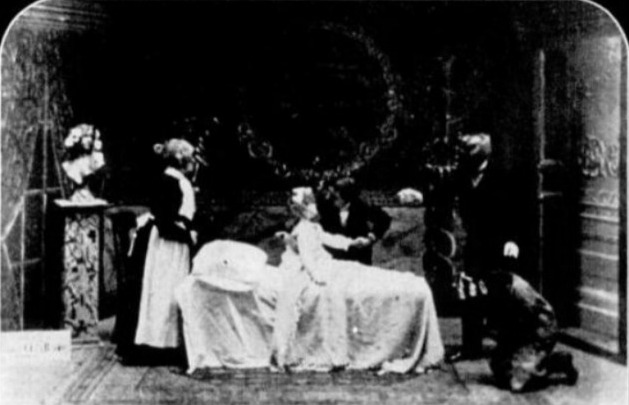 Uncle Tom's Cabin, the first of many productions, was made in 1903 by Edison. This is scene ay Eva's deathbed, with Tom and Topsy at right.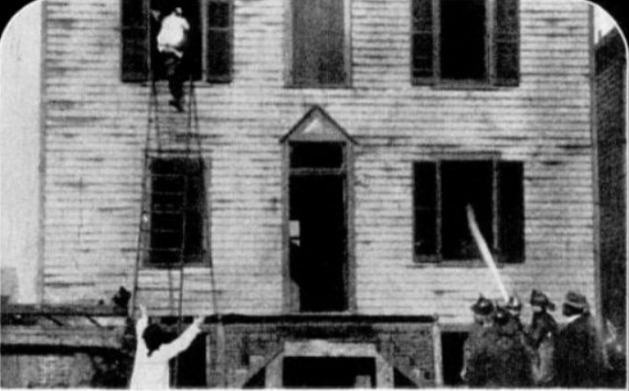 First film to carry a narrative through a number of different sets and scenes was The Life of an American Fireman, made by Edison in 1903.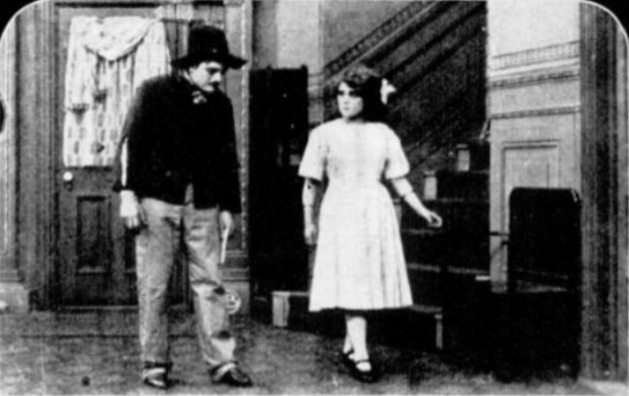 Mary Pickford's first picture, The Lonely Villa, was made for Biograph in 1909. "America's Sweetheart" was only 16 years old at the time.