LIFE (July 14, 1941)
PICTURES COMING SOON
Sinking of Zamzam
Sirs:
Reading your story of the sinking of the Zamzam (LIFE, June 23), I was getting furiouser and furiouser with the Nazis until I came to your description of Raider Captain Rogge:
…a tall, strongly built, handsome man in the middle 40's with wide-spaced eyes and beautiful manners.
Why not print a picture of the handsome captain?
W. H. WICKWARE
Westport, CT
ED:

LIFE photographer David Scherman says that Captain Rogge is like what Grand Admiral Raeder would like to believe all his young captains are like. While shaking hands and bidding goodbye to Captain Smith of the Zamzam, he said:

You and I are seamen and understand. I'm sorry I had to sink your ship but if our positions had been reversed, I should have expected the same.
---
Sirs:
The Tamesis which sank the Zamzam is not the Tamesis that Lloyd's Register lists as being built in Danzig in 1939. The Barber Line has a ship of that name which was built in Danzig in 1939. It docked in San Pedro, Calif. on Saturday, May 3, 1941, after a trip to the U.S. from Manila, Philippines, via Hong Kong. I was down to meet the ship. She is painted black but has her name marked clearly on the bow.
I learned from passengers that she was followed by a German raider for three days but was successful in losing her. The Tamesis is a fast freighter and the information given me is that Germany is interested in capturing her for her own use rather than sinking her.
STUART A. LIEBMAN
Santa Monica, CA
ED:
The identity of the raider which sank the Zamzam is still uncertain, but it is true that she was not the real Tamesis. The latter, a motorship, was built in Danzig in 1939 for the Wilhelm Wilhelmsen Line of Oslo and taken over by the Norwegian government-in-exile after the Nazi invasion. She now operates the U.S.-Far Eastern run on the American-owned Barber Line. Her sister ship, the Tirranna, whose ship's bell Zamzam passengers noticed on the raider, was reported lost months ago off the East Coast of Africa.
---
Sirs:
After reading Mr. Murphy's graphic story of living conditions for the captured Zamzam passengers on the German ship Dresden, I decided to forego our regular Sunday roast.
Instead, I cooked my own version of "Glop," macaroni baked with canned tomatoes, grated cheese (a piece too hard to use for any other purpose) and a couple of slices of bacon and onion.
When I told my husband that it was "Glop," he ate it with gusto and asked for more. We are sending the money saved thereby to the U.S.O.
MARY M. DODUCK
Hamden, CT
---
Sirs:
On June 23, the American Export liner Exeter arrived in New York with 53 survivors of the Zamzam, including two of my friends, Dr. and Mrs. Arthur Barnett of Ridgewood, N.J. I was fortunate enough to go down the bay of the cutter to meet them before the boat docked. Thinking that they would be interested in seeing Dave Scherman's swell pictures of the sinking in LIFE, I took a copy along with me.
Boy! Were we robbed when the survivors learned that the pictures got through!
KENN HENDERSON
New York, NY
---
Sirs:
Enough is enough. Why put up with anymore of these Zamzam and Robin Moor incidents? If those birds want to start something with us over here, I think you will find all Texans more than ready to meet them halfway. Hell, this has gone far enough. Let's get at 'em.
WILLIAM A. RUSSELL
Brownwood, TX
---
English tribute
Sirs:
While spending leave at Oxford University, I came upon the following words inscribed on a plaque in the Chapel of New College:
In memory of the men of this College who coming from a foreign land entered into the inheritance of this place & returning fought & died for their country in the war 1914-1919.

Prinz Wolrad-Friedrich zu Waldeck-Pyrmont
Freiherr Wilhelm von Sell
Erwin Beit von Speyer
I offer this quiet manifestation of what I have found to be a typical English characteristic in contrast to a German radio announcement on the day of our arrival in England that our transport had been torpedoed and sunk.
MERVIN MIRSKY
Lieut., Canadian Army (Overseas)
Nottingham, England
---
Irish "Sikh"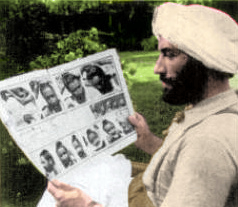 Sirs:
The world's only Irish-American Sikh checks up in the enclosed picture of the approved method of beard curling as portrayed in LIFE, June 23. John J. O'Connor of New Rochelle grew his beard during a recent illness. The turban was designed and executed by his wife who isn't a Sikh either.
JACK G. MAUDER
New York, NY
---
"A Man on a Mountain"
Sirs:
John Cudahy's report, "A Man on a Mountain" (LIFE, June 23), is one of the most illuminating character sketches that has ever appeared in the pages of your magazine. These few paragraphs turn the Hitler we think of – a monstrous, unearthly, insuperable creature – into a living, breathing human being, very much like ourselves. And being human, he's bound to slip up somewhere, sometime; when he does, Heaven help Hitler!
MYRA LONGSTREET
Daytona Beach, FL