British and Allied Submarine Operations of World War II - Vice Admiral Arthur Hezlet
BY JUNE 1941, THE STRATEGIC SITUATION for the Allies in the Mediterranean and Middle East had greatly deteriorated. With the loss of Greece, Crete and Cyrenaica, the British Mediterranean Fleet was pinned in the eastern end to the coasts of Egypt and Palestine and the Axis controlled not only the Adriatic but also the Ionian and Aegean Seas. Furthermore there was the possibility that Axis parachute troops might take pro-Vichy Syria, and after the invasion of Russia there was the spectre of a German Army appearing in Iraq through the Caucasus. However all was not lost. The Italian East African Empire was nearly all in our hands and a pro-Axis revolt in Iraq had been crushed in May by prompt action. An appreciation by the Chiefs of Staff in London, however, pointed out that the Axis were now able to use a new supply route to Africa by the west coast of Greece direct to Cyrenaica and urged that the tanks delivered by the 'Tiger convoy' should be used without delay to push Rommel's army back so that our aircraft could reach and attack it. The Mediterranean Fleet, already mauled by its encounter with the Luftwaffe during the invasion of Crete, was now busy supplying Tobruk and was quite unable to join in the attack on the enemy supply line to Africa.
The submarines of the First and Tenth Flotilla at Malta and Alexandria had been reinforced during the last few months and had more than made up for losses. There were now seventeen of them operational. A steady stream of new construction submarines was planned to arrive throughout the summer and autumn. Furthermore it had been decided that the submarines of the Eighth Flotilla at Gibraltar should operate in the Mediterranean instead of doing convoy duty in the Atlantic. The adverse strategic situation, which made operations by surface ships so difficult, did not affect submarines to the same degree. Their bases at Gibraltar, Malta and Alexandria remained intact and their passages to their operational areas were made submerged by day in any case and were unaffected by the proximity of the enemy air bases. Malta was now spared the heavy air attacks by Fliegerkorps X, which had moved first to Greece and then to Russia. The main purpose of all the submarines was still to interfere with the enemy traffic to Libya but some attention was also given to the tankers passing through the Aegean from Rumania. On occasion, submarines were used for other purposes adjudged at the time to be worth diverting them from their primary task. The Italian Navy at this time was stretched to meet all its commitments. There was not only the route to North Africa to be guarded but also the traffic to Greece and Yugoslavia that was as great as ever, and then there was the tanker route from the Dardanelles, which, with the conquest of Greece, could now be used again. The period which is covered by this chapter is called by the Official Italian Naval Historian the 'First Battle of the Convoys' and was the first time that the Axis were really worried about the traffic to Libya. Their concern, of course, was not just with an attack by submarines, but by air and later surface ships too. Although they did not realise it, the situation was even worse for them because of the breaking of their ciphers by the British cryptographers.
The first patrol in the Mediterranean by a submarine of the Eighth Flotilla at Gibraltar had already been carried out in April and May This was by HMS Pandora (Lieutenant Commander JW Linton DSC RN), who left on 29th April to patrol off Naples. On 5th May, as we have already seen, she sighted an Italian eight inch gun cruiser, but she was out of range and heading north. She missed a small tanker on 11th May at a range of 3000 yards with four torpedoes, one of which failed to run. This attracted Italian anti-submarine forces to her vicinity. However they failed to make contact and on 15th, Pandora returned to Gibraltar. It had originally been decided, it will be recalled, that the River-class submarines were too large for the Mediterranean and were not able to dive deep enough. Nevertheless for a patrol that did not have to cross the Sicilian barrage the restriction was lifted and HMS Clyde (Commander DC Ingram DSO RN) sailed from Gibraltar on 28th May for the east coast of Sardinia. On 1st June off Cavoli Island in a flat calm she fired three torpedoes at a range of 3000 yards at the southbound Italian merchant ship San Marco of 3076 tons. Two of the torpedoes hit and sank her. Later on the same day she fired three more torpedoes at a merchantman with an aircraft escort, but the track was broad and the range 4500 yards, and she failed to hit. Next day she sighted a small transport escorted by a destroyer leaving Terranova. The transport altered course just before the sights came on and so she fired three torpedoes at the escort at very close range and they probably ran under the target. HMS Clyde then spent two days off Naples and on 8th June she started an attack on a large destroyer off the Bocca Piccolo but she had an escorting aircraft and in the calm sea the torpedo tracks would certainly have been seen, so she broke off the attack. On 8th June she missed another fleet destroyer with two torpedoes at a range of 650 yards. They probably ran under but they hit and sank Italian light freighter Sturla of 1195 tons, which she was escorting. HMS Clyde then reconnoitred Palermo and, closing to 5000 yards she sighted a six-inch gun cruiser in the harbour and reported its presence by wireless after she had left patrol for Gibraltar. On 14th June she met the schooner Gugliemi of 990 tons and sank her by gunfire. During this patrol HMS Clyde made an involuntary dive to 275 feet and suffered structural damage aft to the pressure hull. Her operational diving depth had thereafter to be limited to 250 feet.
The next submarine to patrol in the western Mediterranean was from the Free Netherlands Navy O24 (Luitenant ter zee 1e Kl O de Booy) and she left Gibraltar on 7th June for the Genoa area. On arrival there she sighted two convoys too far away for a torpedo attack but on 12th she sighted a large unescorted tanker. Her first salvo of torpedoes missed mainly because one of them broke surface and warned the target. O24 , however, was able to surface and engage with her gun securing a number of hits and stopping the enemy. Another single torpedo missed too, but a third from her upper deck training tubes hit and sank the tanker, which was Fianona of 6660 tons. The same day she stopped a 500-ton schooner and sank her with a demolition charge. O24 then moved to the Spezia area and missed another tanker on 17th. She again moved, this time to the Gulf of Lions, where she had no success and returned to Gibraltar on 23rd June. Overlapping this patrol, HMS Severn (Lieutenant Commander ANG Campbell RN) left Gibraltar on 14th for Naples. On 20th off Palermo she fired four torpedoes at a range of 2000 yards at a large merchant vessel and, as she was uncertain of the enemy's course and speed, followed it up with two more but all missed. On 22nd off Naples she sighted an Italian submarine and, as the firing range was only 900 yards, she sought to economise in torpedoes and only fired two. The result was a miss. An auxiliary anti-submarine vessel subsequently hunted her, but on 20th June she sighted Italian freighter Polinnia of 1.292 tons bound from Naples to Cagliari. She had only four torpedoes left and fired one at 1500 yards that hit and stopped the enemy. She then closed in to 1000 yards and fired another, which also hit, and Polinnia sank. Finally, on 28th in the Gulf of Creed in Sardinia, she fired one of two remaining torpedoes at a range of 2500 yards at Italan merchant ship Ugo Bassi of 2.900 tons, which hit and she blew up with a very heavy explosion and sank.
The last patrol from Gibraltar in June was by O23 (Luitenant ter zee 1e Kl GBM van Erkel), who sailed on 25th for the Leghorn area. On 30th she encountered the southbound laden tanker Capacitas of 5371 tons and hit her with three torpedoes out of a salvo of four, which caused her to capsize and sink. O23 then developed an oil leak and was hunted by Italian destroyers but fortunately was able to shake them off. She was forced to withdraw to the Gulf of Lions where she emptied the leaking tank but she had no further contacts during this patrol.
The intervention of the Eighth Flotilla in the Mediterranean in June was a substantial success for Royal Navu submarine operations. Not only were six ships of 20,490 tons sunk but also it enabled much of the traffic to Libya to be attacked that passed through this area before transiting the Straits of Messina or rounding the western end of Sicily. As a result the already overstretched Italian Navy was forced to provide escorts for all traffic in the area as well as for the normal coastal traffic and passages to Sardinia and Sicily.
In the central Mediterranean, the submarines from Malta persevered on the Tunisian coast, off Sicily and Calabria and off Tripoli, and made one sortie into the Tyrrhenian Sea. Their aim was, as usual, to interfere with the Axis supply routes to North Africa. It was particularly important to make an effort early in June as the British Army offensive, Operation 'Battleaxe', to relieve Tobruk and recapture some of the lost ground, was due to begin on 15th. At the beginning of June, HMS Unique and HMS Utmost were off Lampedusa and in the Gulf of Hammamet respectively. On 3rd June, HMS Unique (Lieutenant AF Collett RN) fired two torpedoes into Lampedusa harbour, sinking Arsla of 735 tons. Later the same day she sighted three cruisers but was too far off to attack. These boats were relieved by HMS Urge (Lieutenant EP Tomkinson RN), who sighted three convoys on 4th, 5th and 6th but the first two were out of range and, although she fired three torpedoes at close range at the third, she missed. HMS Unique , HMS Upright and HMS Union were out again in the middle of the month. On 20th, HMS Unique , when attacking a convoy in a flat calm, was seen before firing and was counter attacked with twelve depth charges. She was seen again when attacking another convoy and was again subjected to an attack by depth charges, some of which were uncomfortably close. *HMS Upright (Lieutenant JS Wraith RN) saw nothing, but HMS Union (Lieutenant RM Galloway RN), after sighting convoys out of range on 10th and 20th, attacked a third on 22nd firing three torpedoes at a range of 1200 yards and sinking Pietro Querini of 1004 tons.
HMS Ursula (Lieutenant AJ Mackenzie RN) was on patrol off Tripoli at the beginning of June but she returned empty handed after missing merchant ships on 27th and 31st May at 2500 and 1500 yards with two torpedoes fired from the quarter at each of them. In the Ionian Sea, HMS Upholder (now Lieutenant AR Hezlet RN) was sent to patrol a focal point where the routes from Messina to Benghazi and from Taranto to Tripoli intersected, but she only saw a hospital ship. HMS Unbeaten (Lieutenant EA Woodward RN) patrolled the east coast of Sicily in the middle of the month and on 16th she sighted a large liner southbound at high speed and carrying out a continuous slow zigzag. Four torpedoes were fired at a range of 4500 yards, but they missed this difficult target. On 23rd June, a signal was first decrypted in time to be acted upon. It revealed that four liners full of troops were about to leave Naples for Tripoli by the Straits of Messina. HMS Urge was already on patrol south of Messina and *HMS Upholder (again Lieutenant Commander MD Wanklyn RN) and HMS Unbeaten were at once sailed from Malta to join her. As the convoy emerged from the Straits it was heavily attacked by aircraft from Malta and turned back to Messina. Only HMS Upholder caught a glimpse of it as it retired, and she could not get into a torpedo firing position. HMS Upholder was then recalled to Malta. As soon as she had gone, the convoy sailed again and passed HMS Urge , who was engaged in an operation against the railway line at Taormina, and reached Tripoli safely. HMS Urge landed her Commandos under Captain Taylor in folbots on 27th and they succeeded in blowing up a train in a tunnel near Cape San Alassio. Captain Simpson believed that these attacks on the Italian railways were of considerable value. For a small effort on our part, the Italians were forced to guard some 800 miles of coastal track and this would need a large number of troops. HMS Urge also sighted two heavy cruisers with four destroyers on 29th June. She fired four torpedoes at a range of 5000 yards but with no result. She was counter attacked by the escort but was undamaged. On 2nd July, before returning to Malta, HMS Urge sighted a merchant ship escorted by what she thought was an armed merchant cruiser. She fired four torpedoes at a range of 3000 yards and heard one hit but both ships continued on their way apparently undamaged. Subsequently one of these ships, the ex Norwegian Brarena of 6.696 tons, was sunk by air attack on her way from Palermo to Tripoli.
On 17th June, as already told. HMS Utmost (Lieutenant Commander RD Cayley RN) sailed from Malta to pass the Sicily minefields and patrol in the Gulf of Eufemia. Her purpose was to blow up the railway on the western side of the Italian peninsula. By 22nd she was off Stromboli and on the night of 23rd/24th she landed her Commandos, under Captain Schofield, in folboats, to blow up the railway line to Reggio. The fuzes failed at first necessitating a second landing to repair them. HMS Utmost then visited the northern approach to Messina and sighted two convoys that passed out of range. On 28th she was able to fire three torpedoes at a range of 1200 yards at Italian cargo ship Enrico Costa of 4.080 tons, which she sank. Another attempt to land Commandos had to be abandoned when the submarine was sighted from the shore.
The larger submarines at Alexandria divided their patrols between Benghazi, the Gulf of Sirte and the Aegean. The patrols off Benghazi were well placed to intercept traffic from Italy to Africa down the west coast of Greece and those in the Gulf of Sirte to stop coastal traffic to Benghazi from Tripoli, which was still the main disembarkation port. In the Aegean, there was not only the important tanker traffic from the Dardanelles but also the enemy sea communications with Crete, the Dodecanese and the Greek Aegean islands, many of which now had military garrisons. There were also two other uses for submarines, the first of which was to carry supplies to Malta, which now, with the loss of Crete, was virtually cut off from the east as well as from the west. The second task was to assist in the Syrian campaign that was now in progress.
HMS Taku (Lieutenant Commander EFC Nicolay RN) left Alexandria on 1st June for Benghazi and on 7th engaged a tug, lighter and an anti-submarine trawler by gunfire but the action had to be broken off when her gun jammed. Nevertheless the gunboat Valorosa and two small vessels totalling 489 tons sank as a result of this action. She landed a reconnaissance party on Gharah Island that night and re-embarked them next day. On 11th she looked into Benghazi and fired a torpedo at a range of 2300 yards at an Italian ship alongside, hitting Tilly L M Russ of 1.600 tons, which blew up and sank. Next day she attacked a convoy early in the morning with two torpedoes at a range of 2000 yards sinking Italian merchant ship Silvio Scaroni of 1.367 tons. She was relieved in this area by HMS Regent (Lieutenant Commander HC Browne RN) but she had a completely blank patrol between 19th June and 5th July. HMS Triumph (Commander WJW Woods RN) left Alexandria on 26th June and soon sighted the Italian submarine Salpa coming straight for her. Fearing she would miss with torpedoes, she surfaced and engaged with her gun obtaining three hits out of 33 rounds fired, after which the Italian submnarine stopped down by the stern. HMS Triumph then fired two torpedoes at a range of 500 yards hitting with one of them and sinking her. HMS Triumph reached the Benghazi area on 4th July and next day engaged the Italian coaster Ninfea of 607 tons by gunfire and sank her. On 8th she severely damaged the anti-submarine trawler De Lutti of 266 tons but was forced to withdraw by a shore battery, which hit her and damaged her forward. De Lu tti then caught fire and sank. HMS Triumph was later ordered to proceed to Malta for repairs.
In the Syrian campaign, some cruisers and destroyers from the Mediterranean Fleet were detailed to work on the coastal flank of the army. HMS Parthian (Commander MG Rimington DSO RN) was added to this force to patrol off Beirut, where some large Vichy destroyers were based. On 25th June, HMS Parthian sighted the Vichy French submarine Souffleur on the surface, but she dived before an attack could be completed. HMS Parthian , however, managed to keep track of her adversary and after three hours Souffleur surfaced again. HMS Parthian was then able to fire four torpedoes at a range of 2600 yards hitting with one of them and blowing the enemy into two halves, which sank. She had a night encounter with another Vichy French submarine on 28th but the two were so close together that nothing could be done before the enemy dived. Subsequently the Vichy submarines Caiman and Morse escaped to Bizerta.
Four British submarines and two Greek submarines patrolled in the Aegean during June. HMS Torbay (Lieutenant Commander ACC Miers RN) sailed from Alexandria on 28th May and passed through the Scarpanto Strait on her way to the Dardanelles. She met two caiques, one of which was carrying petrol and sank them by gunfire. On 6th June off Cape Helles she encountered the French tanker Alberta of 3.360 tons and hit her with a single torpedo fired from right astern at 1000 yards. The tanker then anchored in shallow water and an hour and a half later, HMS Torbay fired another torpedo at a range of 3300 yards, which hit her in the engine room but still did not sink her. HMS Torbay then had to withdraw with the arrival of some Turkish motorboats. The next day she sent a boarding party to set fire to and scuttle the ship but they failed. On 9th June a Turkish ship made an attempt to tow Alberta away and HMS Torbay fired another torpedo, this time at 1200 yards, which missed but caused the tow to be slipped and the tanker to be abandoned. Finally next day HMS Torbay surfaced and fired forty rounds of four-inch shell into her and she was left on fire off Lemnos, but still obstinately afloat. Undeterred by this a convoy of six ships approached and she fired three torpedoes at a range of 2000 yards but missed, and a destroyer of the escort counter attacked with depth charges Two hours later HMS Torbay came upon Italian tanker Guiseppini Gheradi of 3.319 tons straggling from the convoy, and hit her with two torpedoes out of three fired at 700 yards and sank her. A destroyer then returned and dropped depth charges but desisted after half an hour. On her way back to Alexandria while still in the Aegean, HMS Torbay sank another caique and also a schooner. She was relieved by HMS Tetrarch (Lieutenant Commander RMT Peacock RN) who left Alexandria on 6th June and entered the Aegean by the Anti Kithera Channel and went on to the Dardanelles by the Zea and Doro channels arriving on 14th June. She patrolled in her area until the 22nd and sighted nothing except for a small schooner on 25th, which she attacked unsuccessfully. HMS Perseus (Lieutenant Commander PJH Bartlett RN), also had an uneventful patrol in the southern Aegean from 22nd June to 10th July. The Greek submarines Triton (Andypopleiarkhos Zepos) and Nereus (Plotarkhis Livas) saw nothing in patrols off Kastelorizo.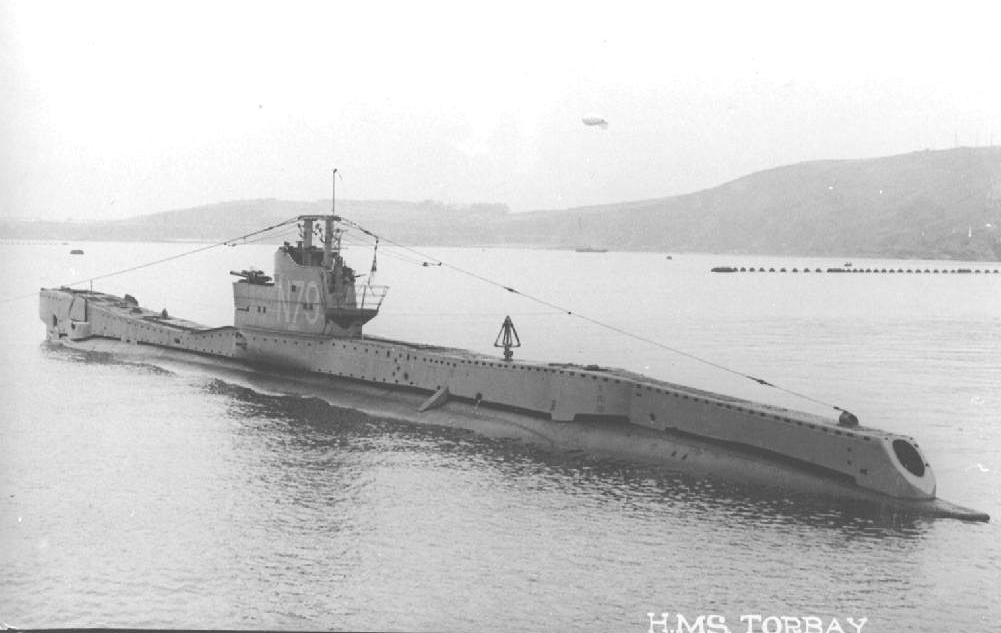 HMS Torbay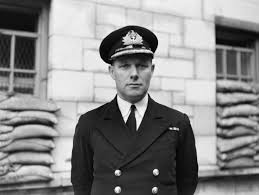 As has already been indicated, with the isolation of Malta, it was found necessary to run supplies in to the island by submarine. The first of these trips had been done in May by HMS Cachalot when she joined the station from the United Kingdom. On 5th June, HMS Rorqual (Lieutenant LW Napier RN) left Alexandria with 24 passengers, 147 bags of mail, two tons of medical stores, 62 tons of aviation spirit and 45 tons of kerosene. She arrived on 12th June and unloaded, and at once embarked 17 passengers, 146 cases of four-inch submarine ammunition for the First Flotilla at Alexandria, 10 tons of miscellaneous stores for the fleet and 130 bags of mail. She arrived at Alexandria on 21st and at once loaded a similar cargo to make another trip sailing on 25th. HMS Osiris (Lieutenant Commander TT Euman RN), who had arrived at Gibraltar after refitting in the United Kingdom, left for Malta also on 25th with a cargo of petrol, stores and mail. She managed to sink two caiques on her way, and arrived on 3rd July. A fourth trip was made during the month and this was by HMS Cachalot (Lieutenant HRB Newton DSC RN), who left Alexandria on 12th June and arrived in Malta on 19th.
The month of June had been a very successful one for Royal Navy submarines in Mediterranean, which suffered no losses. Signals of congratulation were received from both C-in-C Mediterranean and the Admiralty. They made twenty-seven attacks expending some 74 torpedoes and sinking thirteen ships totalling 35,955 tons. However only three of these, of some 3107 tons, were actually carrying supplies to North Africa and in this month the Italians landed a record 125,000 tons. Although the 'Battleaxe' offensive by the British army in the middle of June was repulsed, General Rommel complained that he was not receiving enough supplies at the front. This, however, was not because sufficient supplies wore not getting across the Mediterranean so much as that the land transport system could not get them forward because Panzer Army Africa advanced too long , extended its rear logistical lines over ıbe coastal road too much under his command and now paying the price for it (Rommel and his later acolytes of course found no blame on themselves blamed Italian "supply inefficiency"). He was demanding that more should be landed at Benghazi rather than Tripoli but Tripoli had the bigger harbour larger docking and unloading facilities (a fact Rommel refused to aknowledge due to his inexpeience in logistics), which was some five hundred miles closer to the front. It could be argued that the British submarine campaign did not concentrate sufficiently on the southbound traffic to North Africa, and instead wasted effort off Sardinia and in the Aegean on empty ships returning to Italy. However it was at this time that the Italians first began to worry about their losses as a proportion or their total carrying power in the Mediterranean. Losses were now greater than their shipbuilding programmes, and the size of their merchant fleet was beginning to decline. The British submarine operational policy of sinking anything they could find wherever it was, and whatever it was doing, probably was the best in the long run.
DURING THE FIRST PART OF JULY, submarine operations continued much as before, but in the second part they were absorbed in operations to pass an important convoy to Malta from the west. On 1st July there were sixteen submarines at sea in the Mediterranean. In the western basin, HMS Severn and O23 from Gibraltar were still in the Tyrrhenian Sea, and HMS Utmost from Malta was north of Messina. HMS Osiris and HMS P38 were on passage to Malta from Gibraltar, and HMS Thrasher was on passage from Malta to Alexandria. HMS Upholder , HMS Upright , HMS Urge , HMS Unique and HMS Union were on patrol in the area south of Messina and off the Calabrian and Sicilian coasts, while HMS Triumph was in the Gulf of Sirte. HMS Torbay and HMS Perseus were on patrol in the southern Aegean and HMS Parthian was still off Beirut, with the Greek submarine Nereus off Kastelorizo. Most or these submarines had returned to base or reached their destinations by the middle of the month, and some others had put to sea to relieve them. By the time the Malta convoy sailed from Gibraltar on 20th July, some fourteen attacks had been carried out. On 1st July HMS Upholder (Lieutenant Commander MD Wanklyn RN), on her tenth patrol, fired three torpedoes at an armed merchant cruiser escorting a convoy at very close range (300 yards) without result and it is probable that the torpedoes ran under. On 3rd, she sighted a convoy of three ships escorted by destroyers. She fired three torpedoes at a range of 1800 yards, two of which hit and sank Italian supply ship Laura Cosulich of 5.870 tons. She was then counter attacked with nineteen depth charges. In the southwest Aegean, HMS Torbay (Lieutenant Commander ACC Miers RN) was at work again. She had already sunk a caique by gunfire on 30th June, and on 2nd July she attacked a convoy of two ships escorted by a destroyer with an aircraft overhead in the Zea Channel. She fired a salvo of six torpedoes at a range of 3000 yards hitting and sinking the leading Italian merchant ship, which was Citta di Tripoli of 2.935 tons. She was then forced deep by the escort. On 5th July, after sinking another caique by gunfire in the Doro Channel, she sighted the Italian submarine Jantina off Mykoni Island. She fired another six torpedoes at a range of 1300 yards, more than one of which hit, and Italian submarine sank. Finally on 10th , she encountered Italian tanker Strombo of 5.230 tons escorted by a destroyer and an aircraft. The escort forced her deep 'missing the DA', but she caught it up and fired four torpedoes on a very broad track and obtained two hits. Strombo was a total loss but did not actually sink until over a month later.
HMS Unbeaten (Lieutenant EA Woodward RN) sailed for patrol on 8th July for a position off Lampedusa. She then moved south to the Marsa Zuaga Roads west of Tripoli, and here she sank a large schooner on 15th by gunfire. HMS Taku (Lieutenant Commander ECF Nicolay RN) left Alexandria for the Benghazi area also on 6th July. On 13th off the port she sank Italian motor vessel Caldea of 2.705 tons obtaining three hits out of four torpedoes fired at 1700 yards. Two days later she sighted an armed tug and a schooner but the weather was unfavourable to use her gun. She followed them hoping for an opportunity to use a folbot to destroy them when they anchored for the night. The folbot, however, was involved in an accident, and so she resorted to the gun forcing both the tug and schooner to beach themselves. After boarding the schooner, she was sunk by gunfire. On 21st July an attempt was made to raid Benghazi harbour in the folbot, but after the crew had attached their charges to a ship, they were seen and captured. HMS Osiris (Lieutenant Commander TT Euman RN) left Malta on 9th July to patrol off Argostoli. On 14th July she fired tour torpedoes at a large merchant ship at 1500 yards without result, one torpedo having a gyro failure. Next day she attacked a supply ship at long range and missed with three torpedoes. The new submarine HMS P33 (Lieutenant RD Whiteway Wilkinson DSC RN), after arriving from the United Kingdom, sailed from Malta on 11th July first for the Lampedusa area, and then the Gulf of Hammamet where it was hoped to carry out a special landing operation. On 15th however, she made contact with a large convoy of five Axis supply ships escorted by six destroyers, south bound off Pantellaria. She had been put on to this valuable target by signal intelligence. She closed to 2000 yards, penetrated the screen and fired three torpedoes obtaining two hits and sinking Barbarigo of 5.205 tons. She was heavily counter attacked with fifty depth charges putting her steering gear and hydroplanes out of action. She made an involuntary dive to 330 feet causing leaks and distortion of the pressure hull, necessitating her return to Malta without carrying out the special operation. HMS Tetrarch (Lieutenant Commander GH Greenway RN) sailed for the Aegean from Alexandria on 12th July and carried out a landing operation in the Gulf of Petali on 17th. She remained on patrol in the Aegean during the passage of the convoy to Malta In the second half of July. One storing trip to Malta from Alexandria was made by HMS Cachalot (Lieutenant HRB Newton DSC RN), sailing on 10th July and arriving on 16th. On 14th July HMS Union (Lieutenant RM Galloway RN) left Malta for a patrol in the Gulf of Hammamet. She unsuccessfully attacked a small convoy twenty-five miles south-southwest of Pantellaria on 20th July. She was leaving an oil slick and was sunk in a counter attack by Italian torpedo boat Circe of the escort. She was lost with all hands including Lieutenant Galloway, her Commanding Officer, with three other officers and twenty-eight men.

HMS Upright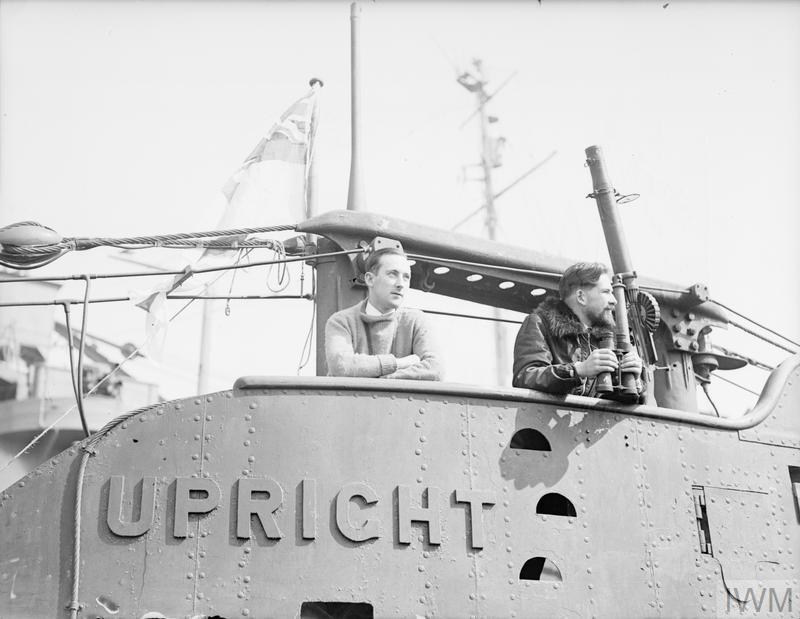 Since the loss of HMS Usk in May there had been doubts about the safety of the Cape Bon route past the Sicilian mine barrage, and these had been increased by two merchant ships striking mines in the 'Tiger convoy', also in May. At the same time, more submarines from Malta were being used to patrol in the Tyrrhenian Sea, necessitating passage through the mine barrier. Commodore Simpson commander of 10th Submarine Flotilla in Malta , decided to use a new route on the Sicilian side in which the submarines would dive under the mines, proceeding for 55 miles at a depth of 150 feet until they were clear. To ensure accurate navigation, the ends of this new route had to be in sight of the coast, so that a good fix could be obtained before going deep. The new route stretched from ten miles south west of Cape San Marco to ten miles south west of Maritimo on a course of 300/120 degrees. This route had the additional advantage that it was a shorter way to the Tyrrhenian Sea than round by Cape Bon. HMS Utmost (Lieutenant Commander RD Cayley RN) volunteered and was given the dubious honour of pioneering the new route, and left Malta on 17th July. She had no difficulty and was required to report her safe arrival on the other side. From now onwards this was the way submarines traversed the Sicilian mine barrier. HMS Utmost was followed by HMS Upholder and HMS Urge , all being on their way to take up covering positions for the convoy to Malta.