from "Fortress Malta" by James Holland
"The Fighting Tenth" by John Winton
"Sea Wolves British Submarines in Second World War" Tim Clayton
"History of British U-Class Submarine"
On December -1940- January 1941 six Royal Navy U-Class submarines were arrived in Mediterranean and deployed in newly built submarine base at Manoel island (actually construction was complated in February during heavy Axis air raids) at entrance of Grand Harbour of Valetta , Malta island as permenant base of newly created 10th Submarine Flotilla (consisted of four more submarines HMS Truant , HMS Triumph , HMS Partharian and HMS Regent by January 1940) which would play a vital role in Mediterranean Campaign. Underground tunnels of Lazzeretto and newly built bombproff submarine pens and shelters were utilised to be home base of 10th Submarine Flotilla. Flotilla commander Commander George Simpson (nicknamed Shrimp) , one of the outstanding (one unknown) submarine fleet commanders of the war took orders from Royal Navy Mediterranean Fleet commander Admiral Andrew Cunningham to distrupt Axis shipping traffic between Italy-Greece and North Africa whatever the cost.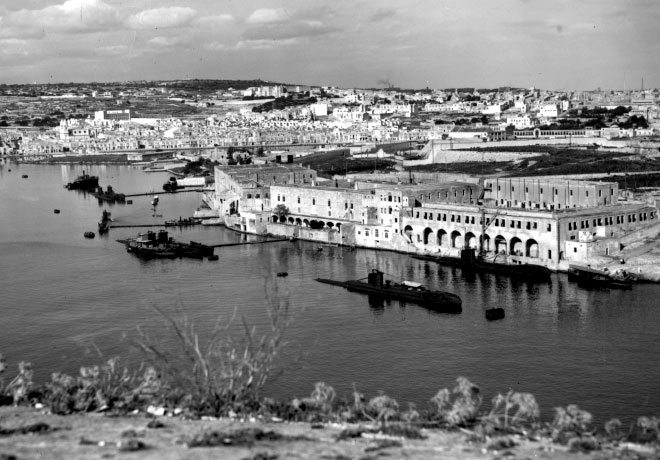 Initial group of six U-Class submarines HMS Ursula , HMS Upright , HMS Utmost , were added HMS Unique , HMS Upholder and HMS Usk. Among them HMS Upholder under command of Lieutenant Commander Malcolm Wanklyn , would be most sucessful Allied submarine of entire war and tonnage king in terms of destroyed Axis shipping at Mediterranean Sea.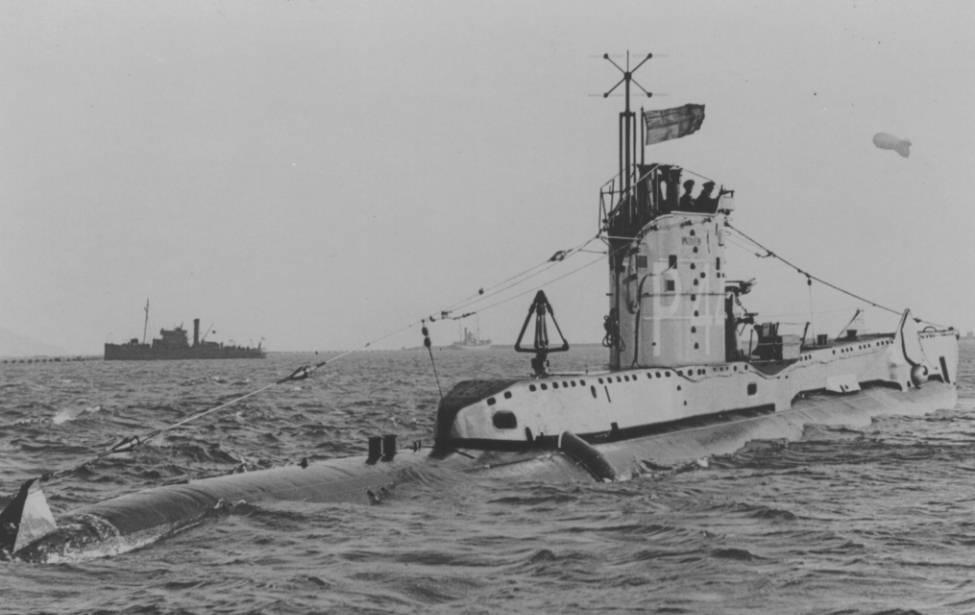 HMS Upholder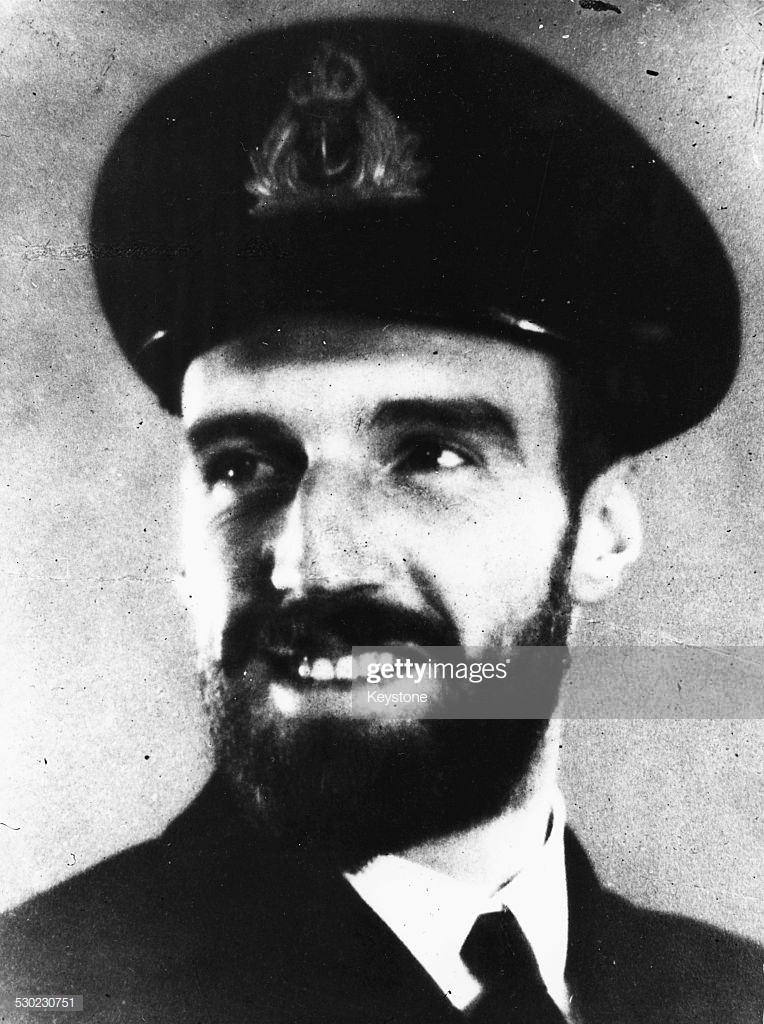 Lieutenant Commander Malcolm Wanklyn
U-class, to which HMS Upholder belonged, was a mere 540 tons, with a surface speed of only eleven knots. By contrast, the German and Italian submarines could zip along at almost twice that pace. All submarines were cramped, and the U-class especially so. With four officers, four petty officers, four Engine Room Artificers (stokers), fifteen junior ratings and a further petty officer and three ratings when on operations, the full complement was as much as 31. To say the men were living on top of one another would be something of an understatement.
In first week of January , P class submarine HMS Pandora (Lieutenant Commander JW Linton RN) westbound for the United Kingdom to change her crew and refit before joining the new Eighth Submarine Flotilla at Gibraltar. These submarines were required by the operation orders for the convoy to patrol submerged with their wireless masts up continuously to try to intercept air reconnaissance reports direct. Captain Raw was outraged by this when he heard about it, and protested vehemently against such a practice which he considered 'near suicidal". The Italian fleet did not intervene and HMS Pandora , before continuing her passage, was able to torpedo and sink two Italian merchant ships off the east coast of Sardinia on 9th January. The first, Palma of 2.715 tons was hit by one torpedo of a salvo of two fired at 1400 yards and the second, Valdivagna of 5.400 tons saw the first torpedo track and altered away. HMS Pandora then showed plenty of periscope to encourage her to steady on a course directly away from her and fired a second torpedo from right astern that hit at a range of 2000 yards, which was a remarkable shot.
Two submarines had been placed in the lonian Sea to protect the convoys should the Italian fleet come through the Straits of Messina: HMS Parthian (Commander MG Rimington DSO RN) off Cape Spartivento and HMS Tetrarch (Lieutenant Commander RMT Peacock RN) off Cape Colonne. RAF reconnaissance aircraft reported that two Italian battleships had arrived at Messina but they came no further. HMS Tetrarch had a blank patrol in heavy weather and paid a visit to the Greek submarines at Piraeus before going on to Alexandria. HMS Parthian had already made an unsuccessful long range attack on a convoy before the passage of convoy 'Excess' but on 9th January, south east of Sicily she fired three torpedoes at Italian merchant ship Carlo Martinolich of 4.210 tons at a range of 1200 yards, two of them hitting and sinking her. HMS Parthian then also visited Piraeus on her way back to Alexandria where she arrived on 21st January.
HMS Regent then attacked a merchant ship on 12th January with five torpedoes at a range of 3000 yards at night but missed due to a bad estimation of the enemy's course. However she made up for this three days later by an attack at close range with two torpedoes on Italian supply vessel Citta di Messina of 2.475 tons escorted by the torpedo boat Centauro . One of her torpedoes hit and sank the merchant ship. HMS Rorqual (Commander RH Dewhurst DSO RN) left Alexandria on 14th January for Malta to embark mines and was then sent to attack the Italian supply route to Albania in the Adriatic. In addition to the direct route across the Adriatic, the Italians were using another from Pola and Trieste down the Yugoslavian coast. This was out of reach of any other naval forces and HMS Rorqual was ordered to lay fifty mines off Split, which she did on 28th January. On 30th January she fired two torpedoes at a range of 1800 yards at a merchant vessel but missed. Next day off Dubrovnik she sighted a large tug towing a floating battery. She attacked with her gun and sank the tug, but a single torpedo fired after the battery had stopped, malfunctioned and missed. The battery escaped and was towed in with thirty-five casualties.
The January month started with a meagre success for the new 'U' class submarines in the Mediterranean when HMS Upholder under command of Lt. Commander Wanklyn struck the first blow. She was patrolling the western approaches to Tripoli (again along the Kerkenah Bank) on 28th January when she sighted the German ship Duisburg, of 7,889 tons. Two torpedoes that were launched by HMS Upholder , were to inflict such damage that the targeted ship Duisburg required a tow back into Tripoli where she was out of action for four months under repair. Enemy traffic in the area was considerable, and on the 30th January HMS Upholder moved in to attack two large merchant ships. This time Wanklyn gave the order to fire from a range of 4,000 yards – a considerable distance – and, miraculously, one hit. Again, they did not hang around to see the result of their efforts, especially since the escorting destroyers quickly came after them, attacking with a number of depth charges. Trusting to their asdic, they quietly manœuvred themselves out of the fray and headed back to Malta, their first patrol complete. Although they had used all eight torpedoes, they had scored two hits and successfully escaped a noisy depth charge attack. All in all, not a bad start. They reached Malta on 1 February – in the middle of another air raid. The Germans had not been idle while they were away.
HMS Rover (Lieutenant Commander HAL Marsham RN) left Malta on 5th February and off Cape Rizzuto attacked a convoy on 8th. She fired four torpedoes at long range (5000 yards) in a day-submerged attack but without result. Two days later she fired a full salvo at a range of 1500 yards at an Italian U-boat on the surface but one tube misfired and the other five torpedoes missed the target. Then on 14th February she met a large tanker and fired three torpedoes at a range of 1500 yards in another day-submerged attack. One torpedo hit and sank Italian tanker Cesco of 6.160 tons.
On 9th February a T Class submarine , HMS Truant sunk a 3.000 ton Italian cargo ship off Tripoli. On 12th February HMS Utmost torpedoed and damaged a 8.000 Italian merchant ship Galilea at Central Mediterranean (though she was salvaged) On 19th February HMS Upright torpedoed and sunk an unescorted Italian tanker off Kerkenah Bay. The next success came to Lieutenant A.R. Hezlet, RN, commanding HMS Ursula when, on the 22nd, he attacked and damaged the 5, 788-ton Sabbia in the Gulf of Gabes. The Sabbia was repaired and carried on in service until July 1943 when she was sunk by the Dutch-manned submarine HMHAS Dolfijn. Further success was to follow on the very next day. HMS Upright, commanded by Lieutenant E.D. Norman, RN, was in the Gulf of Gabes south-east of Sfax when he attacked and damaged the 2,365-ton tanker Silvia Tripcovitch. The tanker was not as lucky as the Sabbia because her life was only extended a few hours before being sunk by the submarine HMS Regent sailed from Malta.
Lieutenant Norman was to have greater success later in the patrol. At 2.30 in the morning of 25 February as they patrolled the Kerkenah Bank, the officer of the watch, Sub Lieutenant D. Swanston, sighted a convoy of warships consisting of two Italian cruisers – Armando Diaz and Barbiano – in company with one destroyer. HMS Upright fired a full salvo of four torpedoes and the 5,000-ton 6-inch cruiser Armando Diaz was dispatched to the seabed. An insignificant counter-attack took place before the accompanying destroyer returned to the scene to assist in the recovery of survivors from the cruiser. This major strike resulted in congratulatory telegrams for the submarine from both the C.-in C. Mediterranean and the Admiralty.
The hunt season was open , from now on , Axis sea communications and transportation in Central and East Meditreanean would be under growing threat , gradually increasing as more submarines and resources were diverted by Royal Navy to Mediterranean .