The Pittsburgh Press (December 15, 1943)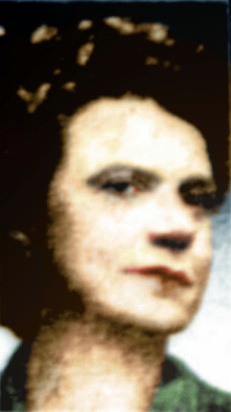 By Florence Fisher Parry
I came upon a souvenir. It was a little white button lettered in black. "We Want Willkie," it said. How it survived these last four years, I don't know. But there it was, a relic of the past.
And looking at it, I find myself wondering, will we wear it again? We will still want Willkie, but will our will have its way? Is it strong enough? Importunate enough? I wonder.
Remember how it started? Remember that convention? Remember how he just wasn't to be? Remember what a short time it was before the convention, that we'd even heard the man's name?
There he was, at that historic convention, in his hotel room reaching for his hat and coat, saying: "Come on, let's go home."
That was when the galleries began to chant, remember that strong, stubborn chant, deep, rhythmic, insistent, like the pounding of a spiritual "We want Willkie" – "We Want Willkie" – "WE WANT WILLKIE."
Not to be
We wanted him so bad that we got him. And for a while it looked as though we were going to put him right in the White House. It was a crazy thing to believe, now that we look back on it. No man, no man alone, even with more than 22 million crusaders behind him, could pass that miracle. But while we were campaigning for him, we believe we could.
Even later, when the fact of his defeat hit us bang between the eyes, we still shook our heads and blinked and stared and said to each other, "It can't be." And even when we heard his voice, tired and hoarse, calming the then-shrill and fanatical screams of those who were still yelling "We Want Willkie," there in the Commodore Hotel, he said:
They say I'm licked, but they don't know me.
They may not have known him then but they've had plenty of chance to get acquainted with him since. Defeat, technical defeat, does one of two things to a man. It breaks him or it adds to his stature.
And could anyone say that defeat has broken this Mr. Willkie, that it even knocked him out for a day?
His stature has increased; his character enlarged; his humanity deepened beyond the improvement that we can discern in any other single individual on earth with perhaps the exception of Prime Minister Winston Churchill, who, a great man in 1940, is infinitely greater today.
And this growth in both these men has been influenced by the same force; the force of defeat. At the moment of what looked like Wendell Willkie's political extinction, he defied the conventional prescription of defeat and imbibed it as though it were elixir. And in the same year, when England was facing annihilation from the air, Winston Churchill shook his fist at the darkening Heavens and changed from a man into a Messiah.
Time to grow
Four years ago, nearly half of the nation placed its faith in an untried man and believed that he was fit to govern the greatest country on earth. And we failed to elect him. But in our very hour of political defeat, many of us found comfort in the conviction that the next four years would give our candidate time to grow; time to prepare; time to rise to the circumstance of an even mightier challenge.
The entire career of Wendell Willkie since 1940 has been a triumph of preparation. He has traveled the world over and has met with the greatest leaders of this planet. He has won their confidence. Their esteem and their affection. He has proved himself a peerless ambassador of goodwill. In a book of inspired philosophy, he has captured the imagination of the reading world.
And even now with the entire party-in-power harnessed to defeat him, and with every orthodox political leader in his own professed party working in close and frenzied teamwork to throw him out, he is defying defeat.