Reading Eagle (February 12, 1941)
HOLLYWOOD SHOTS
By Jimmy Fidler
En route Hollywood, Feb. 12 –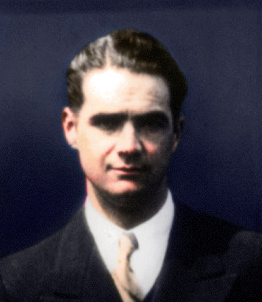 It seems a pity that Howard Hughes, who could be such a boon to the motion picture industry, is too rich to make a job of it and too interested in other avocations to make a real hobby of producing.
This thought came to my mind today after a glance at photographs of the young millionaire's three new screen discoveries – Margaret Young and Jane Russell, ex-models, and Jack Beutel (Miss Russell and Beutel are co-starring in Hughes' current film, The Outlaw). Seeing these youngsters reminded me that years ago, when Hughes took another fling at movie making, he discovered Jean Harlow, the late Louis Wolheim and other brilliant personalities.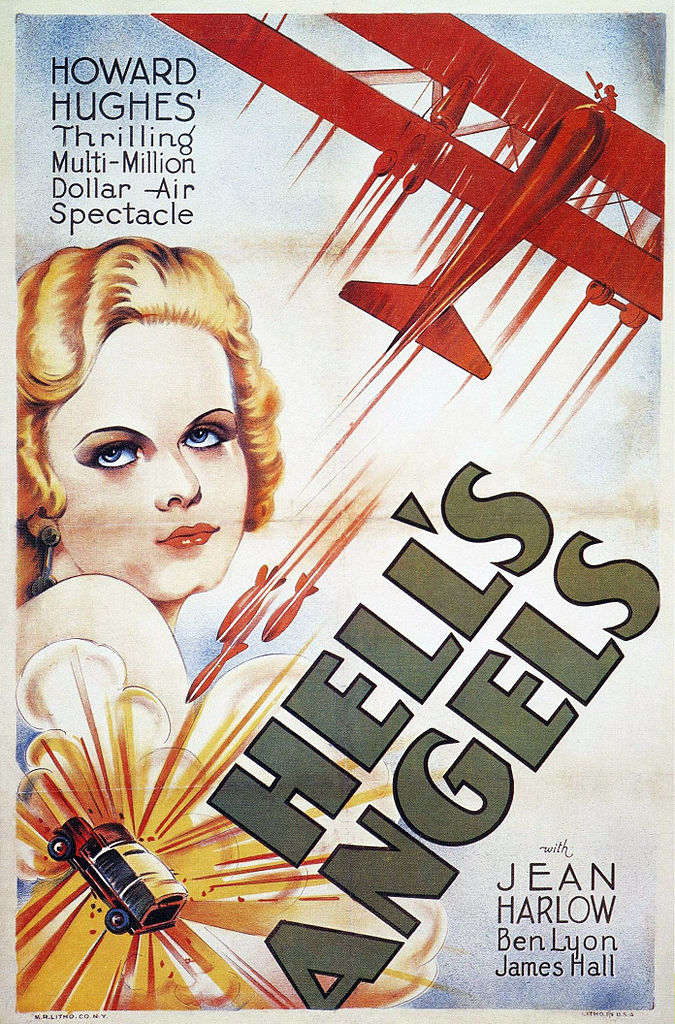 He also turned out consistently good pictures, among them Hell's Angels, Two Arabian Nights and Front Page. What between being so adept at discovering talent and so smart at producing fine movies he was – and is – just the sort of man the business needs – progressive, far-seeing and a showman.
More than this, Hughes is modest. He has done really important things in the world. His record-smashing flight around the globe on behalf of aviation science, for example, was a great deal more important than making movies. Yet he wears his honors lightly, never talks about himself, and would mean more to the good name of motion pictures than any man since Will Rogers.
Perhaps Hughes' new film, which he is directing himself, will give him the producing yen again. I hope so. It's so refreshing to hear stories about the brilliant leadership of a movie executive – without hearing them from the executive himself!
….
Idol Chatter: It's getting so you can't be a Hollywood somebody unless you vacation in Sun Valley at least once a year…. Nursery Book Character: Artie Shaw as Little Boy Blew…. Would you call Jawn Barrymore photogenic?
….Personal observation: Lana Turner's lips seem perpetually puckered for a kiss…. Pome: Rita Hayworth has a nose – but who would know with legs like those?
….Candidate for prettiest star-wife: Mrs. Bob Crosby…. Could anything be more appropriate than Slim Summerville's address at Laguna Beach – Sleepy Hollow Lane?…. Jeannette MacDonald opines that tact is just a polite term for prevarication.
….
In casting Lloyd Nolan as a baseball pitcher in Mr. Dynamite, someone unearthed the fact that he had actually been quite a twirler for his college team. It was a publicity natural, and Universal's praise agents did themselves proud. By the time Mr. Nolan's pitching scenes were scheduled for filming, movie fans from Dan to Beersheba had read accounts of his prowess, and the studio's personnel – who also read the papers – turned out en masse to watch. Alas, never did publicity hero come such a cropper. Desperately Lloyd wound up, burned his fast one squarely across the plate – and the extra in the batter's box slapped it for a home run!
….
Cuff notes: Is it true – as intimates insist – that Rosemary Lane and Buddy Westmore were secretly married while she was on that eastern p.a. Trek? ….Louise Campbell, seriously ill these past weeks in New York, is now packing for a return to Hollywood…. Hear 20th Century execs have decided to replace Cesar Romero in the Cisco Kid series, and use him for bigger and better roles…. Blue-pencil those rumors of a reconciliation 'twixt Jean Rogers and Danny Winkler – she says the rift is permanent…. Remember all the furor, six months ago, when Hollywood's 12 most likely candidates for stardom were selected as Wampas Baby Stars? Four of them – Ella Bryan, Tanya Widrin, Gay Parkes and Jan Holm are now working as dance instructresses for Arthur Murray!
….
Seven years ago in Hollywood: ZaSu Pitts surprised Hollywood by announcing her four-month-old marriage to tennis ace Edward Woodhall…. Ginger Rogers returned from a hideaway vacation on a Nevada dude ranch to find herself the object of a nationwide police search… Joan Bennett and second-husband Gene Markey were celebrating the arrival of a gift from Doc Stork…. Charles Boyer and Pat Patterson eloped to Yuma.
….Esther Ralston won a divorce from agent George Webb in a hotly contested court battle…. Maureen O'Sullivan, suffering from peritonitis following an appendectomy, was reported near death…. Dorothy Mackaill's three years of bliss with Neil Miller ended in the divorce courts.
….
The Andrews Sisters are chortling about a scenarist they know, who, having submitted his latest colossal to a producer, telephoned to get the verdict. The bigshot admitted:
It's got a lot of suspense. It took me 150 pages to find out what your point is – and then I discovered that the story has a really wonderful twist – no point at all!