The Pittsburgh Press (May 16, 1941)
HEDDA HOPPER
…
Hailing 'King Kane,' who's living up to his own publicity – terrific!
…
By Hedda Hopper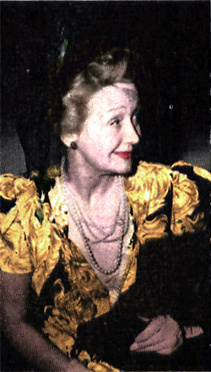 Hollywood, May 16 –
The Kid (and I don't mean "Billy" – he had to use guns) – I'm speaking about "Kid" Orson Kane has finally arrived.
And the boy who was spat upon, jeered and ridiculed, has made the town swallow its words. That's the reason – and not the heat – there's so much indigestion in town. He's now our eight-star man. Four's been our graduating mark to date. He got four for Kane (I won't tell you about the other things he got for it), four for Native Son. So we're hailing King Kane, who's living up to his own publicity – terrific!
Next to the funniest sight at CBS is watching Eddie Robinson put his actors through their paces for Big Town. The other day Eddie, the great director, worked 45 minutes on four pages of script, getting a pear-shaped tone out of Lurene Tuttle, just the finest actress in radio. Boy! She's got tones he's never heard. Only once was Little Caesar stopped in his tracks. He walked in on one of Orson Welles' programs. Eddie said:
I'm Eddie Robinson.
Orson replied:
I'm glad to have met you. Goodbye!
No, Hedy Lamarr didn't get that salary boost which she would have if she'd done The Uniform with Clark Gable. The studio and some others think she should have been suspended for turning him down. Don't worry, Hedy, it will all come out in the wash – and gold dust with it!
Why not?
If gold courses throughout the country could book Bing Crosby, Fred Astaire, Randy Scott, and Fed MacMurray for tournaments, they wouldn't have to give benefits. Routines between Fred and Bing are funnier than anything you'll get in theater.
Nice to know Benny Rubin,. the paps of a two-week-old daughter, has gone into a nice part in Heavan Can Wait with Bob Montgomery. Benny's been neglected too long… Shades of Grandma! Switches and rats are back,. Our gals are using them to bolster the new hairdos. Anita Louis looks very handsome in a modified pompadour with a big figure-eight knot and a fluff of bnanfgs on the forehead.
Quick, Marie! The velvet choker! On second thought, I'll choke her myself!.. Speaking about hair, I counted 18 varieties of whiskers on The Bad Men of Missouri set. Edmund Gwenn observes that while Hollywood women take their husbands for better or worse, they don't usually take them for long… Curt Bois says:
The model marriage is the one in which the wife is a treasure and the husband the treasury.
Nice of Pat O'Brien showing up on request for the Warners' workmen party, when none of the top executives came. In addressing the workers, Pat said:
I'm not under contract to this studio, but I'm under contract to all of you boys.
Never fails
With the temperature above 90, John Payne and Sonja Henie spent the afternoon clad in heavy ski clothes and huddled before a fire for a scene in Sun Valley Serenade… When Rouben Mamoulian was directing Blood and Sand, he advised the technical staff that a certain scene between Ty Power and Linda Darnell, which took place after Ty's death in a chapel, should have an El Greco atmosphere. The technical director came back and said:
I've gone through all the list of authorities on bullfighting and could find no mention of El Greco.
When Ty celebrated his 28th birthday, Annabella's cake had 28 candles, the name of a picture on each candle. He's made 28. Now he can do no less than buy Annabella a slave bracelet with the name of each of her picture inscribed in diamonds. You're welcome, A!
Ann Hunter, Hepburn;s understudy in Philadelphia Story, has her first film role in The Gay Falcon. Night before shooting, to overcome her nervousness she walked blocks and blocks. So she limped on the set next day with a blistered heel, and her first scene was walking up and down a block a dozen times… And speaking of blistered heels, Jack Benny's definition of one is: Fred Allen with a sunburn… When I asked Elinor Troy (Tommy Manville's ex-girlfriend) what in Franchot Tone appealed to her most, she said:
He has two things – height and background. Take your choice, pal.
Animal trainer, too
Roy Rogers has the Republic lot in stitches. He's actually teaching his horse "Trigger" to dance the rhumba. And since his 11-month-old daughter started to walk, he's had cowboy boots made for her… Production department at 20th Century has issued orders that a certain percentage of soldiers and sailors must be included in all crowd shots. Who says Zanuck isn't earning that uniform?
Nice to see Elliott Nugent, who spent a year on Broadway with The Male Animal, back in his director's togs again. When he finishes Caught in the Draft, he'll direct a picture of the The Male Animal, then do another at Paramount… Alexander Korda, now that he's built some swell sets, is assembling a whole zoo full of animals native to India for Kipling's Jungle Book.
Eddie Cline, who dates back to the Mack Sennett days, wants to know why every time he uses a gag in a picture, the critics say:
What a memory!
But when a celebrated director uses the same gag, they say:
What imagination!
I hear A. C. Blumenthal is head man in the Mexican picture business, is making another fortune, and living like the King of Siam.
Odd habit of George Sanders – tearing up cigarettes and smoking 'em in pipes. Been doing it for years, doesn't know why. Quick, Watson, the needle!