The Pittsburgh Press (March 20, 1943)
'Easy way out' taken by 'The Enforcer,' Frank Nitti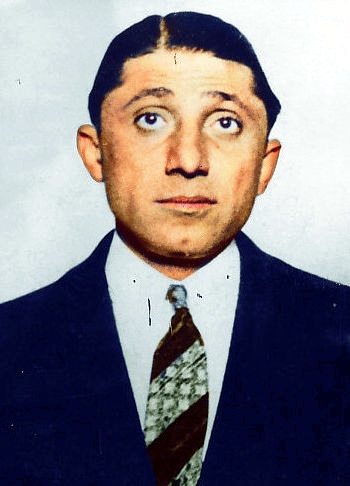 Frank 'The Enforcer' Nitti
Chicago, Illinois (UP) –
The remnants of Scarface Al Capone's once-mighty empire of crime crumbled today with the suicide of its ruler, Frank "The Enforcer" Nitti, and there were whispers that the higher-ups, the men who controlled the gangsters, would be next to fall.
Nitti committed suicide yesterday afternoon when he learned a federal grand jury at New York indicated him and eight others, six of them his henchmen, as a result of a $2,500,000 labor union extortion.
Chicago probe soon
U.S. District Attorney J. Albert Woll said a grand jury would convene here within 30 days to pick up where the New York grand jury left off. The investigation, he intimated, would involve legitimate business and perhaps politicians.
Nitti, who dealt death to underworld enemies with a shrug of indifference, was driven to a drunken suicide when he found the federal government too tough an opponent.
He was the first big-time Chicago gangster to take "the easy way out."
Chief 'couldn't take it'
Police Lt. William Drury of the underworld detail wrote this epitaph to Nitti's suicide:
He could dish it out, but he couldn't take it. The indictment was too much.
Federal agents said he had "pleaded guilty" by sending a bullet into his brain. Shortly before his death, they said, arrangements were made by an attorney to surrender him to the U.S. Marshal's office. Government attorneys said they knew he would plead guilty, "but not that way."
Nitti killed himself in a drunken stupor. His suicide was witnessed by three trainmen on an Illinois Central switch engine. The trainmen saw him reeling down a sidetrack as their engine approached.
Trainmen duck bullet
Then, they said, he drew a pistol and fired two wild shots. The trainmen ducked as a bullet sped in their direction. They were not sure whether he had fired intentionally at them or not.
Stumbling in a heap, Nitti sat propped against a fence, pressed the pistol to his temple and fired. The third shot ended his life.
The man who had controlled millions reaped through liquor, gambling and extortion, died with $1.14 in his pocket. Police found the .32 caliber pistol – less powerful than those habitually used by gunmen – clutched in Nitti's stiffened hand.
Catholic funeral not likely
In his pockets were a rosary in a black leather case and his draft registration card. Nitti was Catholic, but it seemed certain he would be deprived of a Catholic funeral in view of the suicide and the late Cardinal George Mundelein's edict prohibiting church burials for gangsters.
A few hours before his suicide, Nitti was indicted by the New York grand jury with eight associates on charges of mail fraud and violation of anti-racketeering laws.
The indictments were follow-ups to the conviction in 1941 of Willie Bioff, one-time panderer, and George E. Browne and other officials of the AFL International Alliance of Theatrical Stage Employees.
Gangland who's who
Others indicted with Nitti were Louis "Little New York" Campagna, one-time bodyguard of the rackets chief; Frank "The Immune" Maritote, who married into the Capone family; Paul De Lucia (alias Paul Ricca), questioned in the murder of Jack Lingle (Chicago newspaper reporter) and rackets go-between man; Phil D'Andrea, once a Capone bodyguard who became head of the Italo-American National Union, and was publisher of the Chicago Italian-language newspaper L'Italia; Ralph Pierce, erstwhile Capone lieutenant; Charles "Cherry Nose" Gioe, always high on police murder suspect lists; and John Rosselli, former husband of screen actress June Lang, assigned to control of the gang's West Coast business after it entered the movie extortion racket.
Murders in Chicago
The ninth defendant was Louis Kaufman, business agent of the Newark, New Jersey, local of the IATSE, who was indicted under the anti-racketeering law.
Yesterday's indictments added still more to the pattern of how the Capone syndicate, deprived of the lush liquor racket with the repeal of Prohibition, turned to extortion of the movie industry and domination of the IATSE.
The indictments charged that Nitti and his associates obtained huge sums from Loew's, Inc., Paramount Pictures, 20th Century Fox and Warner Bros. on the threat of calling strikes that would paralyze the industry.
Nitti, 57, was born in Italy. His real name was Nitto. He received his training for a crime career in the notorious Five Points Gang of Brooklyn, a band of tough young thugs which produced such Chicago crime lords as Al Capone and Johnny Torrio.
Executions on order
Nitti followed Capone to Chicago and shared in his rise. His title of "Enforcer" went with his position as Capone's lieutenant. It was Nitti, police said, who ordered the execution of double-crossers, and occasionally participated in the killings himself.
Nitti has a flair for accounting, and in 1923 became collector and bookkeeper of the Capone "interests." His slice of the annual "take" in those days was said to have amounted to $250,000. But his accounting was not astute enough. In 1931, he was caught in the income tax web which ensnared Capone, and Nitti himself spent 18 months in Leavenworth Penitentiary.
Capone's successor
When Capone retired, a gibbering victim of paresis, he named Nitti his successor. With criminal shrewdness, Nitti watched the fadeout of the bootleg-and-bullets era, then launched the "syndicate" into new fields. He gained control of the Bartenders Union in Chicago, along with the IATSE. He branched into ownership of nightclubs, and saw that the syndicate's grip on gambling remained secure.
With the passing of Prohibition, Nitti realized the syndicate would have to swing its activities into other channels.
'The boys' move in
Tommy Maloy, then president of the Chicago local of the IATSE, found himself in trouble with insurgent members of the union and asked Nitti to send a "few of the boys" to help straighten out the trouble. "The boys" not only relieved the stress on Maloy, but discovered a new outlet for their talents. Nitti's men quietly but firmly began to take over the union and Maloy's protests were answered a short time later by machine-gun blasts which blew him out of his auto and left him to die in the street.
The slaying of Maloy was enough warning to Browne, president of the union, and Bioff, his business agent. They surrendered meekly to Nitti, and the syndicate was in control of its richest plum.
Control slipping
From 1935 until the indictment of Browne and Bioff in New York, Nitti bled the IATSE treasury through a system of kickbacks and a 2% levy on all employees' salaries.
But in the last six months, Nitti's control began to slip. There were double-crossers, and they were not rubbed out. Some talked, and the New York grand jury listened. It returned its indictments yesterday, and Nitti was through.
At the time of his suicide, Nitti was said to have been a sick man, never having fully recovered from gunshot wounds suffered in an argument with insurgent members of his own mob.