Superman (Sept. 26, 1941)
The Man of Steel fights a mad scientist who is destroying Metropolis with an energy cannon.
The Boston Globe (September 26, 1941)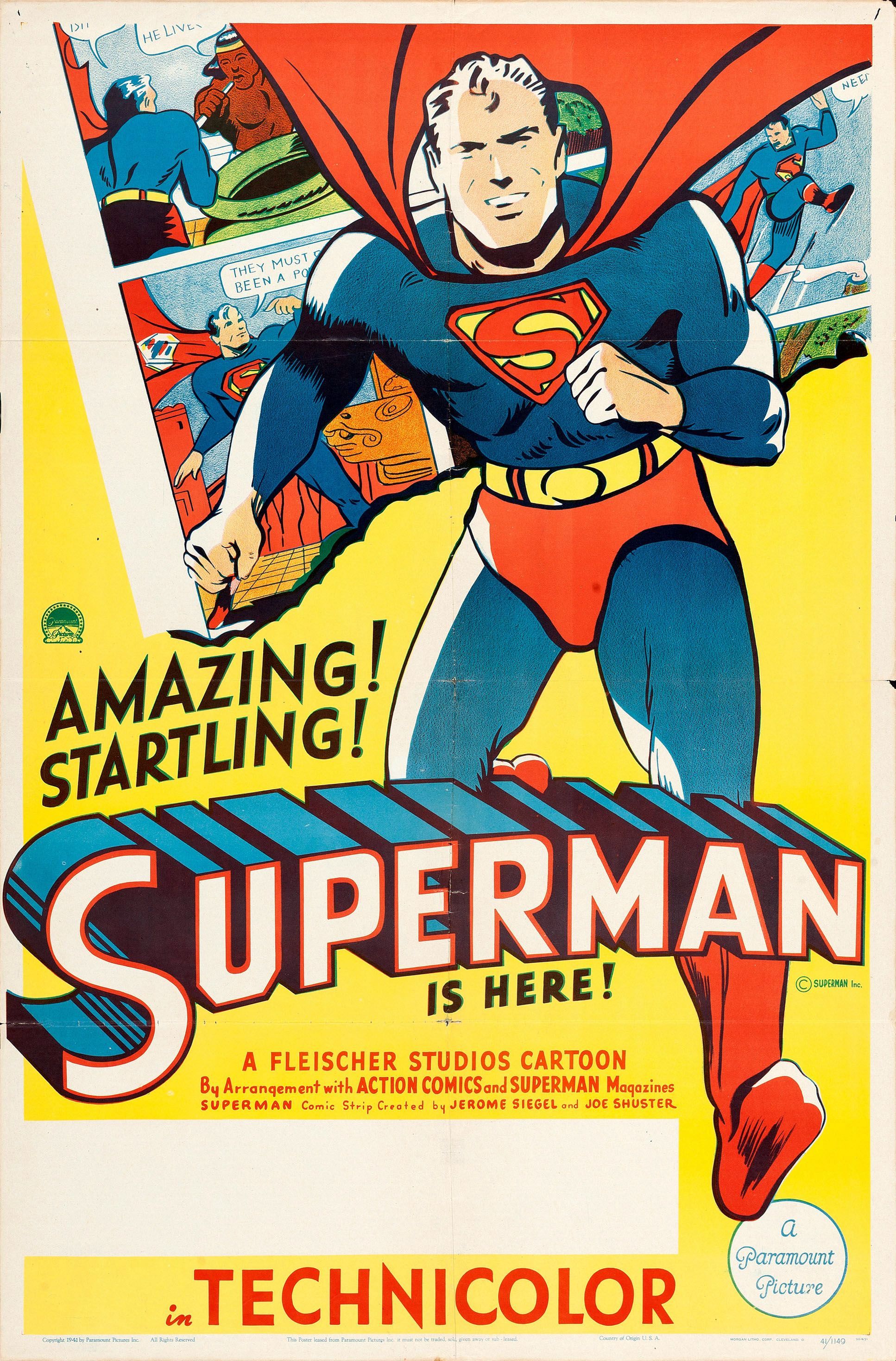 SUPERMAN HITS STARDOM IN THRILLING FILM, FOLLOWED BY DAZZLING BACK BAY LUNCHEON
Superman, the motion picture hero, had his coming out party in Boston yesterday. And he made the cowboy wonders of the old hoss operas look like a bunch of lounge lizards.
Superman's debut was a double-header. First Paramount Pictures showed him starring in a short technicolor film at their Boston Preview studio. Then Harry Donenfeld, his owner and staunchest rooter, gave him an exclusive luncheon at the Copley-Plaza.
Mr. Donenfeld, who occasionally comes through with a perfect Goldwynism, and who also possess an A-No. 1 sense of humor, described himself as a fanatic on Superman's first film.
Donenfeld said:
It's terrific.
…and when Donenfeld says something is terrific he sin;t just a Hollywood yes ,an rehearsing. He comes from New York, is president of Superman, Inc., plus a number of other companies, and he means it is really terrific.
In a way, Paramount's technicolor feature about Donenfeld's hero and prize possession is a fitting climax for Superman's career. It means that in three short years he has starred in every medium of entertainment known to man.
He first wowed them as a comic strip (published in the Globe). then as a comic magazine (the circulation here now stands as 4,800,000), thirdly he ran away with the children's sradio hours, and how he's gone to Hollywood.
It is too early to review the Superman film, which was done for Paramount by the Fleischer Studios, because it won't be released in New England until the first week in November, Suffice it to say that Oscar Morgan, who handles shorts for Paramount Pictures, believes it will equal tops for full-length features, which means it will play approximately 10,500 theaters. Tops for shorts in 7,500 theaters. Morgan is a man who is apt to be right.
It is, however, never too early to review Harry Donenfeld, who is as small in size as Superman is large standing no higher than 5'7", but who also more or less resembles a human dynamo.
Some years ago, Donenfeld started a company known as Action Comics, which printed action comics in book or magazine form. He went along pretty well, but he never seemed to find a central hero or strip about which he would build his company.
Then, about three years ago, a friend in a nationally known syndicate asked him to look at a cartoon subject which had been kicking around the syndicate's dustbin for three years, Donenfeld said he would, and the friend produced Superman. It had been created and drawn by Jerome Siegel and Joe Shuster, and out of jut at the time they were getting between $20 and $30 a week when they got paid.
Donenfeld, who weighs about 140 pounds, took one look at the breadth, girth and height of Superman and found his hero. He signed up Siegel and Shuster and went to work. Superman;s meteoric rise to the top of the heap is history. So, around New York, is Donenfeld's obsession with the "man of tomorrow."
Donenfeld asked:
What's he got? I'll tell you what he's got. He always seek justice done to the poor and weak and he does it deliberately. At the same time he never kills anyone on purpose. He just kills anyone on purpose. He just thwarts their evil purposes and they kill themselves to get by him. It's a natural.
Irt is also natural that Donenfeld should be known the length and breath of the land as Superman, and thereby hands some tales.
Donenfeld relates:
Once, on a beach in Florida, a woman pointed me out to her 7-year-old son and said:

That's Superman.

The kid ran over and asked:

Are you Superman?

I said:

Yes. I publish Superman.

The kid said:

I don't believe it. Come over here.

He took me out to the street and appointed to a tree which must have been three feet in diameter. He said:

Pull that out of the sidewalk and I'll believe you.
On another occasion, Donenfeld was introduced to Joe DiMaggio as "Mr. Superman." Joe said:
Gosh, that's my favorite reading.
The next day, Donenfeld sent him the full regalia to make him a member of the Superman's Boys Club.
Another member of the Superman Club is Jack Dempsey, a close friend of Donenfeld. For a while one of Dempsey's favorite jokes was to crawl up on Donenfeld and give him a hot foot. Finally, Donenfeld was on the lookout for it and one night sawe Dempsey slip under the table and head in his direction.
Donenfeld said:
I waited until I knew he was right by my feet, and then I threw back the tablecloth and cried to one of the girls at the table:

Kick that guy in the face.
Donenfeld continued:
Dempsey jumped up and roared with laughter. He cried:

You foxy old son of a gun.

…and gave me a playful jab in the ribs. It was some jab. For a minute, irt knocked my wind out. The next day me – Superman – had to have my left side taped.
A moment later, a photographer asked "Superman" to pose for a picture.
Pointing to the Paramount man who is about his own size, Donenfeld asked:
With Morgan?
The photographer said:
No, over here.
… and herded him between William Erbb, the 6'1" New England manager of Paramount and another giant.
Donenfeld sighed:
This always happens to me.
… quite calmly pulling a chair back from the table to jump up on it and tower above his companions.
He cracked:
Superman is always victorious.
The Mechanical Monsters (Nov. 28, 1941)
Superman battles a criminal mastermind and his robot army.
These cartoons are awesome!
Billion Dollar Limited (Jan. 9, 1942)
Superman battles train robbers seeking to steal a billion dollars worth of gold.
The Arctic Giant (Feb. 27, 1942)
Superman versus a thawed-out Tyrannosaurus.
The Bulleteers (March 27, 1942)
Superman versus extortionists with a super-powerful rocket car.
The Magnetic Telescope (April 24, 1942)
When police interfere with a reckless scientist's experiment, it creates a deadly meteor shower only Superman can stop.
Electric Earthquake (May 15, 1942)
Superman versus a fanatical extortionist with an earthquake machine.
Volcano (July 10, 1942)
Superman must face the threat of an erupting volcano.