Honolulu Star-Bulletin (December 7, 1941)
Filmland facts and flickers
By Joe Cotten, actor for Mercury Productions, and today's guest columnist for Paul Harrison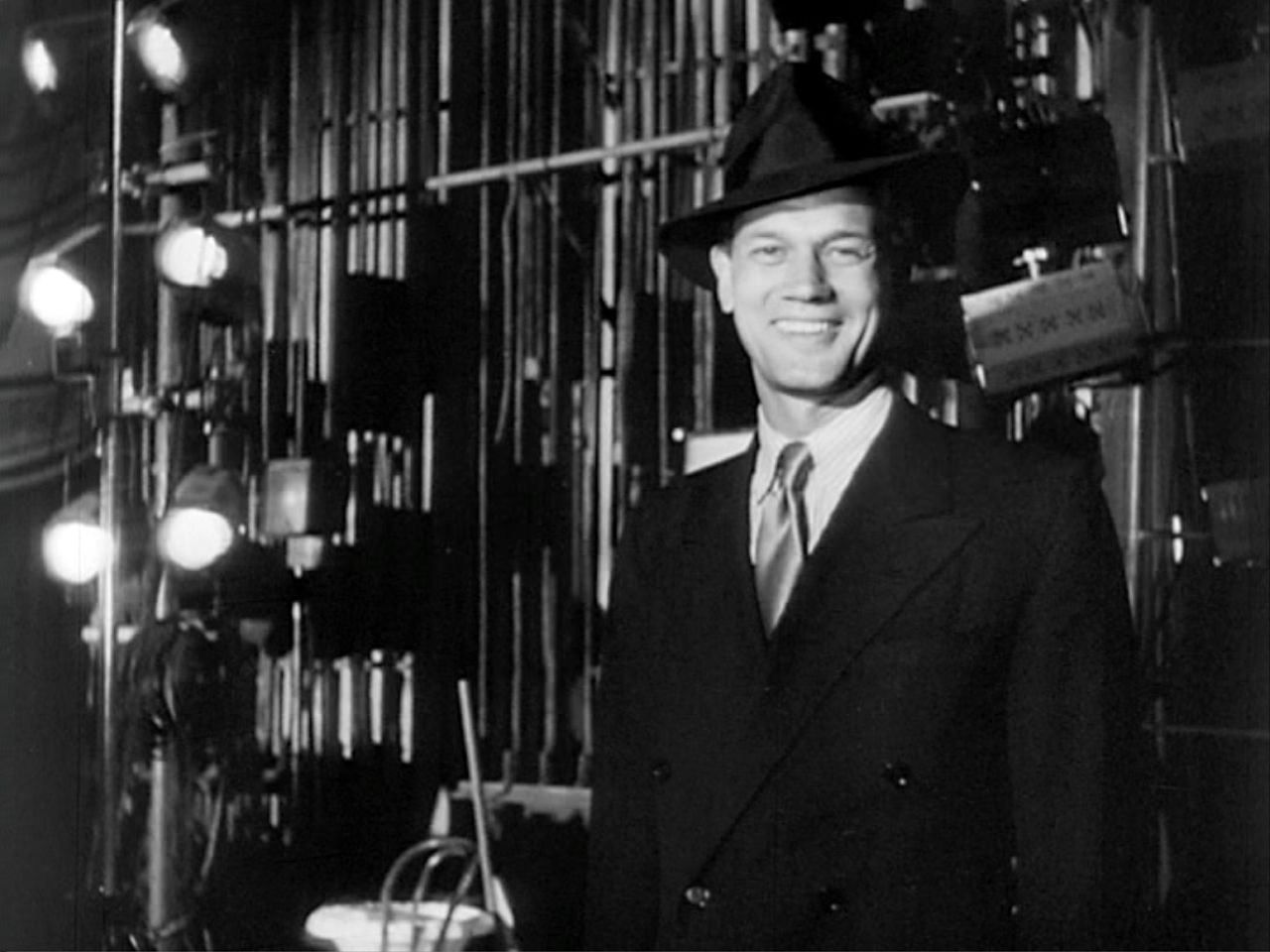 Cotten in the movie trailer for Citizen Kane.
Hollywood –
For my first – and probably last – attempt at public writing, I've decided to lead with the Cotten chin. So my topic for today is "What's Wrong With Hollywood."
This is not to be confused with the other subject that everyone picks: "What's Wrong With the Movies." About that I know nothing.
Hollywood is not what it appears from the magazines. This is a blow from which few actors ever recover, Cotten included.
For one thing, when I came to Hollywood, I had a good part safely snagged. Hundreds of others, I found, have had an equally easy time. That wrecked notion No. 1: that to be successful in the land of the movie, you had to cadge beans for months.
Then came the glamor business. Glamor must be here, because all the gossip columns say so, but it's elusive. Sadly I write that glamor as a positive quantity can be discovered just as easily in Keokuk or New Bedford.
My introduction to this tinseled land startled me half to death.
I drove from New York and started out to find the house which had been rented to me. To reach same, I must cruise down Sunset Blvd. On reaching that part of Los Angeles which is Hollywood, my supposedly sophisticated eye met nothing but a succession of enormous–and I mean enormous – photo portraits, framed.
These reposed, and still do, on what seems to be on every front lawn of every other house for about two miles along the boulevard. It occurred to me that this was certainly a novel way of attracting attention to your potential worth as an actor or actress. It was a week before I learned they were professional portrait studios.
Arriving at the house picked for me, it was time for bed. So consider the shattering discovery of the morning: NO swimming pool. I thought everyone in the movie business had a swimming pool. My only solace is that I don't particularly want one.
This all happened when Orson Welles was producing a number called Citizen Kane. I was cast as Jed Leland.
The morning after getting here, I rushed to the studio full of fire, ambition, and most of all, curiosity.
A studio! Oh boy!
Lush, plush settings, thousands of beautiful girls parading around, a sort of Arabian Nights in modern dress.
And what happened? Collapse.
They started plastering me with rubber cement and two weeks later I managed to get myself in front of a camera playing a man of 80.
After Citizen Kane, I played opposite Merle Oberon in Lydia and by that time I was getting wise. I had learned the sad fact that they make movies in exactly the same fashion they make anything else. You go to work at 8 and you quit at 6 or 7 in the evening and then you go home and eat.
But my spells of disappointment in the movie village don't last long. I always remember the time when I was a paint salesman. And I change my mind, quick, just like that. Hollywood? Boy, do I love it!