The Pittsburgh Press (December 29, 1942)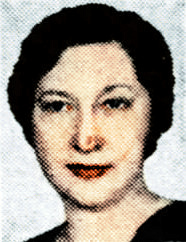 By Mrs. Walter Ferguson
Clare Boothe Luce, newly-elected Congresswoman from Connecticut, is invariably described as beautiful, talented, witty and wealthy. The fact that she's married to the notable publisher, Henry Luce, doesn't exactly detract from her prestige.
Whenever Mrs. Luce appears, verbal skyrockets ascend. She's that paradoxical event, a glamorous dynamo and she has already proved she can recognize and swat all the 57 varieties of social and political bunk that the frauds employ. Probably she'll get into the hair of many a staid male House member who deals in platitudes, which is OK with us.
Six other women will be present when the new Congress opens in January. They'll be on the spot for two reasons – because they are women, and because they constitute a Republican petticoat majority. Mrs. Mary Norton of New Jersey is the only democratic holdover.
This fact doesn't mean much to the average woman voter. As a rule, we are not partisan. Except for a few in the Deep South, American women are uninhibited by family political tradition. But it does matter to us that our sex is in a position to prove the equality of the feminine mind in affairs of government and that we shall be able to inject some feminine thinking into national and international issues.
It isn't too early to impress upon these women that they represent something more important than their constituents. They represent womanhood in a new job. Therefore, in creating government policies, their outlook should be fresh and their approach bold.
They are quite literally making history, and upon their conduct and wisdom much of the future destiny of women in politics may depend. For them, and for us, their election is an opportunity and a test.