The Pittsburgh Press (March 7, 1944)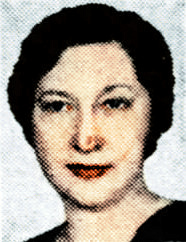 By Mrs. Walter Ferguson
There is something new under the sun. Women today hang out service flags for girls and put roses before the pictures of daughters in uniform. And they're just as proud of those daughters as they are of their boys who wear fighting togs. In fact, maybe they're a wee bit prouder.
A friend whose only son is a Marine and whose only daughter has just become a WAC put it this way:
She said:
I didn't want her to join. You know how it is. We mothers are more afraid for our girls. But I decided to keep out of it. I knew I would never have dictated to her about other plans. I hate people who want to play God to their children. So, I thought, she's grown, she ought to know what she wants, and if she wants to be a WAC well go to it, honey, and God bless you.

I had no such sentimental feelings about Bill. I expected him to go into the country's service and would have been surprised if he hadn't. I didn't give a second thought to the temptations or hardships he might meet. We've been conditioned to that sort of thing for our boys. But when his sister marched away – well, I felt all gone inside. I think now it was because I sensed that she was marching off into a new world.
She turned to look at the picture of her girl, dressed in khaki. Together we studied that bright young countenance, symbolizing something really new under our sun – a woman soldier and an American moving into a fresh historical era. She went into her country's service with the same dear old American ideals in her heart. My guess is they'll be flying high alongside her flag when she comes home again.