The Pittsburgh Press (April 21, 1944)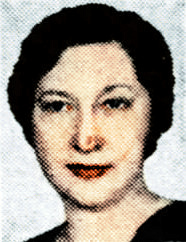 By Mrs. Walter Ferguson
Behind the scenes in Washington, many political struggles go on. One of the oldest and bitterest is the fight to obtain an amendment to the Constitution which will guarantee "that equality of rights under the law shall not be denied or abridged by the United States or any state on account of sex."
The story behind this fight is both discouraging and inspiring. Certain pioneer members of the National Woman's Party have worked constantly for it since 1913. They achieved their first victory in 1920 when American women were given the franchise. Since then, equal political and economic rights have been their objective.
A study of the situation gives some interesting sidelights on the manner in which such battles are waged, the strange forces which become unified in the lineup and the areas they cover.
One would not imagine that a stately house, a stone's throw from the Capitol, is actually a battleground. No. 144 B St. is a landmark in the District of Columbia. The lovely ancient structure was donated as a permanent home for the National Woman's Party in 1935. It is a charming home for the workers, among them the famous feminine leader, Miss Alice Paul. From this center, the battle for equal rights is directed.
The Equal Rights Amendment was introduced in Congress in 1923. Since then, it has traveled a rocky road. After high hopes by its sponsors for success in 1943, it was suddenly and unaccountably shelved. Powerful forces are pitted against each other in the struggle.