The Pittsburgh Press (March 14, 1944)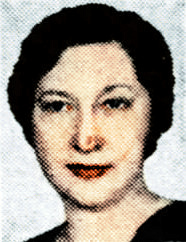 By Mrs. Walter Ferguson
Elizabeth Gurley Flynn in the New Masses warns her readers that the Equal Rights Amendment is a wolf in sheep's clothing. Worse still, according to her, it is a reactionary Republican measure and those mean Republicans only want to get the poor working women into factories and grind them down under heels of greedy, profit-hungry employers. It's the same old line used in Cleveland's administration.
Women who oppose the Equal Rights Amendment have some good argument. They fear it will scrap all protective legislation, such as widow's pensions, maternity aid, minimum wage standards, regulations of hours, and safety provisions. Then, they add, this is no time to propose such a measure – we're too busy winning a war.
It seems to me we ought to move up into the '40s with our thinking on this question.
Labor has moved a long way in obtaining suitable working conditions, wages, rest periods, hours and safety devices. Women wouldn't be slapped back into the sweatshops of the '90s, even if they lost some of their privileges, because labor never intends to put up with that sort of thing again.
Also, I believe the average American employer knows that the worker who is hungry, sick or tired is not a good producer. We can assume that all citizens who disagree with the doctrine promulgated by the New Masses are not tyrants. Most of them are pretty decent people.
In case the amendment becomes part of the Constitution, it is inconceivable that our statesmen will permit mothers and children to be exploited, for unless we can depend upon the honor of men, laws will not save women from opposition.
As for postponing the measure until war's end – maybe it's the altruistic thing to do, but you notice the working men aren't so noble. They press for advantage when their services are needed most.